Is The Book of Boba Fett an accurate title? Wasn't Disney+'s latest Star Wars streaming series more of a pamphlet? Perhaps a novella? An anthology could be apt – a collection of prior ideas bolstered with some offcuts and stapled into a sellable state. Whatever term you prefer, the fact that even its title felt questionable was emblematic of a production that felt awkward and ill-conceived. This was a Frankenstein's Monster of a show: chopped together for expediency, retrofitted from prior parts and struggling to find a soul.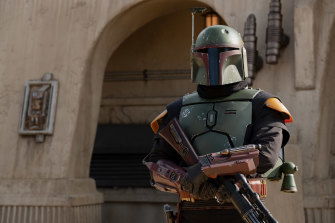 The idea was simple: take an iconic character from the original Star Wars trilogy, the menacing bounty hunter of very few words but very effective methods, and piggyback them into a headlining role in his own limited series after he'd played his part in the ensemble of Disney+'s previous Star Wars hit, The Mandalorian. This is the gospel of IP, where you take your existing intellectual property and make more with it. Through the lens of ensuring there's always more content it's sound, but the execution was flawed from the start.
The fundamental appeal of Boba Fett was his lack of personal traits. He existed behind chipped, battle-scarred armour that suggest a lifetime of fighting, and he barely spoke. When he did, it was to tersely assert his professional needs as a bounty hunter to no less a client than Darth Vader.
"He's no good to me dead," the character says of a captured Han Solo in 1980's The Empire Strikes Back. Boba had multiple weapons and cool gadgets – he was a memorable bit player. His exit in 1983's Return of the Jedi was essentially slapstick, a blinded Han bumbled into him, inadvertently setting off his jetpack.
Giving the character a second life has always been tempting, with the sweet, sudden shot of satisfaction you get when nostalgia is recognised and reincarnated. Boba Fett was seen as a child in George Lucas' blighted Star Wars prequels, and featured in multiple episodes of The Clone Wars, an animated series that debuted in 2008. But even as he was teased and then introduced via The Mandalorian, where he was played by Temuera Morrison, less is more remained the best approach. He was a stoic foil for Pedro Pascal's Din Djarin, The Mandalorian's titular bounty hunter.
"Giving the character a second life has always been tempting."
The Book of Boba Fett is a repudiation of The Mandalorian's lessons. Din Djarin was a new Star Wars character, albeit connected to the franchise's considerable lore, a cowboy with a spaceship who was as coolly composed in a showdown as a spaghetti western gunfighter. He did his job and lived by dying traditions, never showing his face. Making him a father figure to the infant Grogu, a.k.a. internet sensation "Baby Yoda", was a master-stroke. Going from one mission to the next, the duo felt like they were intertwining old and new threads in a galaxy far, far away.
By contrast, Boba Fett told us little as a lead character except that the storytellers behind the series – primarily Jon Favreau and Dave Filoni, who'd crafted The Mandalorian so well – couldn't find a take that resonated, let alone endured. The early episodes were riven with flashbacks to his time post-Jedi with Tatooine's indigenous population, the Tusken Raiders. Having cheated death – Boba was being digested by a Sarlacc! – and lost his armour, this was a rebirth meant to explain why, as per the post-credits scene at the end of season two of The Mandalorian, Boba and his associate, Fennec Shand (a terrific Min-Na Wen), were setting up as the planet's organised crime bosses.
There were action sequences that hummed with excitement, notably a train robbery in the second episode, but the show's filler was ludicrous. A gang of speeder-riding Tatooine youth, with English accents and New Romantic wardrobes were an embarrassment. Arriving to punish them, Boba ended up hiring them because unemployment on the planet was rife. The narrative wanted to take a legendary bad-ass and make him a reformer, an inclusive crime boss who was up for protection rackets and wars with off-world drug syndicates, but was somehow also looking out for the locals.
None of these conflicting themes was illuminated, and few were resolved, while Morrison's gruff performance style wasn't always suited to the character's arc. The creators essentially gave up, dedicating multiple episodes to Din Djarin, Grogu, and even Luke Skywalker (a digital fake that was terrifyingly accurate but nonetheless inhuman) before a finale whose pitched battle was a mix of childish play and monster mayhem. Boba Fett was a lacklustre crime boss, which was a fitting reflection of a show where he was a lacklustre protagonist.
Loading
The Book of Boba Fett was a series of compounding mistakes. Its best feature was to deliver a Mandalorian sequel that could have been a self-contained film. This is what happens when Star Wars gives in to the hunger of devotees for beloved characters to return. Disney+ will not be too worried, as they have Obi-Wan Kenobi in May, with Ewan McGregor as the exiled Jedi Master and the promise of more Darth Vader. It's must-see Star Wars, which is another way of saying that it will thankfully help us forget The Book of Boba Fett.
Find out the next TV, streaming series and movies to add to your must-sees. Get The Watchlist delivered every Thursday.