58 min ago
Kyiv region police say American journalist killed by Russian forces in Irpin 
From CNN's Clarissa Ward in Kyiv and Mick Krever in Poland
Kyiv region police said that an American journalist was killed by Russian forces in Irpin, Ukraine, according to social media posts on Sunday. Kyiv police said another American journalist was wounded by Russian troops. 
CNN has been unable to verify which media outlet the American journalists were working for in Ukraine. CNN has been unable to independently verify the death. 
1 hr 22 min ago
Witness from inside Yavoriv military base describes his experience of missile strike
From CNN's Roman Tymotsko in Lviv
A witness to the missile strike on the Yavoriv military base in western Ukraine, who was on the base when it happened, told CNN about his experience.
"We heard an alarm and went to a bomb shelter, before returning when it seemed everything had stabilized. Then, about 30-40 minutes later, sometime between 5 a.m. and 5:30 a.m. [local time], we heard a sudden clap. Our positions were being bombed. We got on the floor. I heard what sounded like rocket launches, and I heard the sound of explosions on the ground. I heard three strikes. We are currently searching for people under the rubble; maybe there is someone still alive. The explosion craters are 10 meters deep," the witness told CNN in a phone conversation. 
1 hr 43 min ago
"I saw when the rocket hit the ground," says father in the aftermath of Russian airstrikes at military base near Lviv
From CNN's Ivana Kottasova in Lviv
Up until Sunday morning, the Lviv region in western Ukraine was a safe haven in a war-torn country.
It was where families living further east sent their children to keep them safe.
Vasyl Kunets, a driver who lives in Novoyavorivsk, a town about 20 miles from Lviv, said that up until now, when the sirens indicating a potential air raid went off, he wasn't too worried. He'd go to safety, but perhaps not as fast as he should have.
The war was still far away.
That all changed when Russian strikes hit the Yavoriv military training ground at the edge of Novoyavorivsk and killed 35 people, the Lviv regional administration said Sunday.
More than 30 missiles fired from warplanes over the Black and Azov seas had hit the military base, said Maksym Kozytsky, head of the Lviv regional military administration, in a statement posted to Facebook Sunday.
Suddenly, the war was on Kunets' doorstep.
The training base is intertwined with the life in the town. Many of its residents are employed there, or in services supporting it. Those who don't work for it directly know someone who does.
Kunets saw the damage they've inflicted first hand.
"I saw when the rocket hit the ground, I've seen the explosion and the smoke, a mushroom cloud of smoke and fire," he told CNN.
"It lasted 30 minutes and I heard maybe eight strikes, maybe some rockets crashing or part of rockets exploding separately, I don't know."
Kunets told CNN the attack against the base "changed everything."
"We are worried now. I'm not worried for myself but for my kids. People are worried about the safety of their families and some of them are considering moving somewhere else," he said.
Kunets said he is now thinking about sending his two children away from Ukraine — something he didn't necessarily consider before.
"It feels less safe and more dangerous. Yesterday and the day before yesterday we were more relaxed and when we heard the alarms we didn't move so quick, we didn't take it too seriously. But today we are packing and being ready to leave very fast when we hear the alarm," he said.
CNN's Sofiya Harbuziuk contributed reporting to this post.
1 hr 33 min ago
Pope Francis pleads "in the name of God" to stop attacks on Ukraine
From CNN's Nicola Ruotolo in Rome and Duarte Mendonca in London
Pope Francis made an appeal for peace in Ukraine during his Angelus prayer in St. Peter's Square on Sunday, calling Russia's attacks an "unacceptable armed aggression" against Ukraine.
"In the name of God, let the cries of those who suffer be heard and let the bombings and attacks cease," he said.
The Pope asked the attacks to stop and added that the bombing of children's hospitals and targeting civilians in Ukraine is "barbaric" and with "no valid strategic reason".
"In the face of the barbarity of the killing of children, innocent people and defenseless civilians, there are no strategic reasons to be believed," the Pope said. "All that is needed is to stop the unacceptable armed aggression before it reduces cities to cemeteries."
1 min ago
What you need to know
Russian attacks continue Sunday morning with a spate of air strikes, with 35 people killed at a military training facility near the northwestern city of Lviv.
Russian offensive expands west: The Lviv region has largely been spared from Russia's bombardment since the invasion began, but it has come under increasing attacks in the last few days.
Dozens killed at military base: More than 30 missiles hit the Yavoriv military training ground early Sunday, killing 35 people and injuring 134 more. The site lies about 40 kilometers (25 miles) northwest of Lviv and less than 20 kilometers (12.5 miles) from the Polish border. It is home to the International Peacekeeping and Security Center (IPSC), which hosts training exercises with Western military personnel.
Russian air offensive hits heavily populated areas: While some Russian attacks were directed at critical infrastructure, other strikes appear to have hit heavily populated areas. The northern city of Chernihiv was struck for the third night in a row, and nine people were killed in a Russian bombardment near Mykolaiv, southern Ukraine.
Troops move closer to Kyiv: The bulk of Russian ground forces are now only 15.5 miles (25 kilometers) from the center of the Ukrainian capital, the UK's Ministry of Defence said Saturday.
Massive shelling in eastern Ukraine: On Sunday the head of the Luhansk regional administration, Serhiy Haidai, said there had been "massive shelling" of several towns, including Kreminna and Rubizhne, which had prevented buses from leaving with civilians. And an airstrike damaged Ukraine's historic Holy Dormition Sviatogirsk Lavra, an Orthodox monastery in Donetsk oblast, on Saturday evening.
1 hr 56 min ago
Zelensky says getting aid into Mariupol "key task"
From CNN's Tim Lister and Julia Kesa
President Volodymyr Zelensky has said the key task Sunday is to get the humanitarian convoy that is traveling towards the besieged city of Mariupol to its destination.
In a brief message on Instagram, Zelensky said, "Our humanitarian convoy is two hours away from Mariupol, just 80 kilometers away."
"We are doing everything to overcome the resistance of the occupiers, who are blocking even the Orthodox Church priests, who are escorting the convoy with food, water, medicines."
"Ukraine has supplied 100 tons, the basic needs for its citizens," he said.
The convoy set out Saturday from the city of Zaporizhzia. Mariupol has been under siege for more than a week. Much of the city is without power and water.
Zelensky claimed that after 18 days of conflict, "Russia has lost thousands of military vehicles, 74 aircraft and 86 helicopters."
CNN cannot independently verify claims of losses by either side in the conflict.
1 hr 11 min ago
UK wants to explore using homes of sanctioned Russians for humanitarian purposes
From CNN's Alex Hardie in London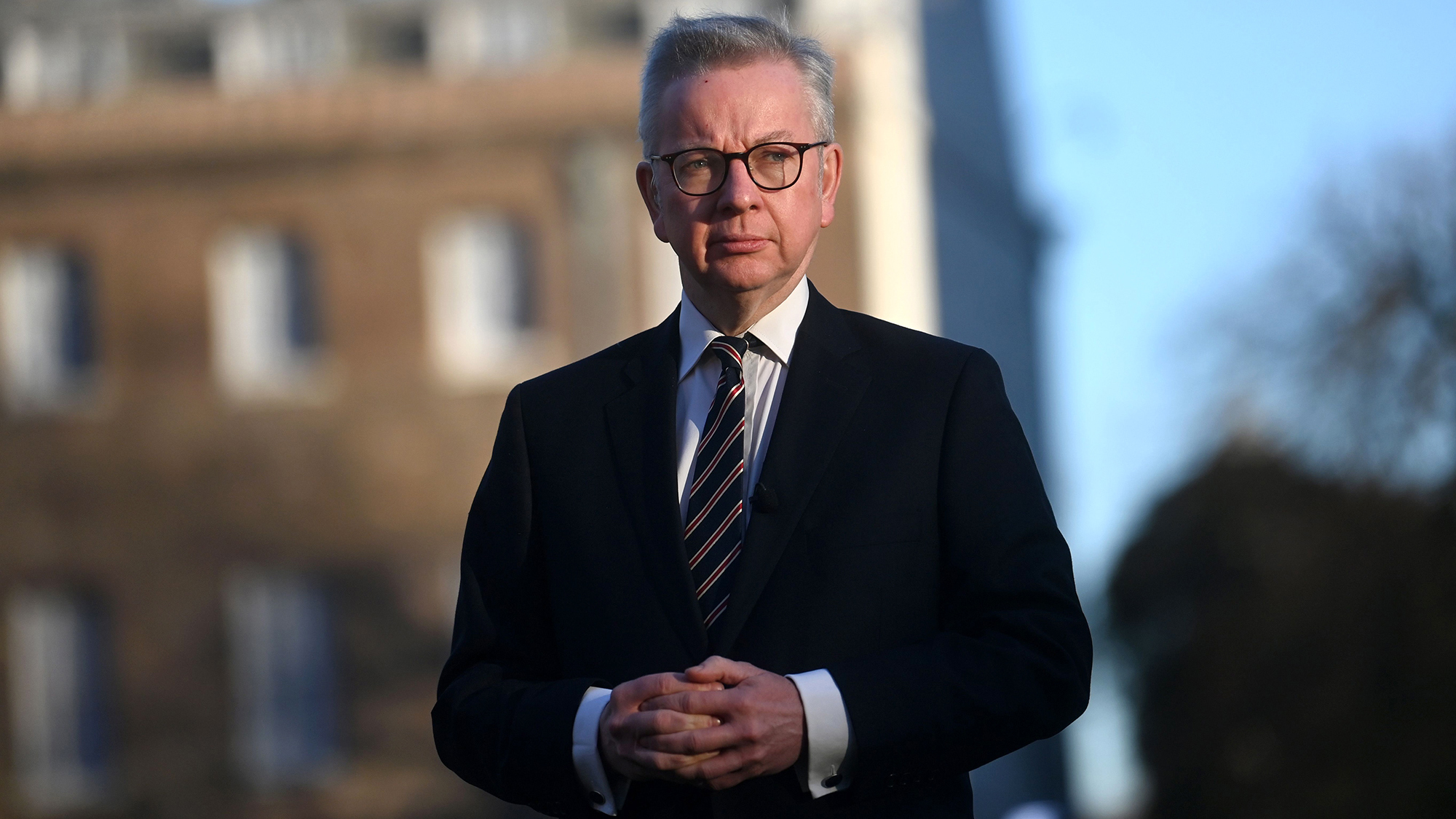 UK Cabinet minister Michael Gove said on Sunday that Britain wants to explore the option of using the homes and properties of sanctioned Russian individuals for humanitarian and other purposes.
When asked in an interview with the BBC if the homes of sanctioned oligarchs could be used to house Ukrainian refugees, Gove said, "There's quite a high legal bar to cross and we are not talking about permanent confiscation, but we are saying 'You're sanctioned. You're supporting Putin. This home is here, you have no right to use or profit from it and, more than that, while you are not using or profiting from it, if we can use it in order to help others let's do that.'"
"In my view, it is the case that if your wealth and your influence is being deployed in order to support or provide comfort to Putin given what he is doing, then I'm afraid you have to bear the consequences," Gove said.
"The sanctions process involves us going through a rigorous analysis of just who should be subject to the sanctions," he said. "We've moved as rapidly as we possibly can but it seems to me that if we can use those assets for as long as someone is sanctioned in an appropriate way then we should."
Britain has sanctioned 800 of Russia's most "significant and high-value individuals, entities and subsidiaries," including banks, Putin's inner circle, and oligarchs, according to the foreign office. 
1 hr 2 min ago
Putin using weapons of mass destruction would be a "game-changer," Polish President says
From CNN's Alex Hardie in London
Polish President Andrzej Duda said on Sunday that if Russian President Vladimir Putin uses any weapons of mass destruction, it would be a "game-changer" and NATO would have to think seriously about what to do.
Speaking in an interview with the BBC, Duda said: "Of course, everybody hopes that he will not dare do that, that he will not use weapons of mass destruction, neither chemical weapons nor biological weapons, nor any form of nuclear weapons. Everybody is hoping that this is not going to happen."
He added: "But, as we say in Poland, using a little bit of an English expression, if he uses any weapons of mass destruction then this will be a game-changer in the whole thing."
When asked whether Putin using chemical weapons would be a "red line for NATO," Duda responded that "the North Atlantic alliance and its leaders, led by the United States, would have to sit at the table and they will really have to think seriously what to do — because then it starts to be dangerous not only for Europe, not only for our part of Europe or our region, for central Europe, but for the whole world."
1 hr 7 min ago
Turkey's foreign minister says he asked for Russia's support to evacuate Turks from mosque in Mariupol
From CNN's Isil Sariyuce and Lauren Kent
Turkish Foreign Minister Mevlut Cavusoglu said he asked Russian Foreign Minister Sergey Lavrov for support to help evacuate Turkish citizens from a mosque in Mariupol on Sunday, adding that he hoped for progress soon.
"I asked Lavrov's support to evacuate our citizens," Cavusoglu said during a Sunday news conference in Antalya. "Phones are not working and clashes continue. We are hoping for a development today."
Cavusoglu said that the mosque was undamaged by a bomb that landed nearby and that buses were waiting to evacuate Turkish citizens from the mosque, adding that the Turkish Ministry of Foreign Affairs is in indirect touch with its citizens through contacts on the ground.
"The war turned into a street-by-street fight. It is too risky to evacuate people. A humanitarian corridor is needed," he added. 
Ukraine's Foreign Ministry claimed on Saturday in a tweet that Russian shelling targeted the mosque of Sultan Suleiman the Magnificent and his wife Roxolana in Mariupol, where more than 80 adults and children were sheltering, including Turkish citizens.
On Sunday, Turkey's foreign minister said that, despite reports the mosque was bombed, the mosque remained undamaged and the imam of the mosque denied reports that it was shelled.