21 min ago
"Explosions sound non-stop": What life is like in a village outside Kyiv
From Oleksandr Fylyppov in Lviv
An inhabitant of a village north of Kyiv told CNN what life is like caught between opposing Russian and Ukrainian forces engaged in heavy attacks against each other for more than a week.
Vitaly Kryshtal said his village of Nemeshaevo, some 20 miles north-west of Kyiv, was "now between two fires." Thousands of people remained trapped in the area, with opposing troops on both sides.
"Explosions sound non-stop, every two or three minutes. Often shells fly into people's yards," Kryshtal said. People were only able to leave shelters for a few minutes a day.
"One day recently it seemed that the shooting stopped for 15 minutes and I could go outside to cook on a fire," he said. "But as soon as I got out, a new shootout began, I had to run back to my basement."
Kryshtal said people were having to rely on old recipes for preserving food. He was using his grandmother's recipes to stay alive because cooking food outside had become impossible.
Some 1,200 people were evacuated from the area on March 12, but thousands more remain.
1 min ago
CNN's Dana Bash: Zelensky's appeal to US lawmakers in English was done "intentionally"
CNN's Dana Bash said the goal of Ukrainian President Volodymyr Zelensky's speech to US lawmakers and Americans "was to make it impossible for them not to help." 
Bash said that Zelensky deliberately referenced American heroes like Martin Luther King Jr., plus events like Pearl Harbor and the terrorist attacks of Sept. 11, 2001, and then spoke in English directly addressing US President Joe Biden, after showing a video of attacks in Ukraine.
"Not only … are those indelible in American history and in our psyche, what were they? They were attacks from the sky. … And what he's trying to do is to bring it home," she said.
Zelensky has repeatedly called for a no-fly zone since Russia's invasion in Ukraine began.
"He understands an audience, only like somebody who has been in front of an audience outside of politics can, as an entertainer, which is what he was. But the way that he communicates, also the fact that he spoke largely almost entirely in Ukrainian until he played that video … and then after the video, speaking in English, directly in English without a translator — intentionally so," Bash said.
Zelensky delivered similar video addresses to the parliaments of the UK and Canada.
Watch here:
22 min ago
Capitol staffer handed out Ukraine-US flag pins to US lawmakers attending Zelensky's address
From CNN's Daniella Diaz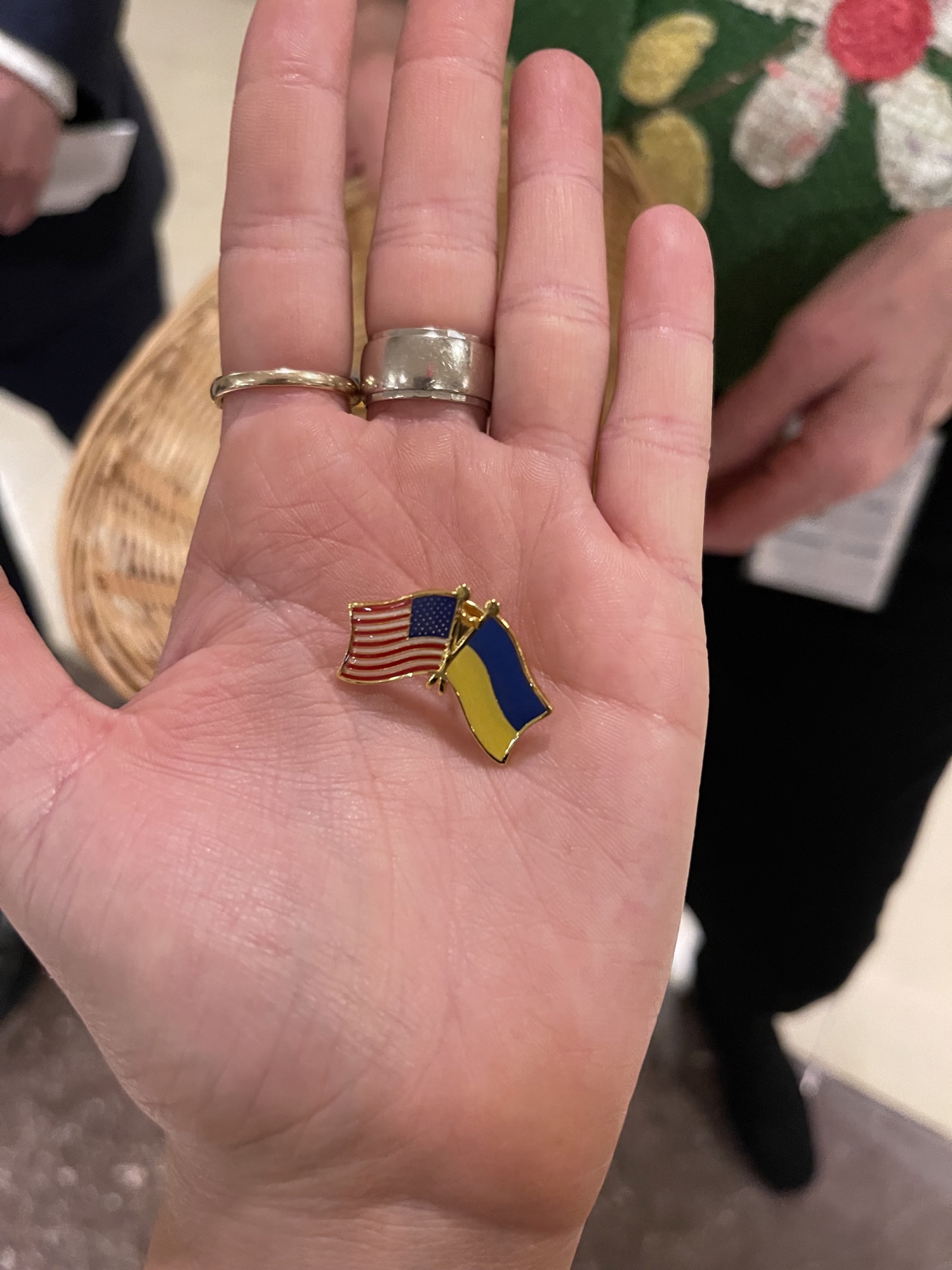 Ahead of Ukrainian President Volodomyr Zelensky's virtual address, most US lawmakers were seen wearing a pin with the US and Ukraine flag that were handed out by a Capitol Hill staffer.
The speech was attended by Democratic and Republican members of the US House and Senate.
43 min ago
Zelensky gets bipartisan standing ovation as he wraps his address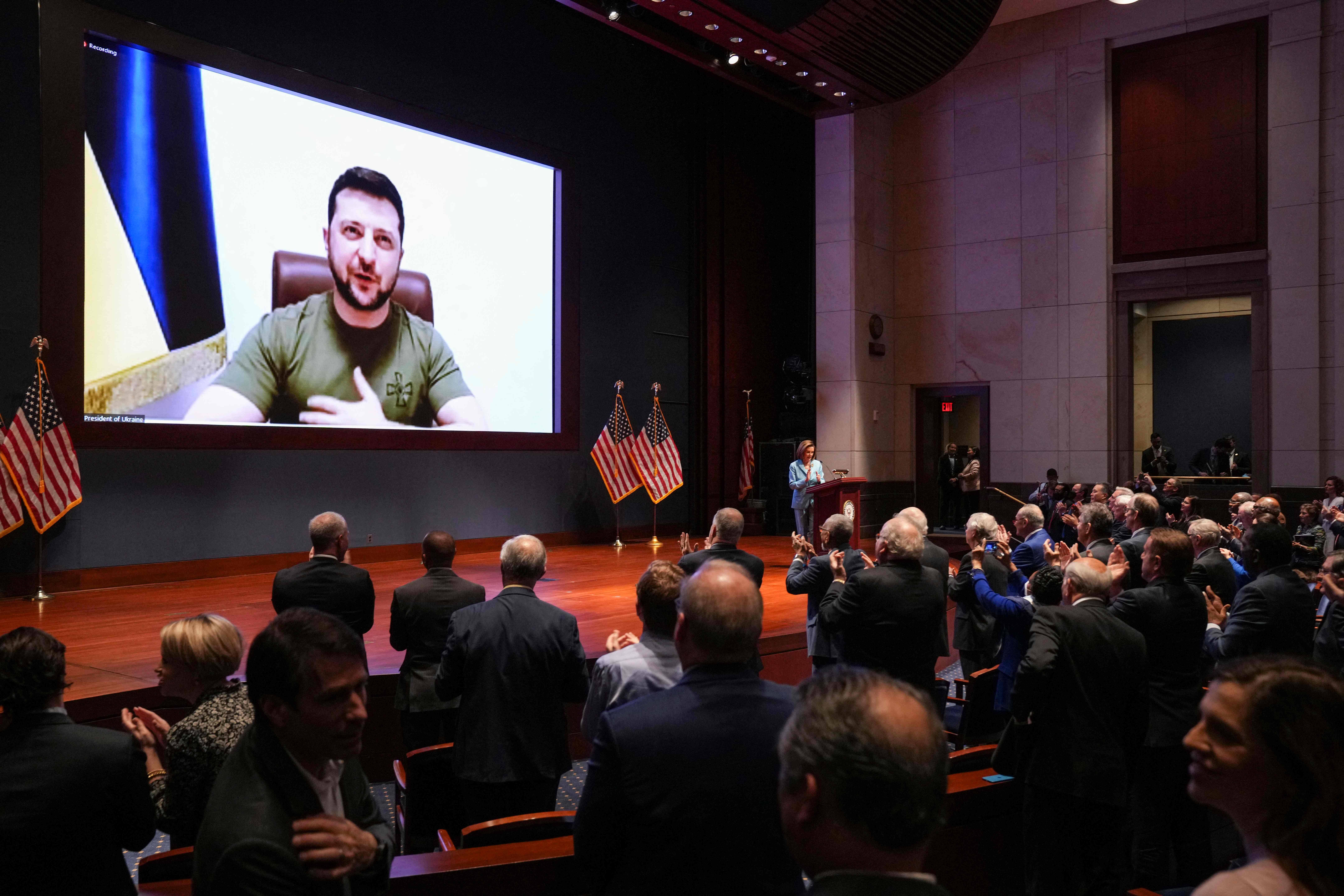 Ukraine's President Volodymyr Zelensky received another standing ovation as he finished his remarks to bipartisan members of the US House and Senate.
The historic speech given as a virtual address comes as the United States is under pressure from Ukraine to supply more military assistance to the embattled country as it fights back against Russia's deadly attack.
Zelensky also delivered similar addresses to the UK and Canadian parliaments.
13 min ago
Zelensky makes direct appeal to Biden: "Being the leader of the world means to be the leader of peace"
Ukraine's President Volodymyr Zelensky directly addressed US President Joe Biden in his speech to Congress, calling on him to be "the leader of peace."
"I see no sense in life if it cannot stop the deaths. And this is my main issue as the leader of the people, great Ukrainians, and as the leader of my nation. I'm addressing the President Biden: You are the leader of the nation, of your great nation. I wish you to be the leader of the world. Being the leader of the world means to be the leader of peace," Zelensky said in English, concluding his remarks.  
WATCH:
40 min ago
Zelensky closed his speech in English, urging leaders to fight for the "right to die when your time comes"
In a powerful closing to his virtual address to the US Congress, Ukrainian President Volodymyr Zelensky switched from Ukrainian to English and said that being the leader of the world and the leader of peace means fighting for the life of people of the world and for their "right to die when your time comes."
"Today, it is not enough to be the leader of the nation … Being the leader of the world means to be the leader of peace. Peace in your country doesn't depend anymore only on you and your people. It depends on those next to you, on those who are strong. Strong doesn't mean weak. Strong is brave and ready to fight for the life of his citizens and citizens of the world. For human rights, for freedom, for the right to live decently and to die when your time comes, and not when it's wanted by someone else, by your neighbor."
Ukrainians are defending Ukraine and the values of Europe and the world, he added.
34 min ago
Zelensky calls on US to "do more" to punish Russia for invading Ukraine
Ukraine's President Volodymyr Zelensky called on the United States to "do more" during what is "the darkest time" for his country.
"In the darkest time for our country, for the whole Europe, I call on you to do more. New packages of sanctions are needed, constantly, every week until the Russian military machine stops. Restrictions are needed for everyone on whom this unjust regime is based," he said in a video address to Congress.
Zelensky said the US should sanction all Russian politicians "who remain in their offices and do not cut ties with those who are against Ukraine."
"All American companies must leave Russia from their market, leave their market immediately, because it is flooded with our blood. Ladies and gentlemen, members of Congress, please take the lead, if you have companies in your districts who finance the Russian military machine leaving business in Russia, you should put pressure. I'm asking to make sure that the Russians do not receive a single penny that they use to destroy people in Ukraine," Zelensky said.
He also said there needs to be "new institutions, new alliances" to stop the war.
"We propose to create an association … a union of responsible countries that have the strength and consciousness to stop conflicts immediately, provide all the necessary assistance in 24 hours, if necessary, even weapons, if necessary, sanctions, humanitarian support, political support, finances, everything you need to keep the peace and quickly save the world, to save lives," he said.
WATCH:
40 min ago
Zelensky renews his call for a no-fly zone over Ukrainian skies in his address to US Congress
Urainian President Volodymyr Zelensky renewed his call for a no-fly zone over Ukraine in his virtual address to the United States Congress Wednesday, but offered alternatives in case this request could not be fulfilled.
"To create a no-fly zone over Ukraine, to save people, is this too much to ask? Humanitarian, no-fly zone — Something that Russia would not be able to [use to] terrorize our free cities. If this is too much to ask, we offer an alternative. You know what kind of defense systems we need, as 300 and similar other systems. You know how much depends on the battlefield, on the ability to use aircraft. Powerful, strong aviation to protect our people, our freedom, our land," he told the US lawmakers.
He urged that aircrafts that the US already has need to be in the Ukrainian skies, defending Ukraine as Russia's invasion of the country continues.
"Aircraft that can help Ukraine, help Europe, and, you know that they exist, and you have them. But they are on Earth, not in the Ukrainian sky. They do not defend our people," he added.
Invoking the famous Martin Luther King speech, he said:
"'I have a dream,' — these words are known to each of you. Today, I can say, I have a need. I need to protect our sky. I need your decision, your help, which means exactly the same you feel when you hear the words 'I have a dream.'"
49 min ago
Zelensky references Mt. Rushmore, Pearl Harbor and 9/11 in appeal to US Congress
From CNN's Eric Levenson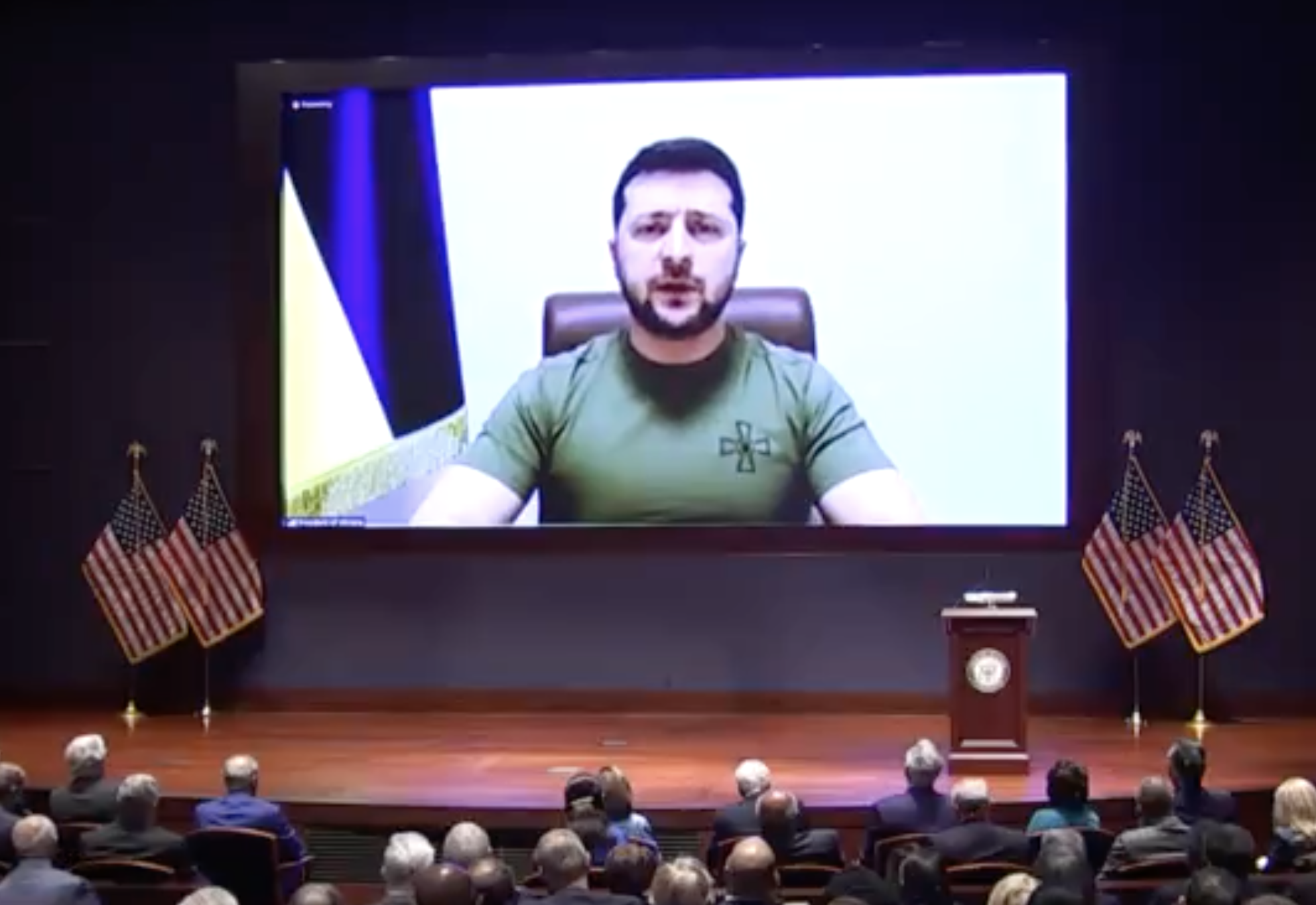 Ukrainian President Volodymyr Zelensky made references to Mount Rushmore, the attacks on Pearl Harbor and the terrorist attacks of September 11, 2001 in his pitch to American lawmakers in Congress on Wednesday.
"Russia has attacked not just us, not just our land, not just our cities. It went on a brutal offensive against our values, basic human values," he said, speaking through a translator. "It threw tanks and planes against our freedom, against our right to live freely in our own country, choosing our own future. Against our desire for happiness, against our national dream, just like the same dreams you have, you, Americans. Just like anyone else in the United States.
"I remember your national memorial in Rushmore, the faces of your prominent presidents, those who laid the foundation of the United States of America as it is today, democracy, independence, freedom and care for everyone, for every person, for everyone who works diligently, who lives honestly, who respects the law," he continued.
Zelensky also asked lawmakers to remember the attacks of Pearl Harbor in World War II and on the World Trade Center in 2001 in considering his request for help.
"Remember Pearl Harbor, the terrible morning of December 7, 1941, when your sky was black from the planes attacking you. Just remember it. Remember September 11th, a terrible day in 2001 when evil tried to turn your cities, independent territories, into battlefields. When innocent people were attacked, attacked from air," he said.
"Just like nobody else expected it, you could not stop it. Our country experienced the same every day."
Zelensky also invoked the famous words of Rev. Dr. Martin Luther King in asking for military help: "I have a dream, these words are known to each of you today I can say. I have a need, I need to protect our sky. I need your decision, your help, which means exactly the same, the same you feel when you hear the words 'I have a dream.' "
WATCH: