1 min ago
Ukrainian military claim defeat of Russian tank regiment northeast of Kyiv 
From CNN's Celine Alkhaldi and Tim Lister
The Ukrainian military claims to have defeated a regiment of Russian troops and eliminated its commander, Col. A. Zakharov, in Brovary, which is northeast of Kyiv, the Ukrainian Ministry of Defense said on Thursday. 
"The commander of the occupier's regiment, Colonel Zakharov, was liquidated. During the battle in the Brovary district of Kyiv region, the battalion tactical group (BTGr) of the 6th tank regiment (Chebarkul) of the 90th tank division of the Central Command suffered significant losses of personnel and equipment," the ministry said on Twitter.
CNN has geolocated and verified the video shared by the defense ministry showing a Russian military column coming under attack and retreating. 
The Ukrainian Armed Forces shared videos of the aftermath, which showed a number of destroyed vehicles.
Russian forces are approaching Kyiv from the northeast and east in an effort to complete the encirclement of the capital, but Ukrainian anti-tank weapons have held them off so far. 
4 min ago
Germany and France demand ceasefire in call with Putin
From CNN's Nadine Schmidt in Berlin
The leaders of Germany and France demanded an "immediate ceasefire" in Ukraine during a three-way phone call with Russian President Vladimir Putin on Thursday, according to an Elysée Palace readout.
German Chancellor Olaf Scholz and French President Emmanuel Macron also "insisted that any solution to the crisis must be negotiated between Russia and Ukraine," said the Elysée.
The three leaders said they would remain in close contact with each other over the next few days. European Union leaders are meeting Thursday outside Paris to discuss the war in Ukraine.
12 min ago
Peskov claims an "economic war" is being waged on Russia
From CNN's Lindsay Isaac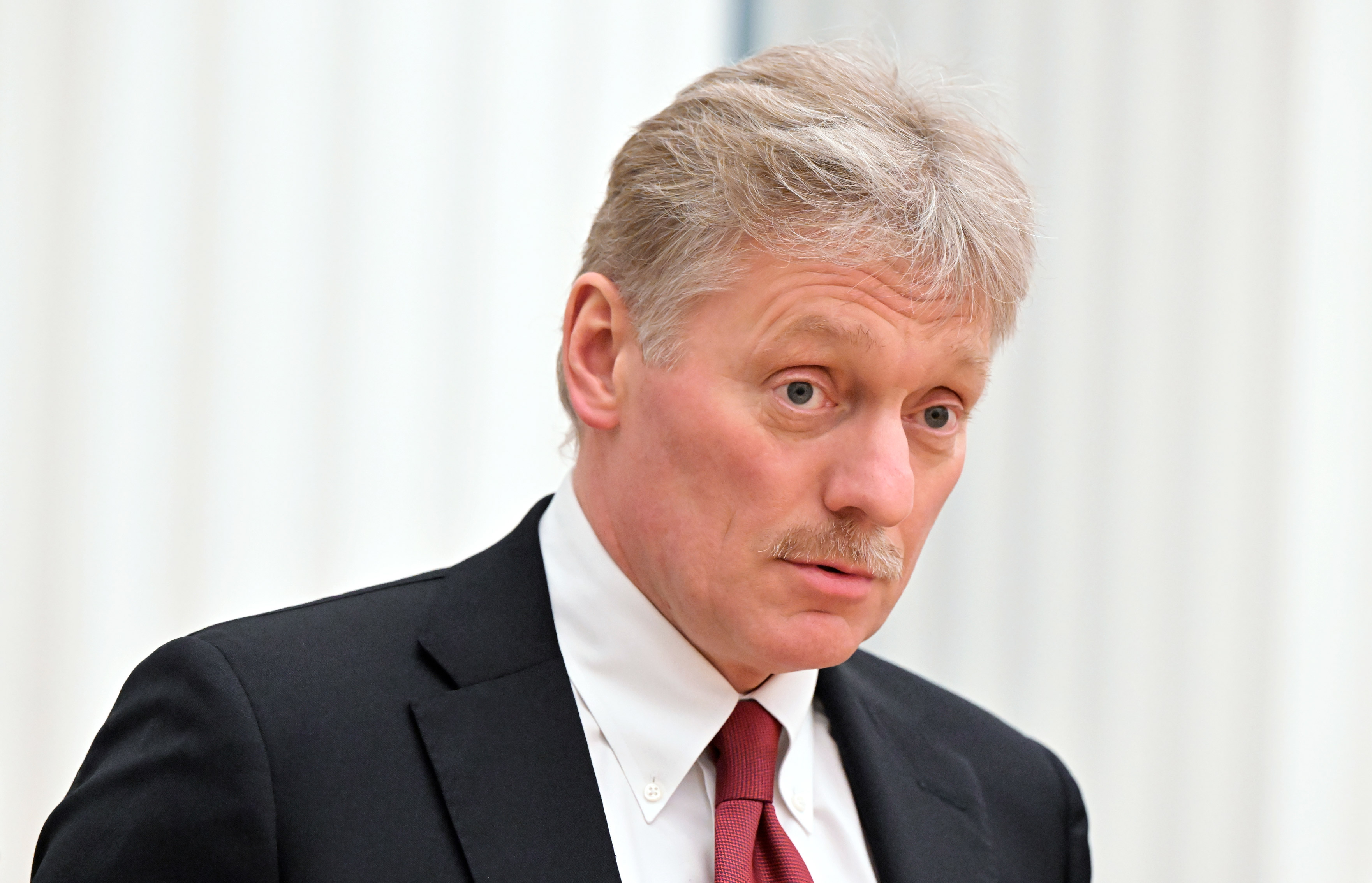 Kremlin spokesperson Dmitry Peskov said on Thursday the economic situation in Russia is "absolutely unprecedented" and blamed the West for waging an "economic war" against the country.
Peskov attributed high inflation rates to "a shocking external influence" on Russia's economy.
A raft of sanctions have been levied against Russia by the UK, the US and the European Union, among other countries, since the invasion of Ukraine.
"There are negative consequences, they will be minimized. At the moment the situation is turbulent," he said.
Peskov added that "measures to calm down this situation are already being implemented," but that Russia needs "to act in order to minimize the consequences and further risks."
18 min ago
Thousands of Ukrainian refugees reach France
From CNN's Joseph Ataman and Camille Knight in Paris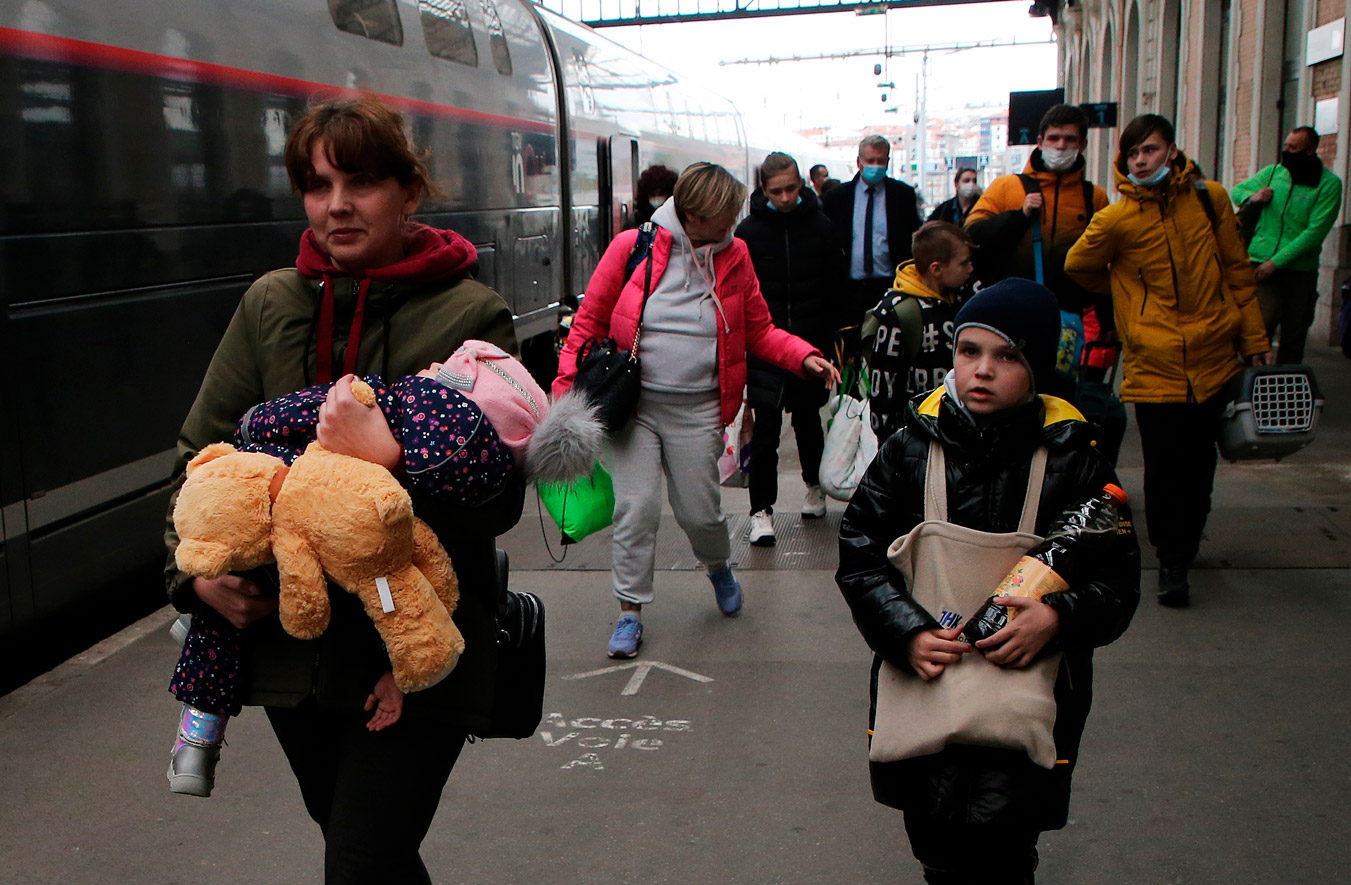 Refugees fleeing Ukraine are starting to reach western Europe and more than 7,000 people have arrived in France since the Russian invasion began, French Citizenship Minister Marlene Schiappa told journalists Thursday.
Of the total 7,251 people, who are "mostly women and children," 6,967 are Ukrainian nationals, France's Interior Ministry told CNN.
"We can see that things are increasing as the conflict progresses and today we have 25,000 places of refuge for these people," said Interior Minister Gerald Darmanin, speaking alongside Schiappa, adding that France has seen 3,000 arrivals in two days.
Darmanin added that he will visit Poland with the German Interior Minister before traveling to Romania on Friday. 
The ministers' comments come a day after France launched an inter-ministerial crisis unit to prepare for and manage the arrival of Ukrainian refugees in France.
38 min ago
Mariupol authorities accuse Russia of bombing evacuation corridor
From CNN's Tim Lister in Kyiv
Local authorities in the besieged Ukrainian city of  Mariupol say Russian forces have started dropping bombs on the "green corridor" designated to evacuate Mariupol residents.
"Right now, the air bombardment of Mariupol is underway," said Petro Andryushchenko, adviser to the mayor of Mariupol.
Andryushchenko claimed that the airstrikes were being carried out in order to destroy road infrastructure and completely isolate the city.
There is no word from the Russian side on the Ukrainian claim.
Late Wednesday, the Russian Defense Ministry claimed that its forces had advanced in several districts around Mariupol.
42 min ago
Russian foreign minister falsely claims that it didn't invade Ukraine
From CNN's Sarah Dean
Two weeks into Russia's invasion of Ukraine, Russian Foreign Minister Sergey Lavrov falsely claimed Thursday that the country "did not attack" its neighbor.
He also said there are no plans for Russia to attack other countries and reiterated that a "situation in Ukraine" posed a "direct threat to the Russian Federation"
Lavrov, who met with Ukrainian Foreign Minister Dmytro Kuleba on Thursday, said the West is behaving dangerously. That includes the European Union, who "have violated their principles and values" while delivering weapons to Ukraine, according to Lavrov.
The meeting between Kuleba and Lavrov ended without an agreement reached on humanitarian corridors or a ceasefire in Ukraine.
Some context: Russia's unprovoked invasion of Ukraine began in the early hours of February 24 and its attacks have continued unabated since then. Russia has, repeatedly and without any basis, asserted that it was not the aggressor in the conflict, which it launched after amassing up to 150,000 troops on the border with Ukraine in what it claimed were military exercises but were in fact preparations for war.
1 hr 15 min ago
Russia-Ukraine talks end without progress on ceasefire, humanitarian corridors
From CNN's Lindsay Isaac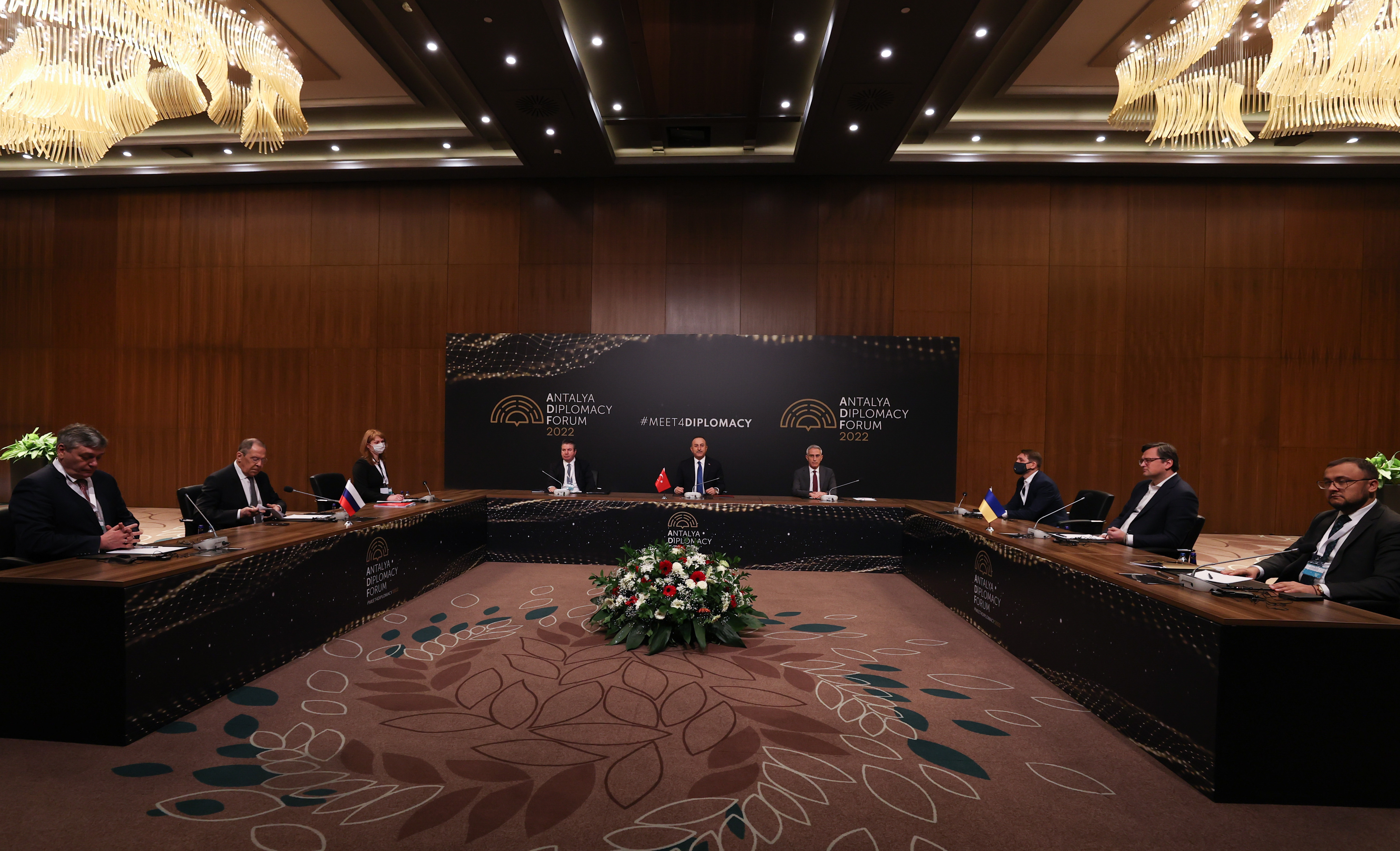 A meeting between Ukrainian Foreign Minister Dmytro Kuleba and Russia Foreign Minister Sergey Lavrov in Turkey has ended without an agreement reached on humanitarian corridors or a ceasefire.
Kuleba said he raised the prospect of establishing a humanitarian corridor to allow civilians to flee from the besieged city of Mariupol, but "unfortunately Minister Lavrov was not in a position to commit himself to it."
In a press conference following the short meeting, Kuleba said a 24-hour ceasefire was also raised in order "to resolve the most pressing humanitarian issues," but he said they "did not make progress" on the issue "since it seems there are other decision makers for this matter in Russia."
Kuleba said they did agree to continue efforts to "seek a solution to the humanitarian issues on the ground," and added that he is ready to meet again "in this format if there are prospects for substantial discussion and seeking solutions."
1 hr 43 min ago
Ukraine likely to join European Union, French EU affairs minister says
From CNN's Joseph Ataman and Camille Knight in Paris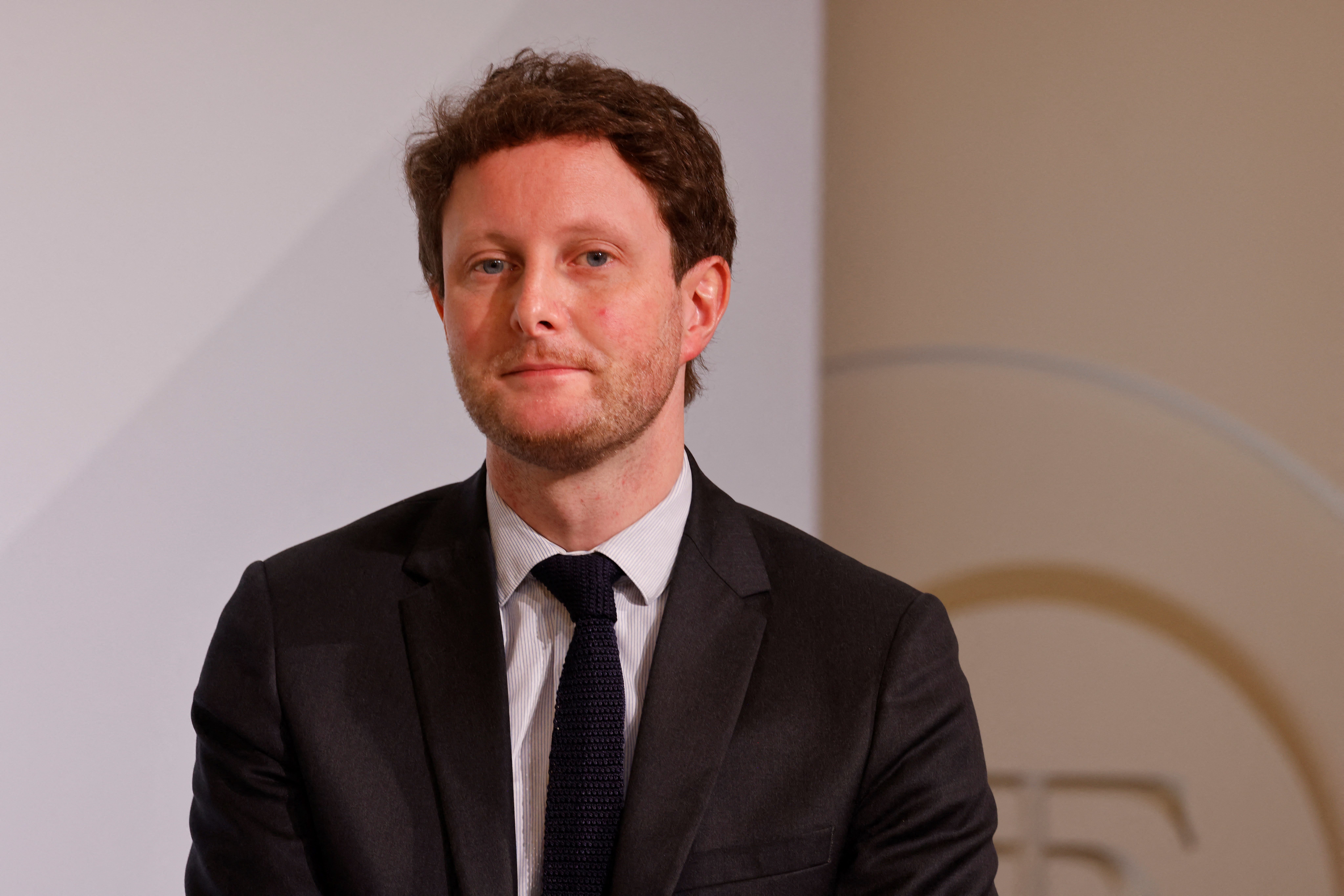 French European Affairs Minister Clement Beaune said that Ukraine, among other Eastern European countries, will "probably" join the European Union "in a few years."
"It is my deep conviction that there will be a European Union which will be in a few years, I don't know when, in a few years, probably extended to Ukraine, to Moldova, to Georgia, perhaps to other countries," Beaune told French broadcaster France Inter, speaking ahead of a meeting of EU leaders today and Friday in Versailles, outside Paris.
The admission of Ukraine to the EU though "is not for tomorrow," he added.
Beaune joined a chorus of global condemnation of a Russian "massacre" on a Ukrainian maternity hospital, adding that strikes against civilians were intensifying.
The minister also reiterated the need to move away from Russian gas as "fast as possible," adding that "Russia counts on the fact that we have need of her."
"By buying Russian gas, we are financing the war of Vladimir Putin," he said.
Beaune also called for joint European military defense complementary to the NATO military alliance.
He said that this would require investment, and the possibility of funding these efforts through joint European debt would be discussed at the Versailles summit.
2 hr 12 min ago
Ukraine athletes appeal for peace as they hold a minute's silence at 2022 Winter Paralympics
From CNN's Aleks Klosok in London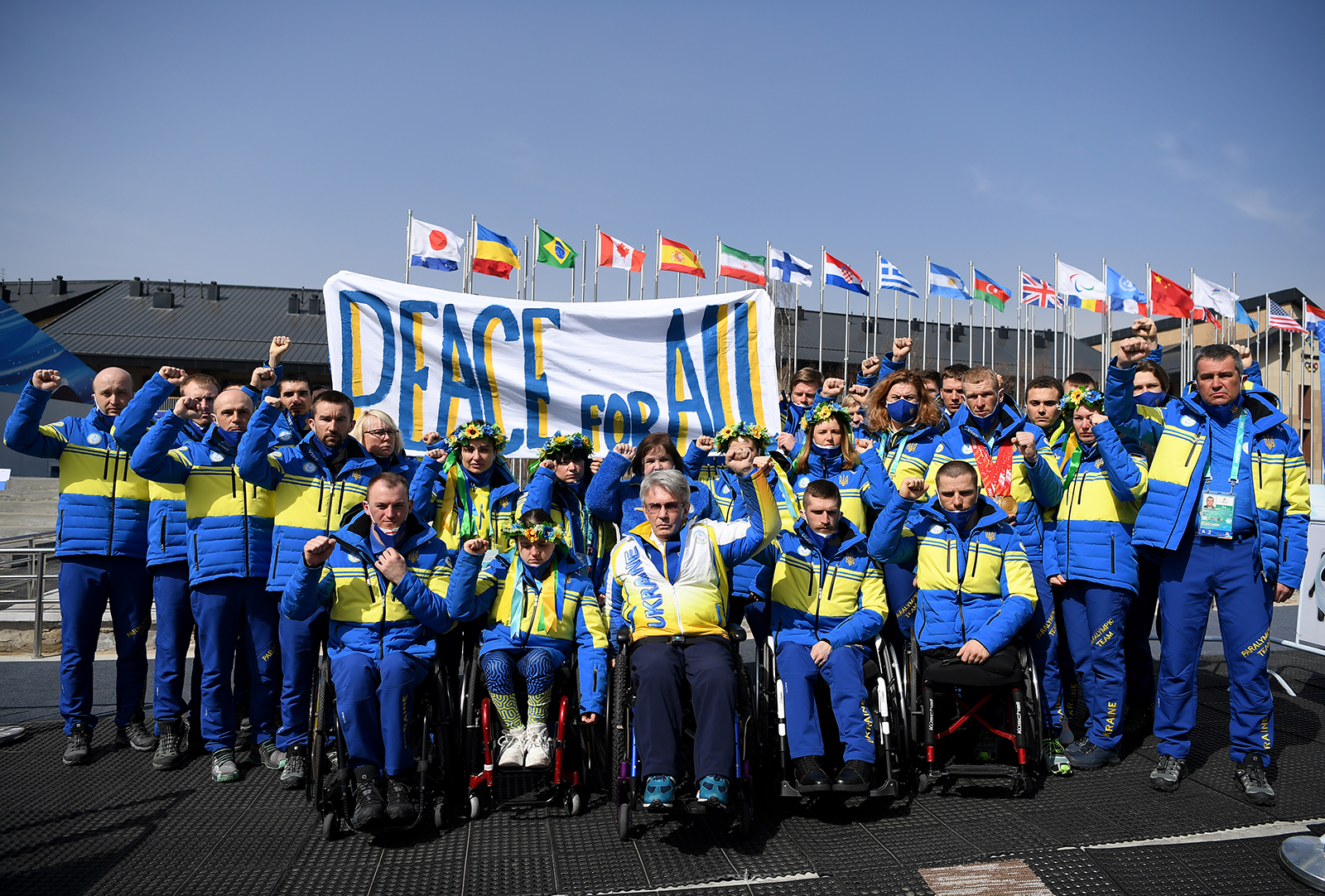 Ukrainian athletes and officials called for an end to the war in their country as they observed a minute's silence at the Beijing Paralympics on Thursday.
Led by Ukrainian Paralympic Committee president Valerii Sushkevych, the entire delegation held up a "Peace For All" banner in the Zhangjiakou Athletes Village, accompanied by raised fists.
"It's not only one-minute solidarity. Today one minute was about thousands of people, including children and people with disabilities," said Sushkevych.
"Today all civilized mankind looks in solidarity at this terrible war in our country, but I want to ask you (about your) role. If mankind is civilized, (it) must not overlook, (it) must stop the war in my country.
"(There) must be an understanding that children, people, women must live, not die. Today many, many people died. Stop war. If you are civilized, you must stop war."
Ukraine's team captain Grigorii Vovchyynski called for a no-fly zone over the country.
"It (war) must be stopped now. It's not life for Ukraine, it's not life for our children, no future for all the world. Everyone (who) saw it, you must do something. Please close the sky above Ukraine."
Head coach Andriy Nesterenko added that seven members of the team were from Kharkiv, a city which in under ongoing attack by Russian forces.
Nesterenko said some of them will not "have the possibility to come back," adding: "Their flats, their private houses are already destroyed."
"We kindly ask the people all over the world, we need your support immediately. We need your support today, not later."
Ukrainian athletes have so far claimed six gold medals at the Games and sit third in the table behind China and Canada.