43 min ago
US continues to share intelligence with Ukraine, official says, as lawmakers allege delays
From CNN's Jeremy Herb and Barbara Starr
A senior US defense official said Thursday that the US is sharing intelligence with Ukraine amid concerns raised by lawmakers that some intelligence has been delayed reaching Ukrainians on the ground.
Both GOP Sens. Ben Sasse and Marco Rubio — the top Republican on the Senate Intelligence Committee — have expressed concerns that intelligence is not moving fast enough, with Sasse saying "we have lawyers delaying the process at way, way too many steps and we shouldn't let technicalities get in the way of helping them fight back."
The senior defense official told reporters Thursday that it wasn't accurate that intelligence was "being held up" by government lawyers. "We continue to provide information and intelligence to Ukraine as we assess would be most helpful. That continues," the official said.
But asked whether any decisions have been made that the US won't share certain targeting intelligence with Ukraine because it risks making the US a party to the conflict, the official declined to discuss the specifics of what is being shared.
"What I can tell you is we continue to provide intelligence and information to the Ukrainians, and that's ongoing," the official said. "We share with them what we believe can be helpful to them. I'm not going to talk about the vehicles, I'm not going to talk about the parameters of that."
The official noted that the US no longer has boots on the ground in Ukraine or aircraft flying over the country's air space, saying the US ability to glean intelligence "is not as robust as it once was."
"The Ukrainians are on the ground, the Ukrainians are in the fight," the official said. "And in many cases, in many ways they simply have more contextual information than what we can give them." 
34 min ago
Russians have shown "willingness to hit civilian infrastructure on purpose," senior US defense official says
From CNN's Ellie Kaufman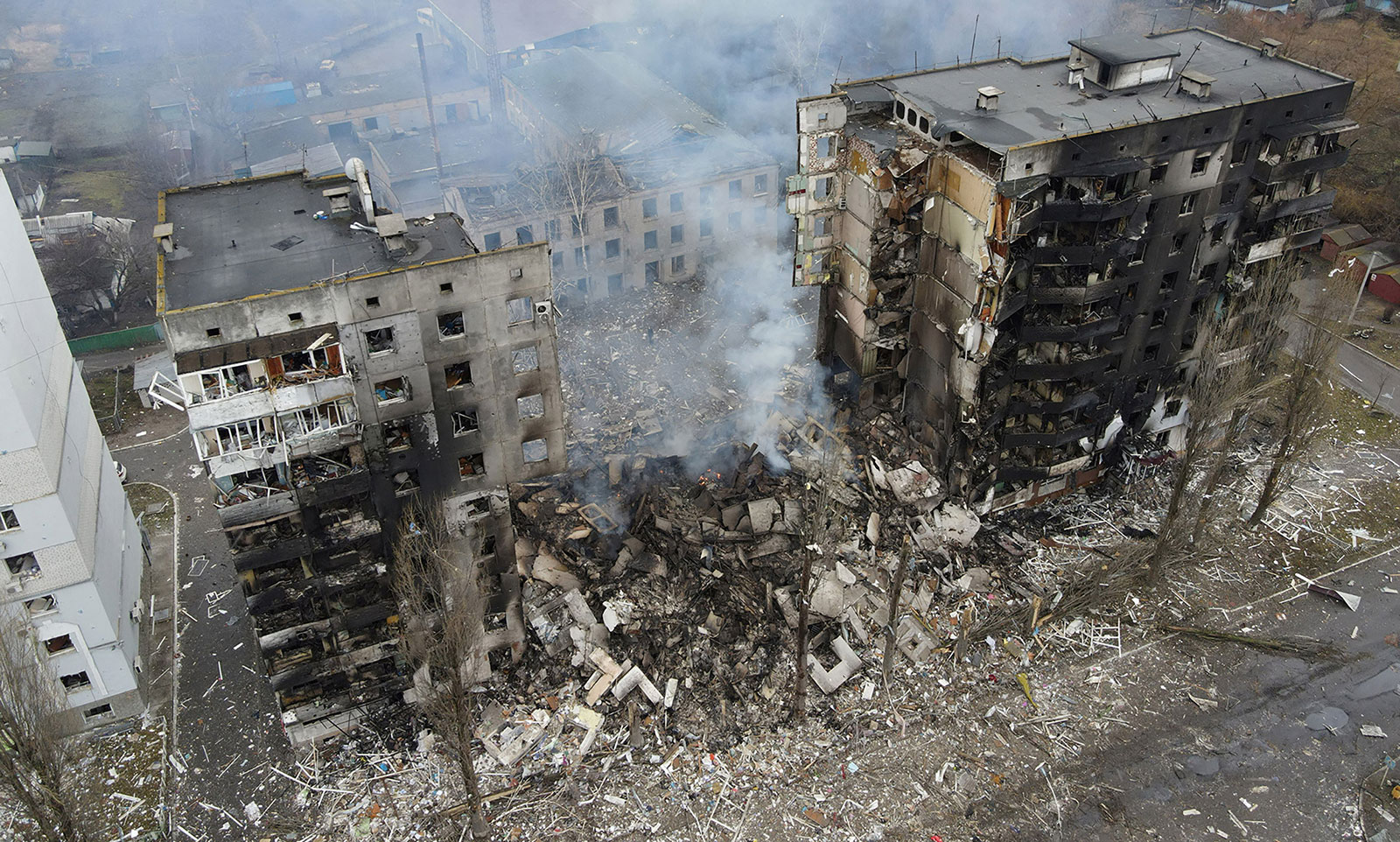 Russian forces have shown a "willingness to hit civilian infrastructure on purpose," a senior US defense official told reporters on Thursday. Previously, the official said the US was seeing Russians hit civilian infrastructure in Ukraine, but it was unclear if it was purposeful or not.
The official said the US can see Russians hitting civilian infrastructure on purpose in their targeting of structures like "media towers and media facilities." They are also "hitting residential areas," and, in places like Kyiv and Kharkiv, "hitting government infrastructure."
"One of the things that we certainly have seen them do in places like Kyiv and Kharkiv is hitting government infrastructure with increasing bombardment, as we've watched over the last couple of days, as they've gotten somewhat geographically closer to some of these population centers, the bombardments have increased," the official said. 
"It's clear they're trying to weaken the governing structures that are resident in these population centers," the official added.
US and other Western officials have told CNN that Russia's strategy in its war on Ukraine is shifting toward a "slow annihilation" of the Ukrainian military, warning that Russia could focus on a bloody and deadly bombardment of cities and civilian targets.
39 min ago
EU to give temporary protection to all refugees fleeing conflict in Ukraine 
From CNN's Niamh Kennedy in London  
The European Union will grant temporary protection to all refugees fleeing the conflict in Ukraine, according to the bloc's Commissioner for Home Affairs Ylva Johansson.  
Johansson made the announcement in a tweet Thursday, calling it "a historic decision." 
French Interior Minister Gérald Darmanin provided further details on how the protection will be offered in a press release: 
"This device will permit EU member states to offer persons fleeing the conflict in Ukraine a response adapted to their situation. Eligible persons can benefit from a protective status similar to that of refugee, in any EU country for a one-year period which may be reviewed," according to the statement.  
EU ministers met on Thursday to activate Directive 2001/55/CE, which provides "temporary protection in the case of a massive influx of displaced persons," according to the press release.  
The French presidency of the Council of the European Union and the European Commission welcomed the decision, saying it "reflected the EU's full engagement in showing solidarity towards Ukraine and assuming its duty towards victims of this unjustifiable war." 
"The European Union will continue to do everything to help Ukraine and the victims of the war," Darmanin stressed.  
UN High Commissioner for Refugees Filippo Grandi called the EU's decision "unprecedented." 
"It will provide protection to millions on the move. We encourage its swift and broad application," he said in a tweet.  
There have been more than a million Ukrainian refugee arrivals since the Russian invasion began on Feb. 24, according to the latest update from the UN Refugee Agency.  
1 hr 2 min ago
Analysis: Russia's invasion of Ukraine is entering its second week. Here's what could happen next. 
Analysis by CNN's Nathan Hodge, Tara John and Josh Berlinger
Russia's assault on Ukraine is just a week old, but its consequences have already been catastrophic.
In the seven days since Russian troops invaded their western neighbor, hundreds of people have been reported dead and one million have fled for their lives. Energy prices are skyrocketing, and food prices could be next.
No one can say for sure what will happen in the coming days and weeks, but years of relative peace and stability in Europe have already been ruptured, and should the fighting stretch on for months, the crisis could have even greater ramifications.
What happens to Kyiv? Russian President Vladimir Putin has been very clear about his basic goals in invading: He wants to disarm Ukraine, sever its ties to the NATO military alliance and end the Ukrainian people's aspirations of joining the West.
He has also said he wants to rid the country of what he calls the "gang of drug addicts and neo-Nazis that has settled in Kyiv and taken hostage the entire Ukrainian people," a baseless and highly-charged reference to Ukraine's democratically-elected government and its Jewish president, Volodymyr Zelensky.
Russian forces are encircling the Ukrainian capital, Kyiv, in an apparent push to topple the government, and a 40-mile-long military convoy is edging toward the city, which has been targeted by multiple rocket and missile attacks in recent days.
Zelensky has vowed to keep fighting, but he is under no illusions that Putin's forces "want to destroy Ukraine politically by destroying the head of state."
Should those forces take the capital, Ukraine does have other politicians who might be eager to fill the ranks of a pro-Russian puppet regime.
One of Putin's top allies in Ukraine is Viktor Medvedchuk, a prominent politician and oligarch. He faces allegations of treason in Ukraine and has been under house arrest, but his exact whereabouts are unclear.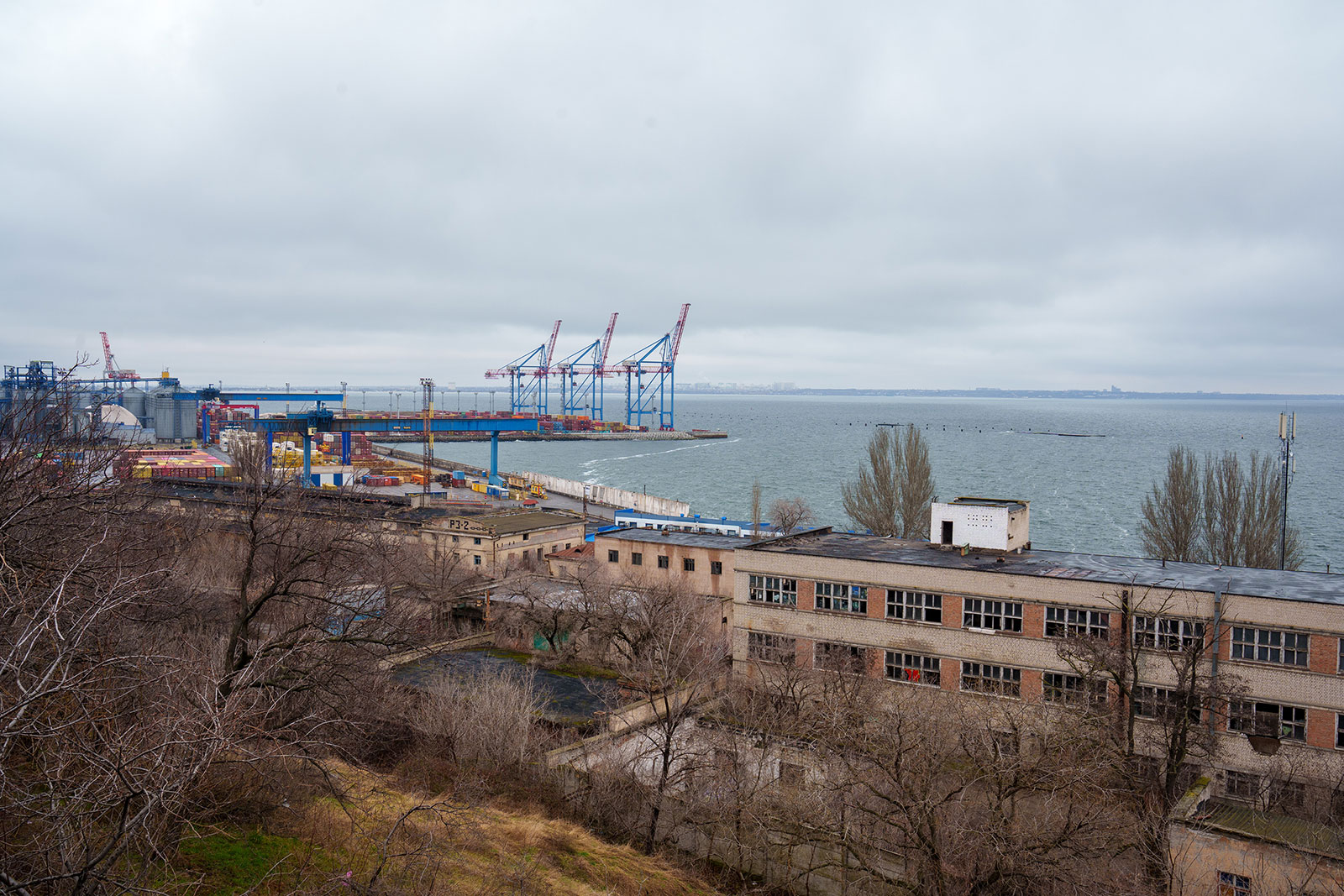 Territorial goals: Russian forces are also waging campaigns far from Kyiv, attempting to take control of key cities in Ukraine's south and southeast, including Kherson.
The mayor of Kherson effectively admitted that Ukrainian forces had ceded control of the city on Wednesday, saying in a statement on his Facebook page that residents would have to accept the direction of "armed people who came to the city's administration" — in other words, Russian forces.
One former NATO commander told CNN: "It is quite clear that Putin is pushing for a land corridor to Crimea." Richard Shirreff, NATO's former deputy supreme allied commander for Europe, said the land corridor was "an obvious objective."
"He's had Crimea in the Russian Federation since 2014, he's only been able to supply it across the Kerch Strait bridge, and so of course he's looking to establish that land corridor down off the Sea of Azov," Shirreff added.
If Russian forces capture the port city of Odessa, it is possible to imagine Moscow creating a land bridge extending all the way across southern Ukraine, potentially even linking Transnistria — a separatist enclave in Moldova, where Russian troops are stationed — to Odessa, Crimea and southern and eastern Ukraine.
Read the full analysis here.
1 hr 13 min ago
Britain will not let legal threats hamper its ability to sanction Russian oligarchs, UK foreign secretary says  
From CNN's Niamh Kennedy in London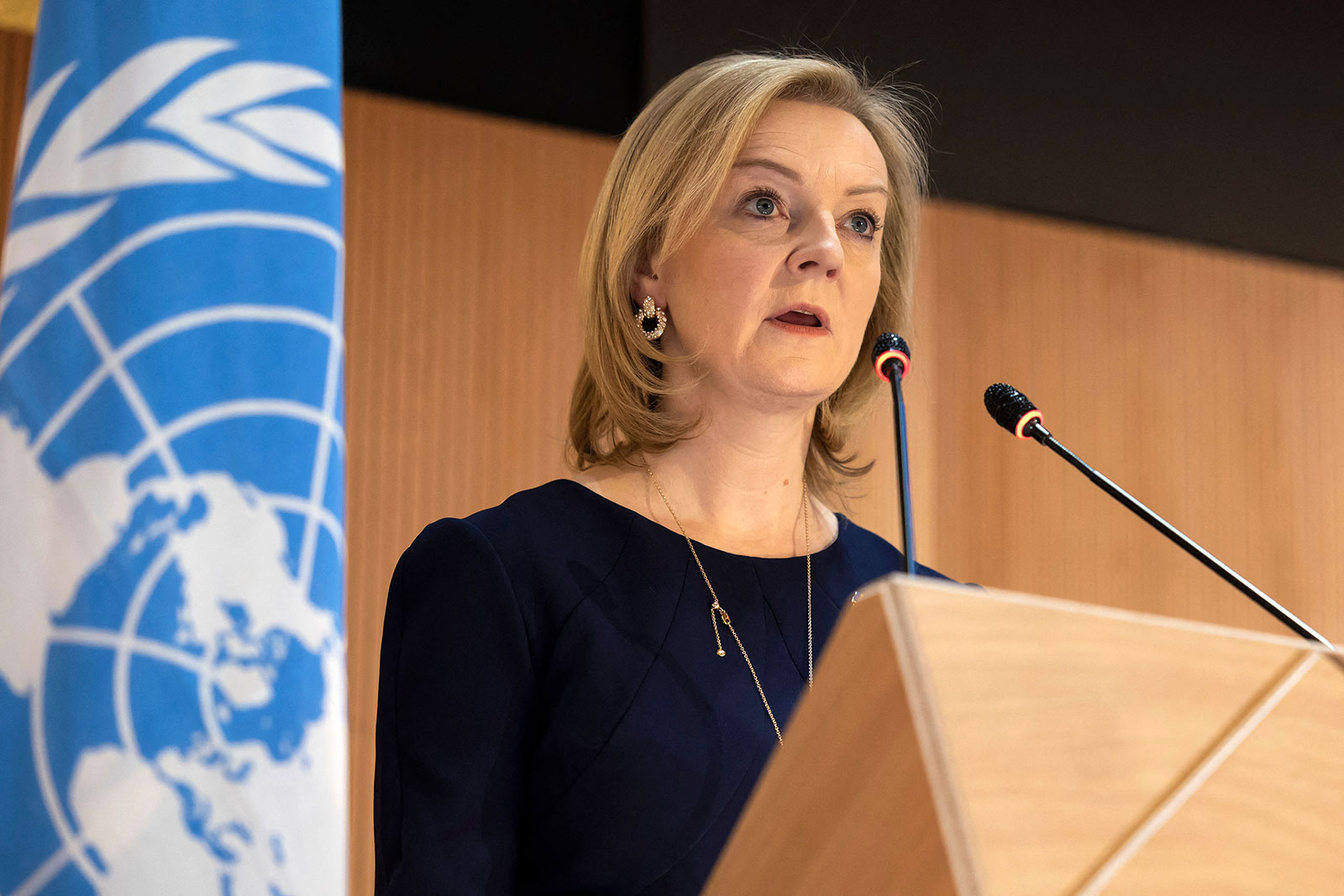 The United Kingdom will not let legal threats hinder its ability to sanction Russian oligarchs, British Foreign Secretary Liz Truss warned on Thursday. 
"I'm very clear that legal threats will have no impact on our ability to sanction oligarchs," Truss told reporters in the Lithuanian capital of Vilnius. 
The UK is "absolutely determined" to sanction Russian oligarchs, the foreign secretary stressed, adding that it is working through "a further list" of oligarchs to sanction. 
"There is nowhere for any of Putin's cronies to hide," Truss continued. 
Britain is also focused on "cutting off funding for Putin's war machine," particularly the oil and gas sectors, she added. 
To achieve this, the UK will work "in coordination" with its allies "to reduce dependency on Russian gas and oil," she said.  
59 min ago
90% of Russia's pre-staged forces are now in Ukraine and bombardment of cities has increased, US official says
From CNN's Michael Conte and Barbara Starr
Russia has moved 90% of its "pre-staged combat power" into Ukraine, according to a senior US defense official, with increasingly heavy bombardment against the cities of Kyiv, Cherniv, Kharkiv and Mariupol.
The official said that while Russian forces are "largely stalled" in northern Ukraine, "that doesn't mean that they aren't making any progress."
Russian forces are now "just outside" Kharkiv, though they remain stalled to the north and northeast of Cherniv, according to the official.
The official also said that the US cannot independently verify that the city of Kherson has fallen under Russian control.
Mariupol is still under Ukrainian control, according to the official, but Russian forces are advancing on the city from the north and from the coastline with the apparent intention of isolating it.
The official said that there have been no "appreciable" moves by Russia, naval or otherwise, on the city of Odessa.
While the US assessed that Russia had moved 90% of its combat power that had been prepositioned outside of Ukraine into the country, Russia is not "running out of juice" and still has "the vast, vast majority of their total combat power" available, the official said.
1 hr 31 min ago
US still believes Russian military convoy outside Kyiv is "stalled," senior US defense official says
From CNN's Ellie Kaufman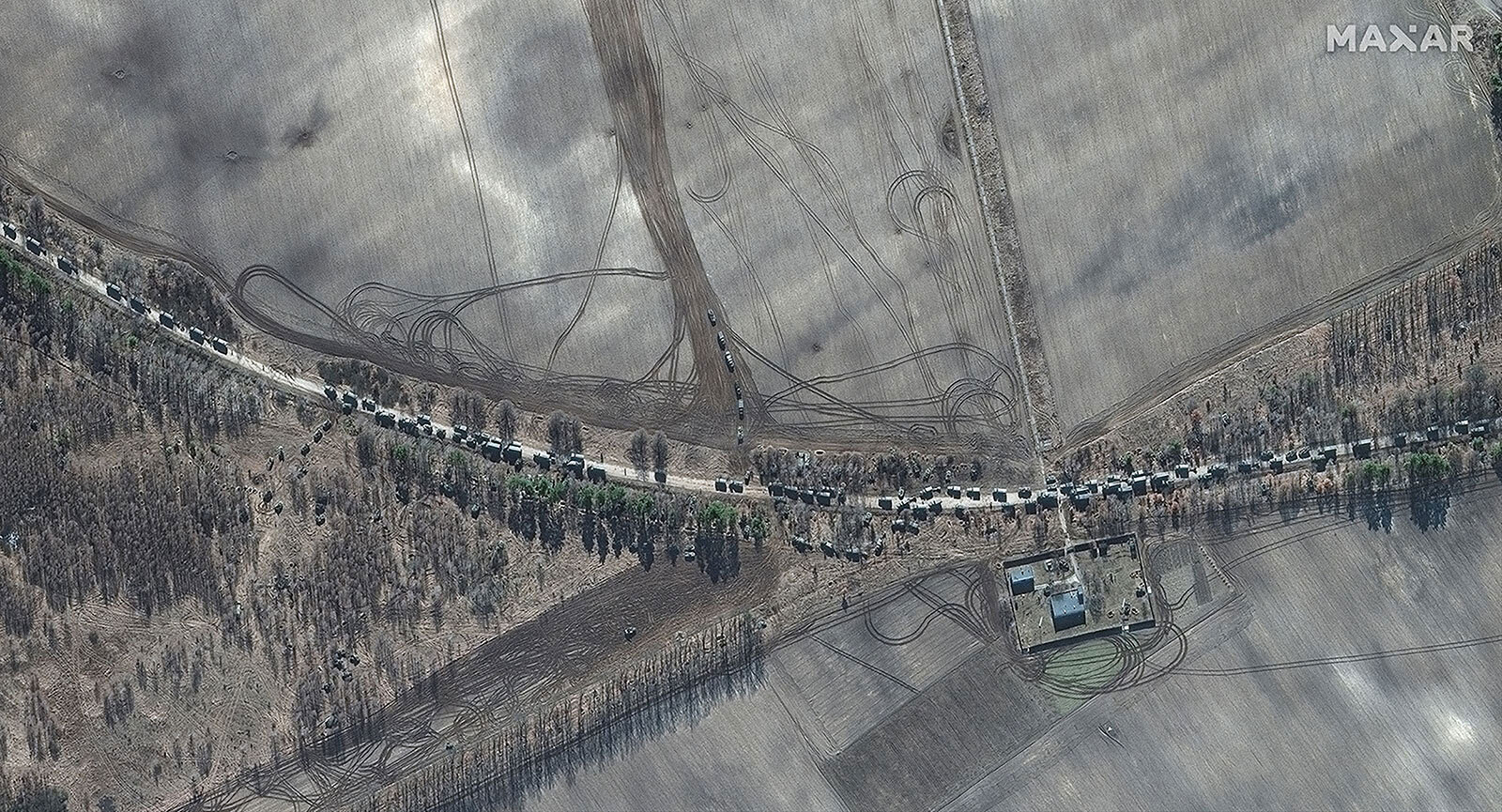 The US still believes a large Russian military convoy headed toward Kyiv is "stalled," a senior US defense official told reporters on Thursday.
The official said the US has "no reason to doubt Ukrainian claims" that they have "contributed" to the convoy being stalled by attacking it, the official said. 
"We still assess that the convoy that everybody's been focused on is stalled. We have no reason to doubt Ukrainian claims that they have, that they have contributed to it being stalled by attacking it," the official said.
More background: For days, residents of Kyiv had been bracing themselves for a 40-mile-long convoy of Russian tanks, armored vehicles and towed artillery to arrive for an assault on the Ukrainian capital.
On Thursday, the UK's defense ministry said the convoy appears to have stalled some 30 kilometers (about 19 miles) outside Kyiv and has made "little discernible progress" over the past three days, citing intelligence.
Read more about the convoy here.
CNN's Luke McGee contributed reporting to this post.
1 hr 36 min ago
Russia has launched "more than 480" missiles on Ukraine since beginning of invasion, US defense official says
From CNN's Ellie Kaufman and Barbara Starr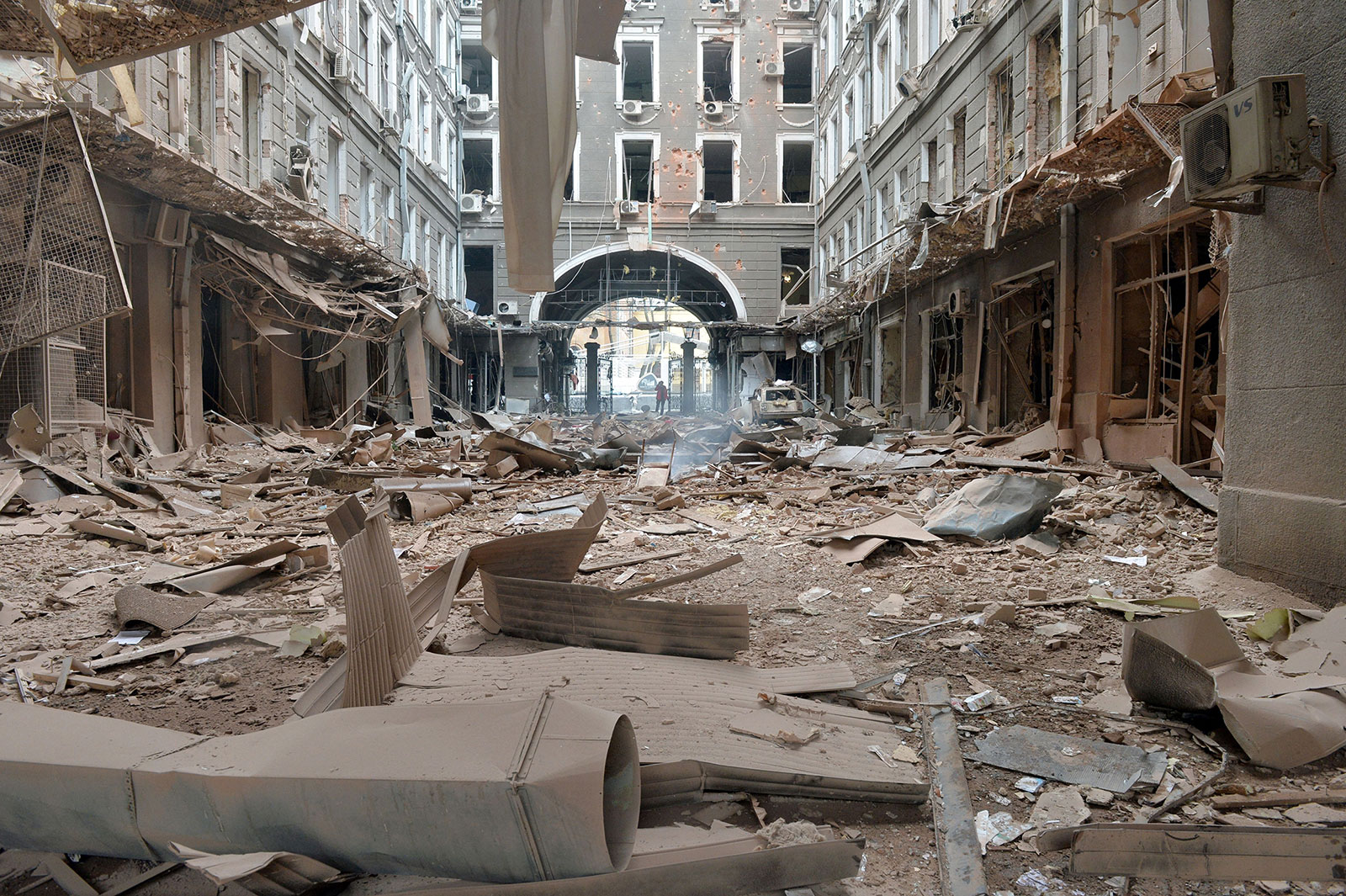 Russia has launched "more than 480" missiles of "all sizes and stripes" on Ukraine since the beginning of their invasion of Ukraine, a senior US defense official said on Thursday.
The invasion is in its eighth day. 
"More than 230" of that 480 total are "coming from inside Ukraine," the official said. "They have mobile systems, they're moving them inside," the official added. 
The next biggest chunk of missiles are coming from Russia, "about 160 from Russia" and about 70 are coming from Belarus, and a very small number — less than 10 — are coming from the Black Sea, the official added. 
While the airspace over Ukraine "remains contested," the US assesses that Ukrainian "air and missile defense systems remain intact" and "remain effective," the official said. 
"They continue to be able to fly their airplanes and to employ air defense assets," the official added.
2 hr 5 min ago
"Worst is yet to come": Putin told Macron he will continue war in Ukraine, Élysée Palace source says
From CNN's Nathan Hodge in Moscow and CNN's Xiaofei Xu and Anaëlle Jonah in Paris
Russian President Vladimir Putin told his French counterpart Emmanuel Macron that he will continue military operations in Ukraine during a 90-minute call initiated by Putin, an Élysée Palace source told reporters at a briefing on Thursday.
"This conversation is unfortunately an occasion to hear that President Putin will continue military interventions and to go all the way," according to the Élysée source.
"[The call] allowed the President of the Republic to return to the disagreements we have with Russia, to plead for the diplomatic alternative to military operations, to tell the truth to President Putin about the way we see his war in Ukraine but also the consequences it will have for Russia in the long term," the source continued.
The Élysée source said "the worst is yet to come" in Ukraine following Macron's phone call with Putin.
"Without making a prediction, we should expect the worst is yet to come. The (French) president said so yesterday as well. There is nothing in what Putin said today that should reassure us," the source said.
Meanwhile, Russian state news agency TASS said Putin and Macron had "a frank exchange of views on the situation around Ukraine," the Kremlin's press service said Thursday.
A Kremlin pool report from the Russian state news agency RIA-Novosti said the discussion was difficult, with Putin alleging the Ukraine had carried out a "seven-year sabotage" of the Minsk agreements, a peace process that was definitely ended by the Russian government in its recent recognition of two separatist republics in Ukraine's east.
The two sides agreed to keep the door of dialogue open, according to both the Russians and the French.
RIA's report added that Putin warned the West that if Russian-Ukrainian negotiations drag on, then Moscow will have new demands on Kyiv, and that the tasks of the "special military operation" — Russia's euphemism for its war in Ukraine — would be carried out in any case. 
According to the Élysée source, Putin also denied having bombarded Kyiv and warned that the situation will worsen, but it's the fault of Ukraine.
In response, Macron warned Putin that he is making a huge mistake, according to the source. Macron reiterated that Moscow's demands of neutralizing and disarming Ukraine are unacceptable, and the responsibility of this conflict falls entirely on Putin.
But Macron also said that there is still time for diplomacy and dialogue to address Russia's concerns and include Russia's interests; however, the discussion can't happen "under Russian control" and had to be organized by international partners, according to the source.
Macron also asked Putin to respect the Ukrainian president, his family, relatives, state officials and elected representatives, according to the source.
After his call with Putin, Macron spoke with Ukrainian President Volodymyr Zelensky.