1 min ago
Russia's media watchdog threatens outlets over Ukraine coverage
From CNN's Vasco Cotovio and Nathan Hodge in Moscow
Russian communications regulator Roskomnadzor has warned 10 local news outlets that it will restrict access to their publications unless they stop spreading what it calls false information, including references to the military operation in Ukraine as an "attack, invasion or declaration of war."
In letters sent letters to these outlets, the watchdog said it complained about allegedly "false information" they published on the shelling of Ukrainian cities and the death of civilians caused by the Russian armed forces. 
The outlets notified are: Echo of Moscow, InoSMI, Mediazona, New Times, TV Rain, Svobodnaya Pressa, Krym.Realii, Novaya Gazeta, Zhurnalist and Lenizdat.
Novaya Gazeta editor Dmitry Muratov won the Nobel Peace prize in 2021. Some of these outlets have been designated by Russian authorities as foreign agents. 
"Unless the above inaccurate information is removed, access to these sources will be restricted," the watchdog said in a statement on Saturday, announcing an investigation into the media outlets. 
"Roskomnadzor strongly recommends that the editorial offices of the media, prior to the publication (broadcast) of materials in accordance with Article 49 of the Mass Media Law, establish their authenticity," the watchdog said. "We emphasize that accurate and verified information is available from official Russian information sources."
4 min ago
Several security checkpoints are being set up around Lviv
From CNN's Mohammed Tawfeeq and Journalists Sofiya Harbuziuk in Lviv and Petro Zadorozhnyy in Lviv
Several security checkpoints were set up around Lviv in western Ukraine on Saturday, CNN teams on the ground have witnessed. 
The city's mayor confirmed the checkpoints in a statement on Saturday.
"Checkpoints are being set up in Lviv and the region. They will be placed on all entrances and exits to the Lviv Territorial community for checking all people entering the territory," Andriy Sadovyi said, according to the statement.
"Checkpoints are placed in cooperation with police and territorial defense forces to ensure the safety of Lviv," the statement added. 
Some of those checkpoints are still being established on the main roads leading to the city.
Separately, sirens went off multiple times in the city as local authorities in Lviv continue urging residents to take cover and go to nearby bomb shelters.
Lviv is the city to which some diplomats relocated from Kyiv, the capital, earlier this month.
6 min ago
No Russian casualties from Ukraine invasion reported by Russia's Ministry of Defense
From CNN's Vasco Cotovio and Nathan Hodge in Moscow
The Russian Defense Ministry has not reported a single combat casualty from the military conflict in Ukraine, a CNN review of their news releases shows. 
In its latest update to the media on Saturday, the Russian Ministry of Defense only lists losses of military equipment on the Ukrainian side, as a result of what it calls a "special military operation." On Friday, Russian Ministry of Defense spokesman Major General Igor Konashenkov said there were no casualties on the Russian side, in a statement regarding an operation to take an airfield on the outskirts of Kyiv. 
On the opposing side, Ukrainian President Volodymyr Zelensky has claimed that the country's forces have killed "hundreds" of Russian soldiers, without providing an exact figure. Ukrainian officials have acknowledged casualties on their side. 
On Friday morning, British Defense Secretary Ben Wallace said Russia had lost more than 450 personnel.
CNN has been unable to independently verify these figures, but videos have surfaced on social media purporting to be showing Russian casualties.
29 min ago
UN says more than 120,000 Ukrainian refugees have fled since Thursday
From CNN's Jennifer Hauser and Jeevan Ravindran
The United Nations' Deputy High Commissioner for Refugees, Kelly Clements, told CNN that up to 4 million people could try to cross borders as the crisis in Ukraine continues.
Speaking to CNN's Michael Holmes on Saturday morning from the Swiss capital Geneva, Clements said people were having to make "life or death decisions," with 850,000 people internally displaced while over 120,000 people had fled Ukraine.
We've had a humanitarian crisis in the country for the last eight years and it's just become a whole lot worse. In addition to those 850,000 internally displaced primarily in the east, we know that over 100,000 people are already on the move."
Clements said there were queues at a number of border crossings, and many Ukrainians were monitoring the situation. She added that "many more" would follow the "large number" of refugees who have already crossed into neighboring Moldova.
"We now see over 120,000 people that have gone to all of the neighboring countries. And I have to say, the reception that they are receiving from local communities, from local authorities, is tremendous," Clements said. "But it's a dynamic situation, we're really quite devastated obviously with what's to come, and we would say that up to 4 million people could actually cross borders, if things continue to deteriorate, which they have until now."
The latest estimate of displaced people is a huge increase from numbers cited by United Nations High Commissioner for Refugees Filippo Grandi on Friday, when he said more than 50,000 people had fled Ukraine in the previous 48 hours.
The Deputy High Commissioner for Refugees called for the protection of civilians and civilian infrastructure, saying, "international humanitarian law demands it" and people's lives were "quite literally being taken in this conflict."
"So far those borders are open, and this is something that's tremendously important in a dynamic situation like this," Clements added.
38 min ago
Zelensky refuses US offer to evacuate saying, "I need ammunition, not a ride"
From CNN's Sharon Braithwaite in London
Ukrainian President Volodymyr Zelensky has turned down an offer from the United States of evacuation from the capital city Kyiv, the Ukraine embassy in Britain said Saturday on Twitter. 
According to the embassy, Zelensky told the US: "The fight is here; I need ammunition, not a ride.
"Ukrainians are proud of their President," the tweet adds. 
In a video posted Saturday morning on Twitter, Zelensky said, "we are not putting down arms."
Zelensky remains a "prime target for Russian aggression," US State Department spokesperson Ned Price said Thursday evening amid Russia's invasion of Ukraine.
It echoed Zelensky's own words that his intelligence said he has become a key target.
Zelensky said Thursday that "according to our information, the enemy marked me as target №1, my family – as target №2. They want to destroy Ukraine politically by destroying the head of state. We have information that enemy sabotage groups have entered Kyiv."
39 min ago
Bridge which connects Russian-held areas to Ukraine enveloped in smoke
From CNN's Nick Paton Walsh in Kherson, Ukraine
The sound of shelling impacts hit around the city of Kherson, Ukraine, north of the Crimean peninsula, from 8 a.m.
By 11 a.m. the bridge — which connects Russian-held areas to Ukraine — was blanketed in smoke from the grass around it that had caught fire.
Shelling continued back and forth, and a CNN team could see through the smoke apparent armored vehicles on the bridge moving towards the Ukrainian side. CNN was unable to confirm who they belong to.
Battle over strategic link: CNN's Nick Paton Walsh has been reporting from the area.
On arriving to the southern Ukrainian city on Thursday night, he said Russian tanks were in the streets, with no rest overnight. Jets were flying low overhead, terrifying residents. 
By Friday, Ukrainian forces had reclaimed the key crossing into the country but not without cost. One Ukrainian soldier told CNN the Russians were "not far away." Civilians were seen picking through the wreckage on the bridge for ammunition, bodies of soldiers lying nearby.
"It shows you how many people are involved on a local level," Paton Walsh reports. "They're stopping everywhere to pick up whatever they can."
Friday afternoon brought the noise of more rockets landing in the streets and by dusk it appeared the balance of power had changed once again. Shells landed around Ukrainian positions and seemingly near houses. It was followed by the sound of an attack helicopter. All acute violence that seemed to indicate the bridge had changed hands again and moments later local officials told CNN Kherson's defenses had fallen.
This post has been updated.
1 hr 5 min ago
Russia says it's not hitting Ukraine's civilian infrastructure. Evidence suggests otherwise
From CNN's Gianluca Mezzofiore and Katie Polglase in London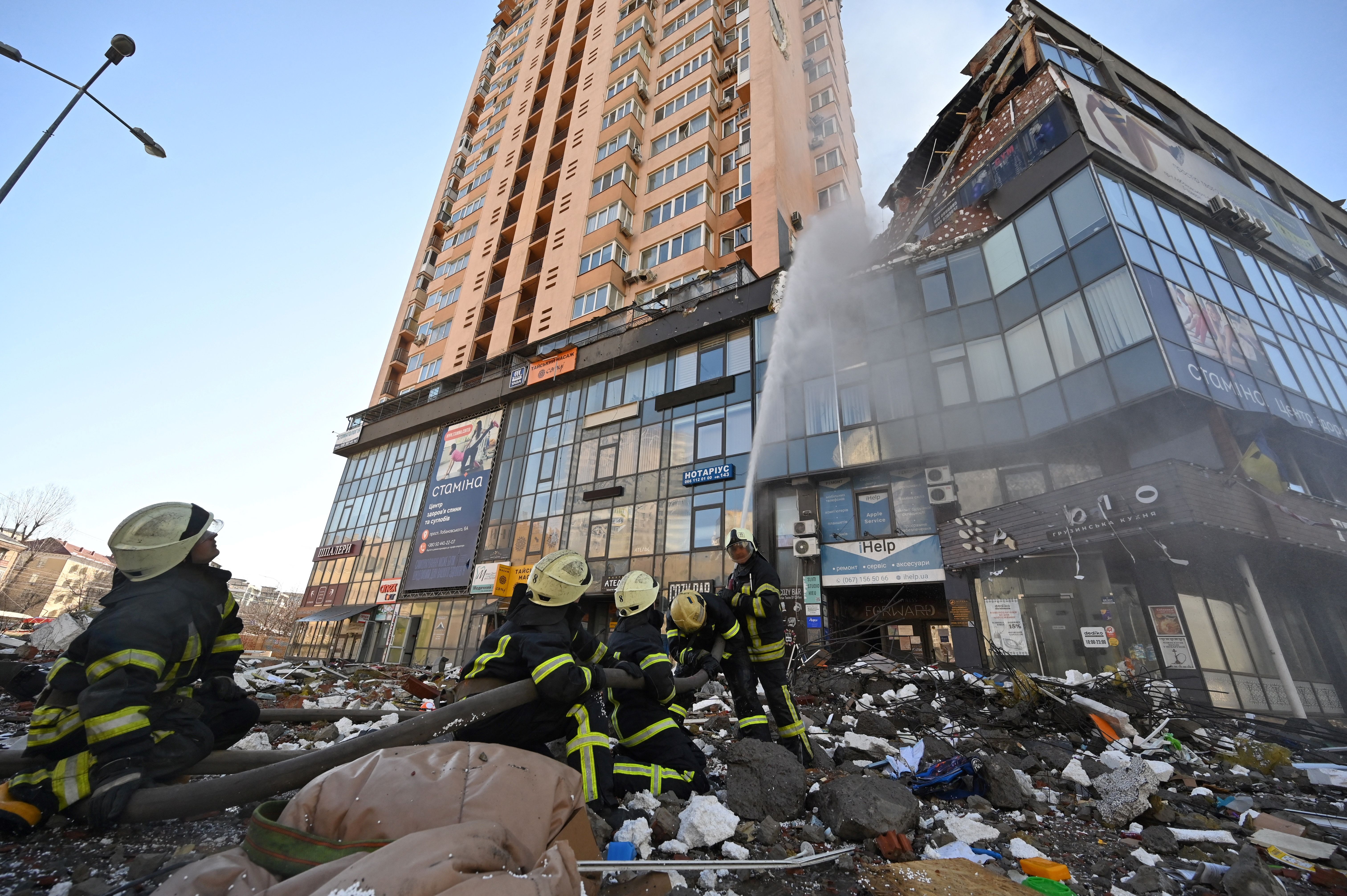 On Friday, Russia's foreign minister Sergey Lavrov sought to reassure the world about civilian casualties a day after Moscow had ordered an invasion of Ukraine.
"Nobody is going to attack the people of Ukraine," he said during a heated press conference, telling CNN that there were "no strikes on civilian infrastructure."
However, reports about apartment buildings and kindergartens being shelled, civilians being killed, and rockets being found in residential streets have been trickling in since the beginning of the offensive.
Social media videos, photos and satellite images analyzed and geolocated by CNN confirm that on several occasions densely populated areas have been hit by Russian forces. CNN is reaching out to the Russian government for comment.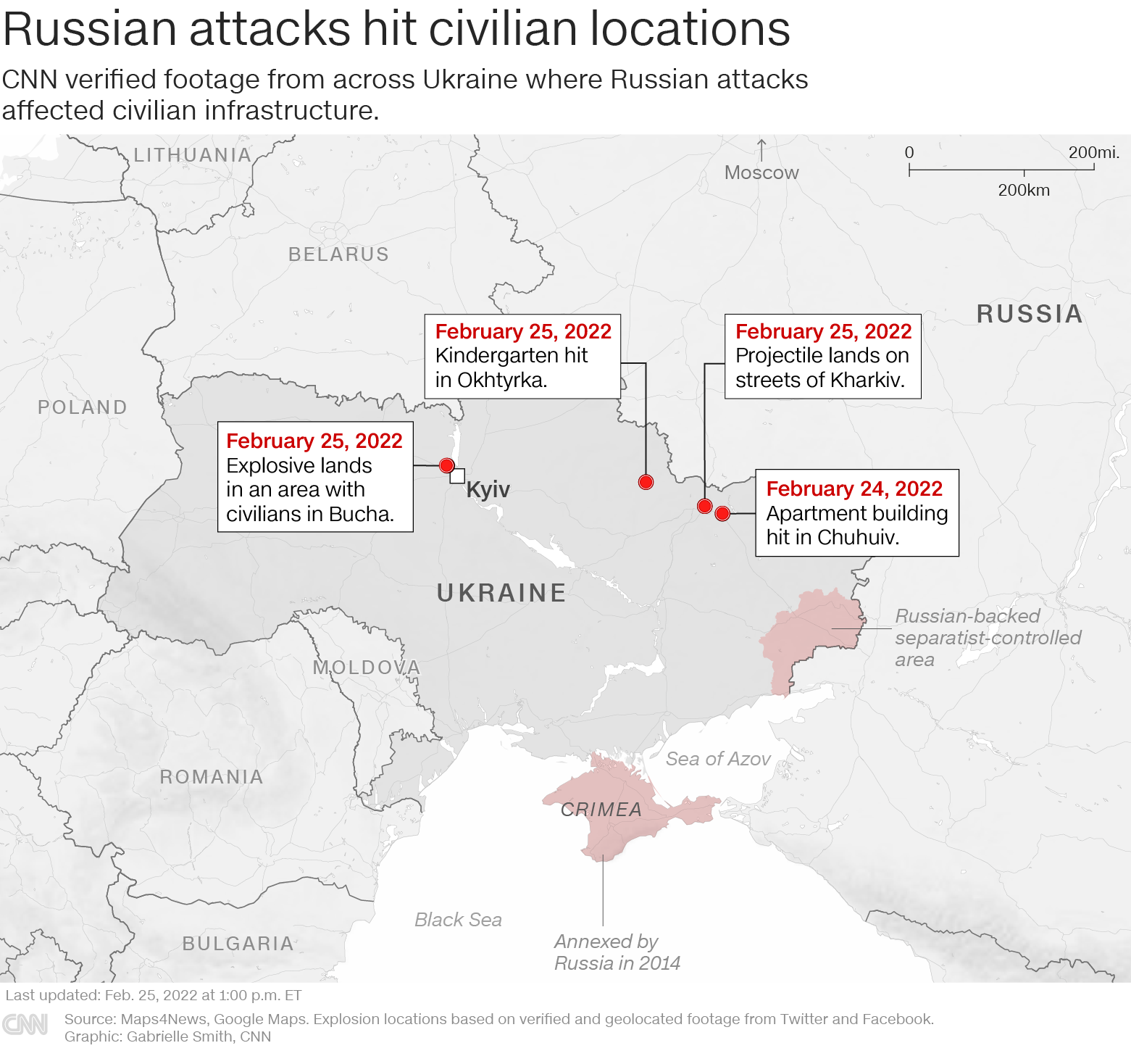 Amnesty International, in a press release on Friday, accused Russian forces of "indiscriminate attacks on civilian areas and strikes on protected objects such as hospitals," citing three examples, including an attack on Thursday near a hospital building in Vuhledar, in the eastern Donetsk region. That attack killed four civilians and wounded 10 more, Amnesty reported.
Read our full story: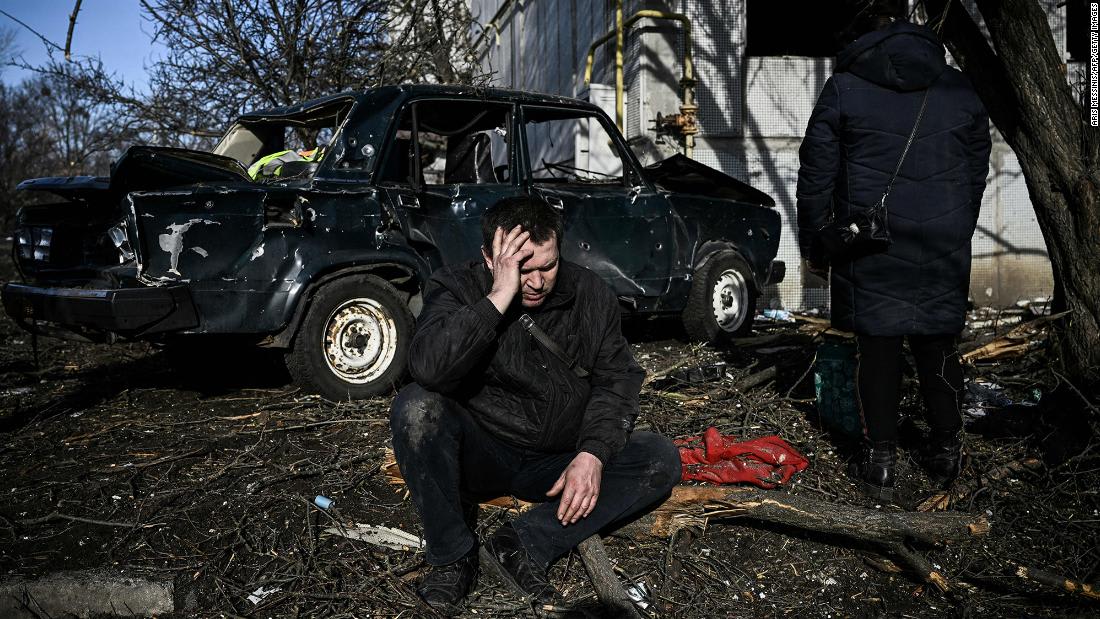 1 hr 17 min ago
Sanctions will test Russia's "fortress" economy
Analysis by Charles Riley, CNN Business
Vladimir Putin has been expecting the West.
Since 2014, when the United States and its Western allies imposed sanctions on Moscow following the annexation of Crimea and the downing of Malaysian Airlines Flight 17, Russia's president has been trying to build an economy capable of withstanding much tougher penalties. 
The West this week kept some of its sanctions firepower in reserve after Russian troops invaded Ukraine. Even so, the measures that were announced by the United States, the European Union and the United Kingdom will put Russia's "fortress economy" to the test.
Fear of what sanctions might do sent Russian stocks crashing 33% on Thursday. They have since recovered some of those losses, but the ruble continues to trade near record lows against the dollar and the euro. 
Russia's $1.5 trillion economy is the world's 11th biggest, just behind South Korea. Since 2014, its gross domestic product has barely grown and its people have gotten poorer. The value of the ruble has also tumbled, shrinking the value of the Russian economy by $800 billion. 
Read the full story:
1 hr 46 min ago
Zelensky tweets it is time to decide on Ukraine's membership in the EU
From CNN's Eric Cheung in Taipei, Taiwan and Joseph Ataman in Paris
Ukrainian President Volodymyr Zelensky said it is now a "crucial moment" to decide on his country's membership in the European Union, in a tweet on Saturday.
"It is a crucial moment to close the long-standing discussion once and for all and decide on Ukraine's membership in the #EU. Discussed with @eucopresident further effective assistance and the heroic struggle of Ukrainians for their free future," a tweet on his verified Twitter page said.
Defiant words: Earlier Saturday as the battle for Kyiv continued, Zelensky took to the social media platform a number of times to post updates.
In one 40-second video titled "do not believe the fakes," the president said: "I am here. We are not putting down arms. We will be defending our country, because our weapon is truth, and our truth is that this is our land, our country, our children, and we will defend all of this.
"That is it. That's all I wanted to tell you. Glory to Ukraine," he added.
In a separate tweet on Saturday morning, he also said: "A new day on the diplomatic frontline began with a conversation with @EmmanuelMacron. Weapons and equipment from our partners are on the way to Ukraine. The anti-war coalition is working!"
French support: French President Emmanuel Macron on Saturday warned that the war in Ukraine and the crisis around it "will last" as he predicted impacts on food markets. 
"If I can tell you one thing this morning, it is that this war will last," Macron told France's annual agriculture fair.
"This crisis will last, this war will last and all the crises that come with it will have lasting consequences," Macron added, warning: "We must be prepared.
"French and Europeans, we will be there," he said, "to build short and medium-term responses to try and fully secure our energy."
The president said that the crisis' "impact on our lives" will also extend to the world of farmers and food, without providing further details.