Golden Eagles route Cascade 73-51, move to semifinals; Lions convincingly defeat Squalicum 51-37 in opening contest
WHATCOM – With each classification at different stages in their district tournaments, varying degrees of stakes and pressure play out in a single day.
For the 2A girls, they are just beginning their opening round. It's also the quarterfinals after play-ins were completed on Feb. 10. The No. 3-seeded Lynden girls took care of business in their first contest, downing No. 6 Squalicum handily.
The 3A boys are already in their quarterfinal games, as No. 7 Ferndale kept to their winning ways on Saturday. The Golden Eagles thumped No. 9 Cascade (Everett), winning their ninth game in the last 12 after starting 1-7. 
Regardless of stage, each team moves one step closer to the state tournament.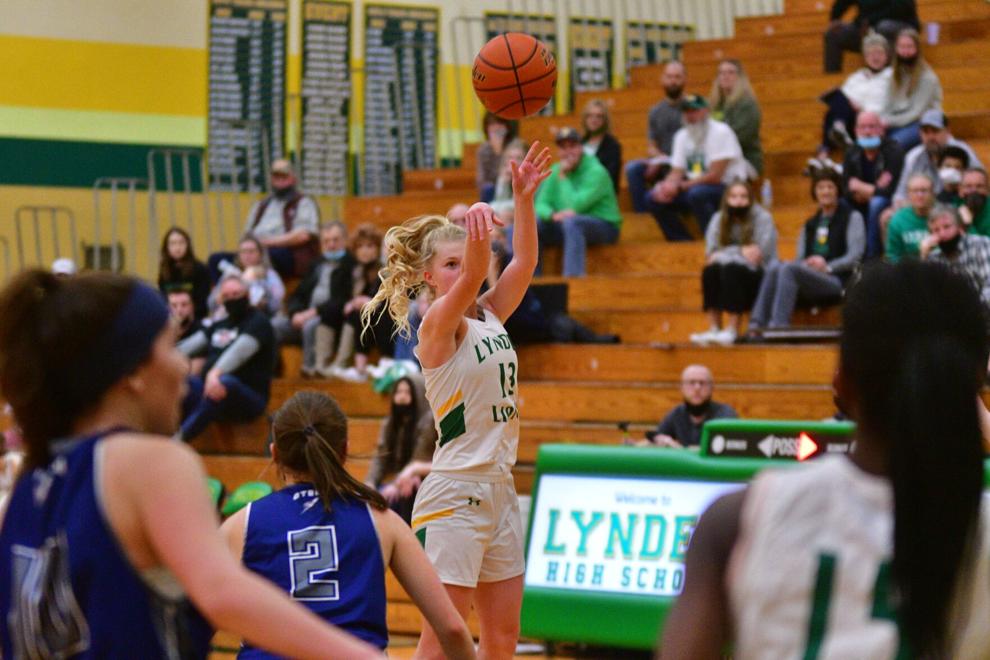 Girls Basketball:
2A District 1 tournament, first round: No. 3 Lynden 51, No. 6 Squalicum 37
The Lions started exactly how they wanted.
Lynden led 9-0 early after three consecutive 3-pointers by junior Adia Newcomb, senior Claire DeVries and then sophomore Kaylee Koetje.
"We're always encouraged to shoot, no matter what type of game it is," Newcomb said. "Sometimes people have off games, but I think just keeping up our confidence in our shot is big."
The Storm immediately used a timeout to stop the bleeding. For the most part, it did; they at least found a way to land some cuts of their own.
Squalicum finished the quarter outscoring the Lions 14-11, but Lynden still took a 20-14 lead into the second period.
In the second, both teams struggled offensively. There were a combined 10 points scored, as the Lions won the quarter 7-3. Still, Lynden remained in the driver's seat with a 27-17 lead at the break.
Lynden drank some more of their 3-point juice at halftime, outscoring the Storm 14-10 to push their lead up further. DeVries, Koetje, Newcomb and sophomore Mallory Villars each hit a 3-pointer in the quarter.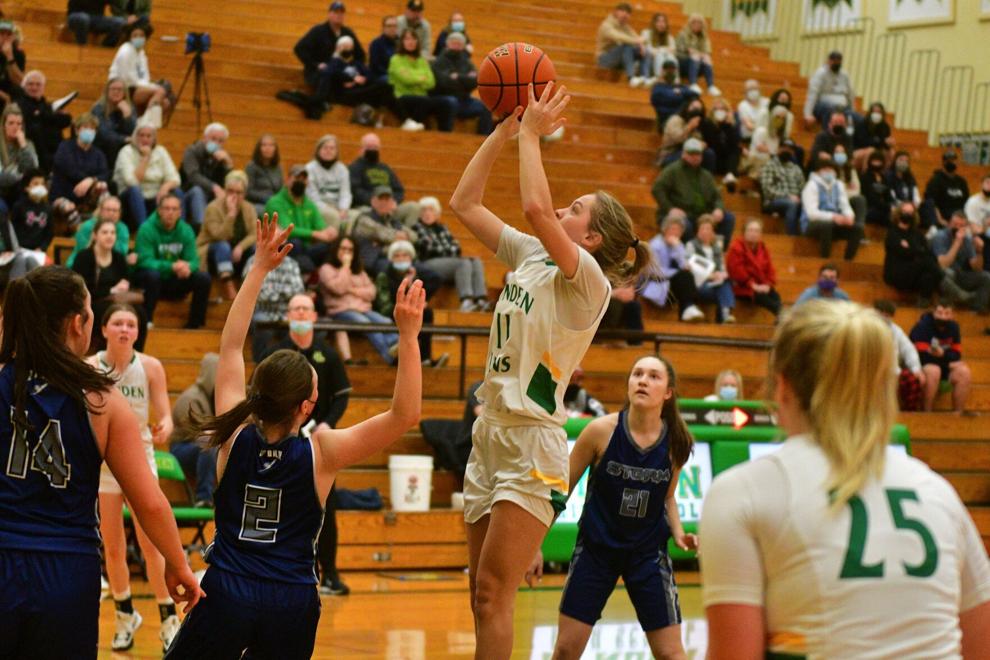 "I think it also helps us to feed off each other's energy," Koetje said. "If somebody makes a three, we go and just build up our energy off that."
The Lions stayed the course. They led 41-27 after three quarters, matching Squalicum's scoring output to coast into a 51-37 win.
Despite a healthy helping of turnovers by both teams, Lynden managed to stick to their game plan. The Storm made it so much a point to shut the Lions down inside that shooters were often left wide open beyond the arc.
"Basically they decided to make us shoot from the outside, they were kind of packing it in," Vic Wolffis, Lynden's head coach said. "Ultimately if a team chooses that you have to make them pay for what they are giving you."
Lynden's shooters were up to that task, burying 11 3-pointers on the day. The Lions only made six shots from inside the arc, for comparison. 
They also shot 6-for-7 from the free-throw line, as opposed to Squalicum's 15-for-25. The Storm left the game at the charity stripe.
Koetje had a game-high 18 points as Newcomb totaled 12. DeVries tallied 10 and Villars finished with 7.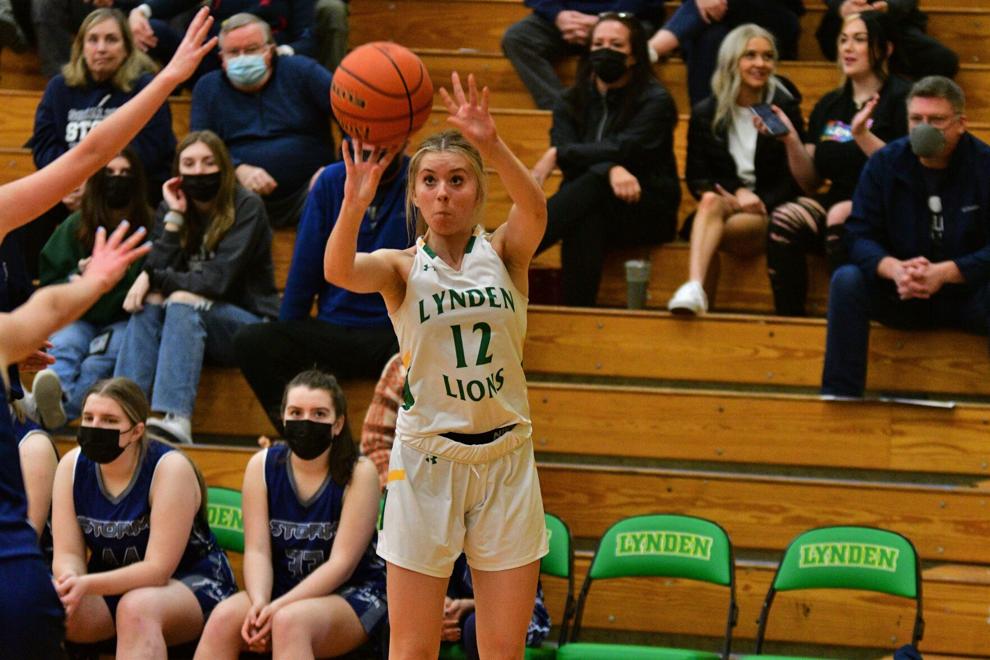 "We feel good. You get yourself into a game that you can qualify for the state tournament, a regional setting, you feel good about it," Wolffis said. "You put yourself in a position that you can't ask for more."
For Squalicum, sophomore Caitlyn Richardson totaled 10 sophomore Makayla Heaton finished with 8. Sophomore Mari Binning and junior Shelby Smithson each had 7. 
Lynden (13-5 overall) moves on to a semifinal matchup with No. 2 Archbishop Murphy (11-6 overall) on Tuesday, Feb. 15. A win would give Lynden an automatic big to state regardless of the championship outcome.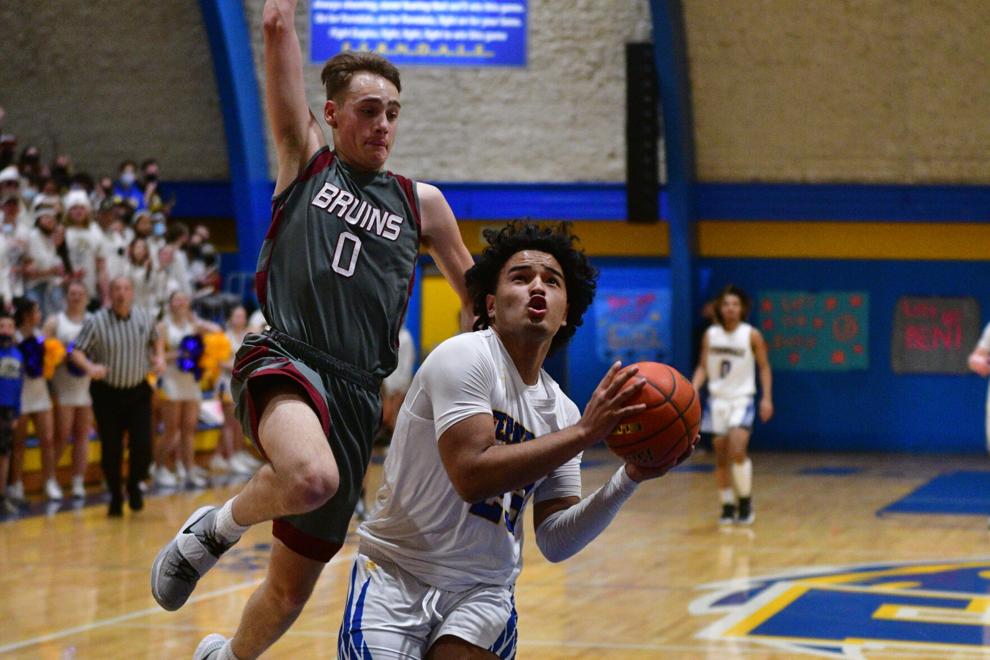 Boys Basketball:
3A District 1 tournament, quarterfinals: No. 7 Ferndale 73, No. 9 Cascade (Everett) 51
Against all odds, the Golden Eagles continue to soar. 
Ferndale began the season 1-7 overall. They have since won nine of their last 12 games. Now they are headed to the 3A District 1 semifinals.
The Golden Eagles upset No. 2 Shorecrest (17-2 at the time) 72-63 in the tournament's first round on Tuesday, Feb. 8, and it's clear that win wasn't a fluke.
"As a coach, I'm just trying to figure out for them how to be peak performers at the right time," said Jason Owens, Ferndale's head coach. "They're just playing confident basketball … when you have great players you look like a great coach."
Don't allow Owens to sell himself short. He coached this incredibly talented — yet jumbled and injured — roster into a legitimate state tournament team. It all begins with the coach's belief, and Owens displays that.
"We've been through so much adversity. I've never coached with this much adversity," Owens said. "I've never had a 1-7 team. I've never known what that feels like and what it would take, and that [tonight] was 10-10. So now we're .500. We're just peaking at the right time, and we're living with confidence. We're not worried about what anybody else is doing, we're focused on what we're doing."
In the first quarter, the lead changed hands eight times. It was a physical battle in which Ferndale was prepared to outlast their opponent.
The Golden Eagles led 17-15 after one, but control of the contest was yet to be determined.
As the second quarter got underway, it looked to be a similar story. Ferndale mounted a 15-3 run, largely led by junior forward Damian Toney and senior Mark Schlichting.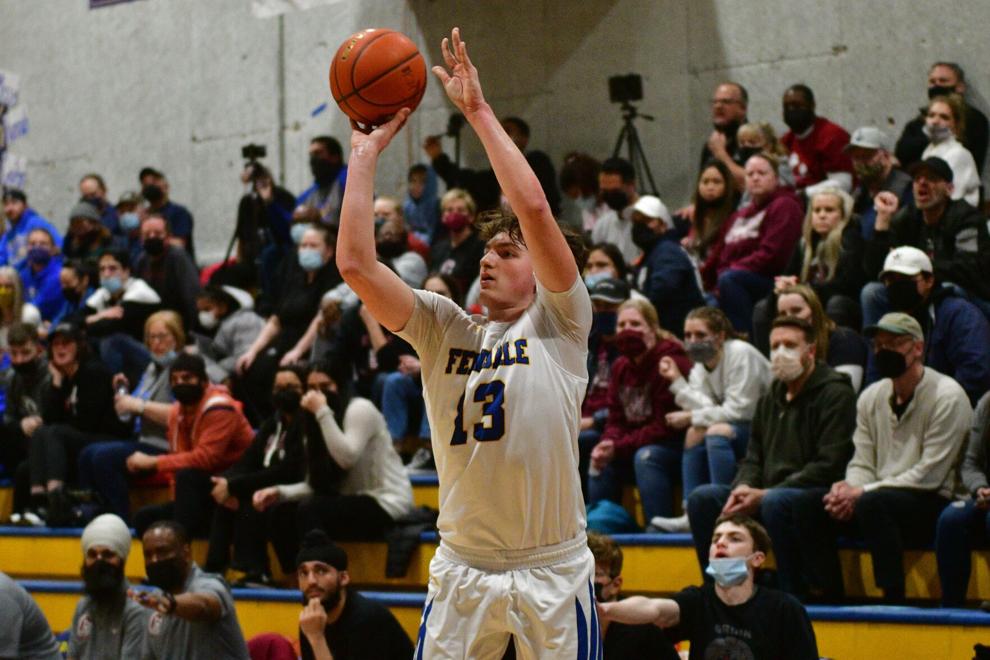 Suddenly a 20-all tie became a 35-23 for the Golden Eagles, and they never looked back. Heading into halftime, Ferndale led 37-26.
They continued to dominate the third with some more Toney twos, Schlichting threes, and a Wells 3-pointer to cap off the period. The Golden Eagles outscored Cascade 19-11 in the third quarter, leading 56-37 heading into the fourth.
Senior Luke Wells kept his 3-point barrage in focus, draining two in the fourth as senior Jazen Guillory made his usual impact scoring and passing. Ferndale won the quarter 17-14, draining clock and ending up with a convincing 73-51 win.
"I think a lot of it starts with Jazen attacking the defense, when he attacks the rim the defense kind of collapsed," Wells said. "I just got to locate to open spots. I know that Jazen is going to attack, and I trust that he's going to find me on the outside. Tonight he found me more often than not."
Wells poured in a game-high 18 points, all on 3-pointers. Toney followed him up with 16, as Schlichting had 15, also all on 3-pointers. Guillory totaled 13 coupled with a plethora of assists and sophomore Conner Walcker had 8 points.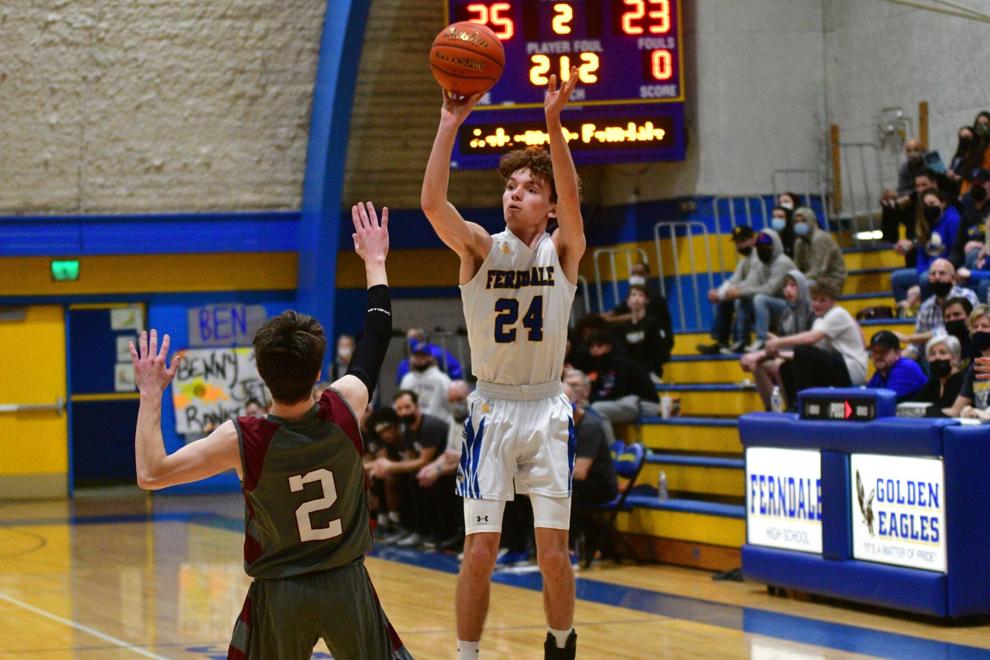 Schlichting and Wells combined for 11 3-pointers on their own, powering the team to victory.
Ferndale will play No. 3 Stanwood at Everett Community College on Tuesday, Feb. 15, at 7:15 p.m. The winner will get an automatic bid to regionals and the loser will have one more shot to make it on Feb. 19.
"I just think trusting the process, every day, believing in ourselves and believing in each other, that we can do this," Guillory said. "From day one we never thought that we weren't going to get to this point. This was the goal the whole time, and we stuck with it."