3 hr 26 min ago
Zelensky to Italy: Do not be a holiday resort for those promoting the war
From CNN's Sharon Braithwaite in London and Hada Messia in Rome
Ukrainian President Volodymyr Zelensky on Tuesday urged "more sanctions, more pressure" against Russia as the war keeps on ravaging Ukraine.
"Ukraine to Russian forces is the wall that separates them from Europe. But barbarians must not pass," Zelensky told Italian lawmakers Tuesday during virtual address.
"We need more sanctions, more pressure so that Russia looks not for reserves of mercenaries in Libya, but so that Russia looks for peace, so that that one man seeks peace," he added.
The Russian invasion "will ruin more lives, more families, and the full scale war will continue. Unfortunately, Russian missiles artillery is not stopping the bombing of our cities, all of the some of them have been almost destroyed completely," he said, adding that in Mariupol there is nothing left, "just ruins like armageddon."
"You know who brought war to Ukraine you know them very well. You know who is ordering war and who is promoting it. Almost all of them use Italy as a holiday resort. So do not be a resort for them. Block their properties, seize their accounts, their yachts from Scheherazade to the smallest one."
3 hr 25 min ago
Netherlands freezes $431 million in Russian assets
From CNN's Benjamin Brown in London
The Netherlands has frozen nearly 392 million euros ($431.44 million) in Russian assets, the Dutch Ministry of Finance told parliament in a letter seen by CNN.
As of Tuesday, 391,944,031 million euros had been frozen, with the ministry saying that further asset freezes were expected.
More on sanctions: Countries around the world have imposed sanctions against Russia over its invasion of Ukraine.
See a list of global sanctions on Russia here.
4 hr 14 min ago
Ukraine government adviser tells CNN there's a chance "Putin's power will be limited by his own people"
From CNN's Hala Gorani and Mohammed Tawfeeq in Lviv
Liubov Tsybulska, adviser to Ukraine's government and military, said there's a chance "Putin's power will be limited by his own people."
Speaking from Warsaw, Poland about whether there's potential for a Russian exit from Ukraine, Tsybulska told CNN: "I think that the best-case scenario is if something happens in Russia, we know that there's a division between Russian elites … people within their government understand that this war is going to bring Russia to collapse."
"So, of course, we expect they will do something in Russia. We cannot expect that having the support of the war, people go and protest and, you know, make basically a revolution. But there are some chances that Putin's power will be limited by his own people."
Speaking of Russia's offensive and the resistance forces are facing, Tsybulska said: "They are trying to take cities, but they cannot enter and take control over Ukrainian cities. They did it in Kherson, but people keep protesting, people keep resisting, and basically, Russians don't know what to do with that and the same thing with Mariupol, Kharkiv, and Kyiv."
"They can shell and kill civilians, but they cannot control the cities," Tsybulska said. Tsybulska said Putin's "ultimate goal" is Kyiv, adding "it will be very difficult, if not impossible, to take the city."
"But of course, Russia wants to frighten civilians, and they want to spread panic among civilians and demoralization and basically reduce the support for the Ukrainian army from the Ukrainian population," Tsybulska added.
4 hr 30 min ago
Large explosion heard in Kyiv while city remains under curfew
From CNN staff in Kyiv
Several loud explosions could be heard in the Ukrainian capital on Tuesday while the city was under a 35-hour curfew. 
One of the blasts was so strong it set off car alarms in the city center, a CNN team witnessed.
Ukrainian interior ministry advisor Anton Gerashchenko said Ukrainian air defenses had engaged and destroyed a Russia Tochka-U missile and that remains of the projectile had fallen in the Dniper river.
Shelling and small arms fire could also be heard intermittently over the past couple of hours.
Kyiv is currently under a curfew announced by the city's mayor, Vitali Klitschko on Monday. In a statement on Telegram, Klitschko said the curfew would begin Monday at 8:00 p.m and last until 7:00am on Wednesday.
"Shops, pharmacies, gas stations, institutions will not work tomorrow," he said. "Therefore, I ask everyone to stay at home or in shelters – at sound of an alarm. Only those with special permits will be able to move around the city."
4 hr 45 min ago
Ukrainian President Zelensky talked to Pope Francis about the war in Ukraine 
From Hada Messia in Rome and Sharon Braithwaite in London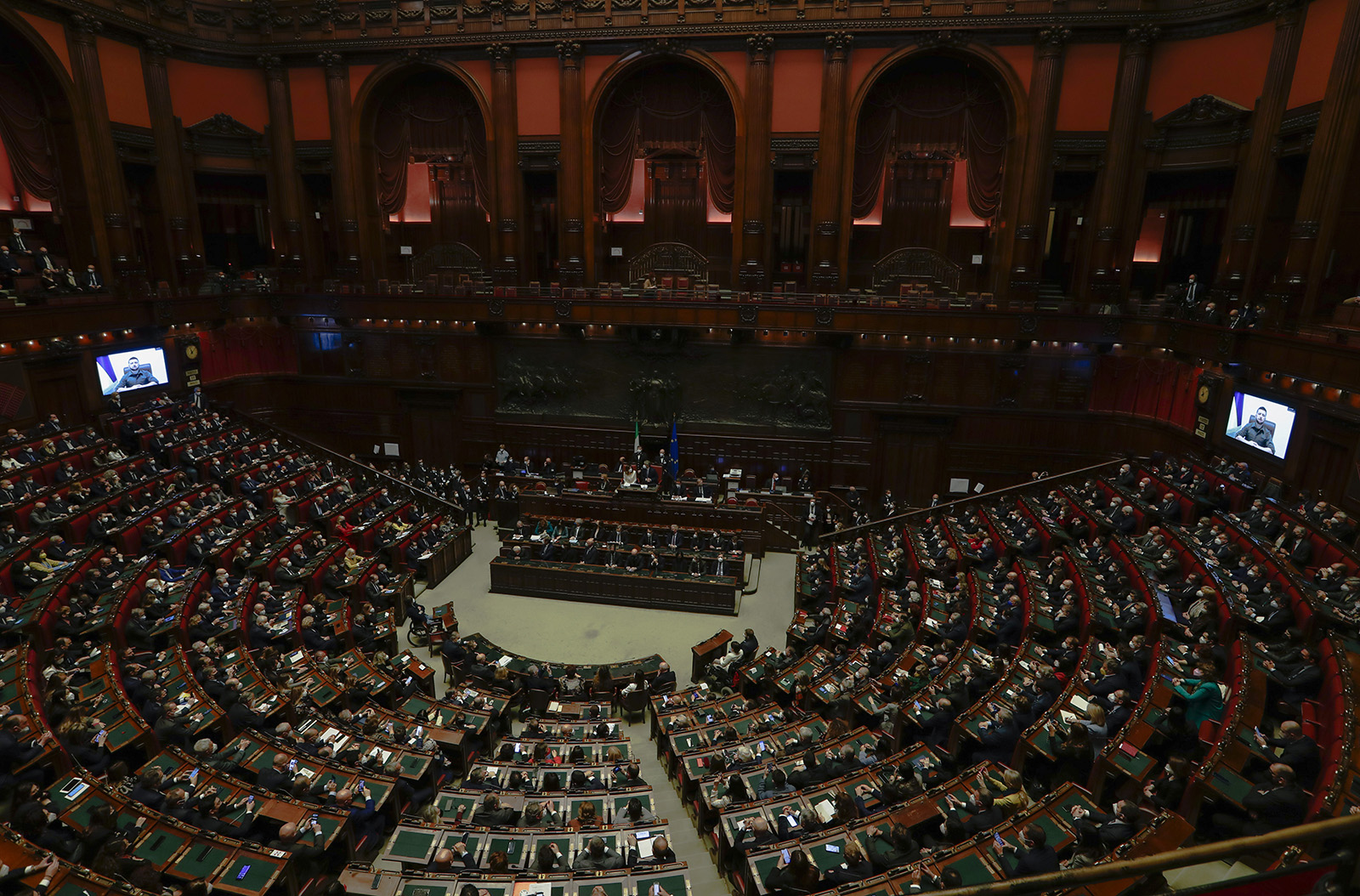 Ukrainian President Volodymyr Zelensky and Pope Francis talked over the phone on Tuesday about the war, Zelensky told Italian lawmakers on Tuesday.
"Today I spoke with his Holiness Pope Francis, and he said very important words: 'I understand that you want peace. I understand that you have to defend yourselves, that soldiers defend civilians, they defend their homeland. Everyone is defending it,'" Zelensky said in an address to Italian Parliament.
"And I answered: 'Our people have become the army, when they saw how much evil the enemy brings, how much devastation it brings, and how much bloodshed it (Russia) wants to see,'" the president said. 
Zelensky said that 117 children have died so far during the war, calling it "the price of procrastination" of other countries in stopping the war.
Zelensky told the Pope "about the difficult humanitarian situation and the blocking of rescue corridors by Russian troops," he tweeted. 
"The mediating role of the Holy See in ending human suffering would be appreciated," Zelensky added.
In a tweet, Ukraine's Ambassador to the Vatican Andriy Yurash said the pair had "very promising" talks. 
Yurash also said that the Pope " is the most expected guest in Ukraine."
4 hr 43 min ago
Some towns in Ukraine don't have more than 3-4 days' worth of food, according to aid agency
From CNN's Antonia Mortensen
Some towns in Ukraine don't have more than three or four days' worth of food, the aid agency Mercy Corps said Tuesday, warning that the humanitarian system in the country "is entirely broken down."
"One of our biggest concerns right now is the vulnerability of the supply chain. We know that most municipalities in areas seeing the most intense fighting don't have more than three to four days' worth of essentials like food," said Mercy Corps' Ukraine humanitarian response adviser Steve Gordon, who is in Kharkiv, the site of some of the heaviest fighting since the Russian invasion.
At least 70% of the population of Kharkiv and Sumy is entirely dependent on aid, he estimated.
"These are areas like Sumy, with 800,000 people nearly entirely reliant right now on aid shipped in on a day-to-day basis. Cities need at least a month's worth of food, stored in different warehouses in case they come under fire," Gordon said.
"The reality is that right now the humanitarian system is entirely broken down. We are not seeing a high-functioning, coordinated international aid effort covering the whole of Ukraine like we often see in other conflict zones," he said. "While the United Nations is getting aid into some areas, we've seen through the failure of humanitarian corridors that many people are only surviving through support from small Ukrainian civil society organization like church groups, which are coordinating essential deliveries such as food and medical supplies. These amazing volunteer networks are working as hard as they can but they are stretched to the max."
4 hr 50 min ago
Russian Nobel Peace Price winner will auction medal for Ukrainian refugees
From CNN's Eoin McSweeney in Abu Dhabi and Niamh Kennedy in London
Russian independent newspaper Novaya Gazeta will auction the Nobel Peace Prize medal won by its editor-in-chief Dmitry Muratov in aid of Ukrainian refugees. 
In a statement published on the newspaper's website Tuesday, Muratov said the droves of "wounded and sick children" requiring "urgent treatment" compelled him to offer up the prestigious medal. 
Muratov, the co-founder of Novaya Gazeta, won the Nobel Peace Prize last October for his tireless defense of freedom of speech in Russia. 
The editor-in-chief stressed in the statement the urgent need for a ceasefire, exchange of prisoners and provision of humanitarian corridors. 
The proceeds from the sale of the medal will go to The Foundation of Assistance to the Ukrainian Refugees, a nongovernmental organization that strives to "provide moral and material support to refugees from Ukraine."
More than 3.5 million refugees have now fled Ukraine, according to the latest update from the UN Refugee Agency.
Muratov concluded his statement by saying he was applying to auction houses for a "response that will tender this award known to the whole world." 
4 hr 58 min ago
What we know about Russia's death toll in Ukraine
From CNN's Lauren Said-Moorhouse in London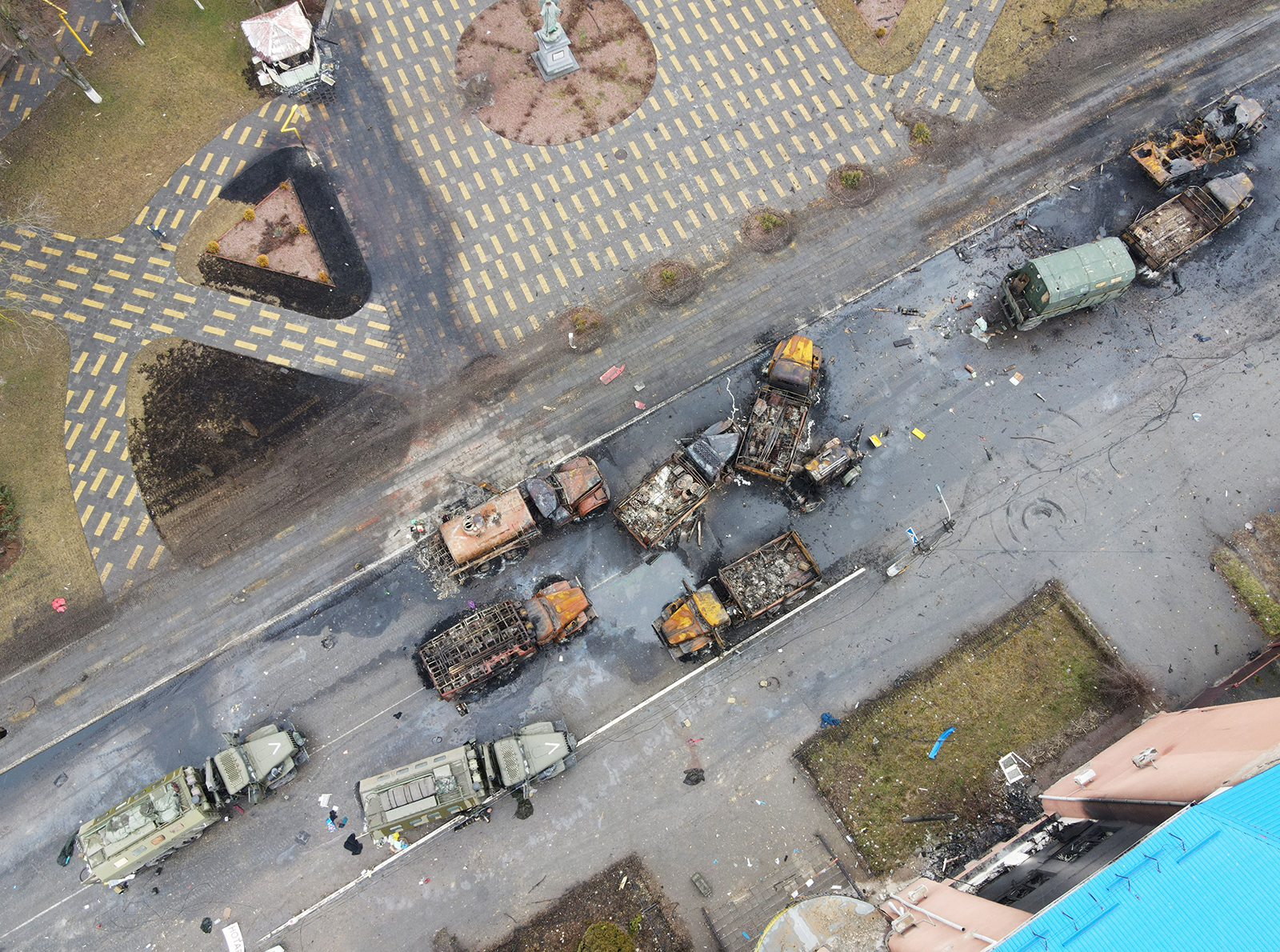 It's been nearly a month since Russia launched its invasion of Ukraine, deploying tens of thousands of troops into an offensive against its neighbor from three sides.
While Ukraine's military is much smaller, its forces have mounted a fierce resistance that has managed to hold off Russian advances in some parts of the country. A senior NATO intelligence official said Monday signs were pointing to a stalemate emerging in Russia's offensive, with Russian ground forces remaining stalled and Russian combat aircraft unable to achieve air superiority.
Precisely how many Russian troops have been killed in their campaign thus far is unclear.
On March 2, a Russian defense ministry spokesman put the number of dead Russian military personnel at 498. But that number has not been updated by officials since then.
Then on Monday a pro-Putin Russian tabloid published — then later removed — a report with an updated toll of 9,861 Russian armed forces deaths in the war in Ukraine, citing the Russian defense ministry.
The report from the tabloid Komsomolskaya Pravda originally read: "According to the Russian Defense Ministry, during the special operation in Ukraine, the Russian Armed Forces lost 9861 people killed and 16153 wounded."
CNN analyzed the website's HTML code, which indicated that the article was published on Monday at 12:09 a.m. Moscow time.
Seconds after CNN read the original article — at 9:56 p.m. Moscow time, according to the HTML code — the story was updated and all references to the death count were removed. That update on the outlet's website came shortly after the article began to get attention from social media posts, which referenced the death count.
The original report from the tabloid is in line with US Department of Defense estimates that there have been up to 10,000 Russian military deaths. Ukraine has put the number even higher.
CNN is not able to independently verify any of these figures.
After the update, Komsomolskaya Pravda, published a statement saying that "access to administrator interface was hacked" and that "a fake insert was made into a publication."
They claimed that "inaccurate information was immediately removed." CNN analysis showed that the update came after 21 hours.
The Kremlin dodged questions on the course of the war in Ukraine, which were put to the Defense Ministry on Tuesday. The ministry said it "does not have the authority" to publicize a count of Russia's military deaths while the "military operation" is still ongoing.
CNN's Natasha Bertrand, Paul P. Murphy, Vasco Cotovio and Nathan Hodge contributed reporting to this post.
5 hr 1 min ago
Woman who escaped Mariupol with her elderly parents says dead were left in the road or buried in yards
Natalia Hayetska said it was "incredibly difficult" for her and her elderly parents to escape from the besieged Ukrainian city of Mariupol. 
She said her family and their four cats were able to escape to Lviv thanks to "good people" who helped them on a four-day journey.
Conditions in Mariupol are desperate, she said.
"No infrastructure, no potable water — no water at all — no electricity. And there was constant bombing. And not only artillery, they were also using UAVs and some aircrafts. They are dropping bombs all over the city," Hayetska told CNN's John Berman.
"People were carrying those who were killed closer to the road and covering them with blankets. They were waiting for someone to collect the bodies. Some people buried the bodies in the yard because they knew no one would come to them. This is all true," she said.
Her mother, Halyna Zhelezniak, expressed gratitude to her daughter for making sure everyone evacuated together.
"I'm 84, and this was the first time in my life when I felt horror. I couldn't believe it happened. It was just a shock. I couldn't believe it. But this is the reality my family and I had to face. I'm grateful to my daughter Natalia for saving us. She simply saved us. She didn't leave us behind," she said.
Her father, Ihor Zhelezniak, said that he doesn't expect to see his city rebuilt again in his lifetime.
"The Mariupol I left will maybe be back in the year 3000, but I'm not going to live that long. Because there are only ruins," he said.
Watch more: