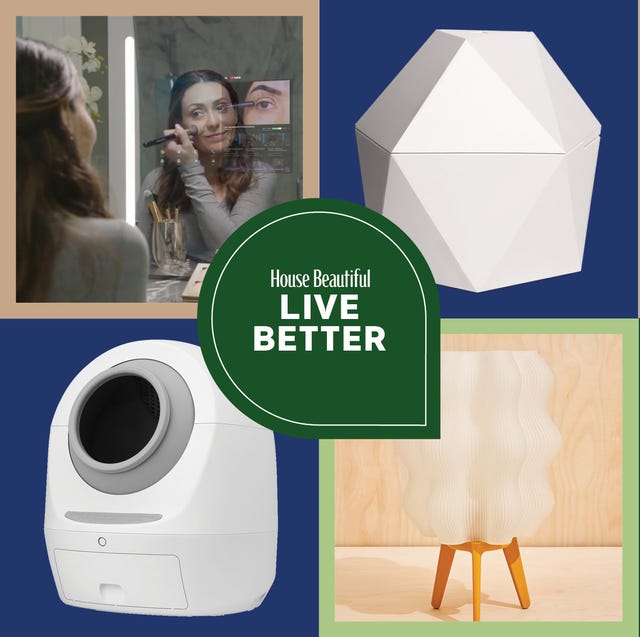 Oliver Yoo
Coming home should boost your mood instantly. And at House Beautiful, we believe your space should make your life easier, too. That's why we've tracked down the best products that will actually improve your life at home, whether it's a smart appliance that'll whip up dinner in your kitchen or an accessory that encourages you to chill out. And the cherry on top? They look good doing it.

Our 2021 Live Better Awards spotlight 50 homewares and gadgets that are designed to make life a breeze. You'll find eco-friendly products that keep your home cozy and spotless, smart technology that supports wellness and sleep, splurge items for self-care and fitness, and so much more. Basically: We found innovative gadgets that will make you wonder how you ever lived without them. To choose the winners, HB design editors consulted experts across various genres and tested dozens of new (and some tried and true!) products ourselves. Treat yourself to the most innovative products of 2021—and beyond.
Air Weight Organic Towels
The textured weave of these towels create narrow vertical channels that will make drying off quicker. They're also some of the most responsibly produced towels, as Coyuchi's use of GOTS-certified organic cotton ensures every person and community in the supply chain is safe and healthy. 
Windmill Air Conditioner
You'll proudly use this ultra-quiet unit that is good for the planet. The vents efficiently circulate air around the room using an app or voice control, which can be paired with Google Assistant or Alexa. Read our full review here. 
Solar Generator (HomePower 2 Series)
In an emergency, the HomePower 2 is a sleek upgrade that will make you feel safe in any storm or power outage. Basically, it's the first modern portable emergency backup solution that fits in with your decor.
Stuga Studio Flooring
Stuga Studio creates durable, three-layer flooring that's also beautiful—and sustainably harvested. The brand offers planks in a variety of natural hardwoods. 
Furniture Chalk Paint
Annie Sloan
Annie Sloan's skillful use of colors offers customers countless stellar options to choose from. Early next year, she'll be adding wall paint to her famous Chalk Paint line. 
Wavy Lamp
This intriguing 3D printed lamp is printed to order, which reduces waste or unused materials. The shade is made using heat-resistant corn-based plastic and is even compostable! 
Cleanyst All in Starter Kit
Customize your own hand soap, all-purpose cleaner, laundry detergent, glass cleaner, and so much more thanks to this plant-based concentrate kit. Each solution can be mixed to any level of strength you desire. And the best part: You'll be using all ingredients you can pronounce!
My Happi Air Purifier
A breath of fresh air is the simple joy of life and thankfully, this air purifier will keep your home toxin-free. It is made with a 5-layer filter technology that cleans the air within 450 square feet! If you're renting your home, this plug-in purifier can travel with you to your new space. 
AI Robot Self-Empty XL
Of course, we had to include a robot to make life easier. Shark's intelligent robot maps your home to quietly clean up pet hair and debris or deep clean floors. With a voice or app control—you will never complain of back pain while cleaning even the most stubborn spots.
Duravit SensoWash
This shower toilet designed by Philippe Stark is a hybrid bidet that will make you feel like the Jetsons. It opens via a remote control or smartphone app, allowing users to program profile settings for comfort. The features include an automatic open and close lid, heated seat, auto flushing, air dryer, and water temperature functions. 
Leo's Loo Too
Your pets deserve the best upgrades too! This triple-layer safety protection and self-cleaning gadget is a smart automatic litter box. It's available in four colors and includes a whisper-quiet motor so your furry friend feels some privacy.  
Moen Smart Water Detector
Protect your home from water damage—whether in your basement or by the washing machine—with this compact water monitor. The smart technology helps detect leaks to help reduce the risk of damage by providing 24/7 monitoring.
Aroma (Be) Free
You'll feel refreshed with this beautiful humidifier that uses the power of plants to release negative ions to elevate your space. It's chic decor when it's not in use too!  
Quartz Countertop Sample in Trafalgar
Cambria has various cool marble countertops will make your kitchen not only look elevated but feel like an oasis. 
Storage Basket Set
This vegan leather storage life changer is beautiful, stylish, sustainable, high-quality, and built to last. Stack it in your office or beneath your bed for storage that doesn't look clunky. It's available in four colors.
L'Avant Multipurpose Surface Cleaner
This is the prettiest cleaner that serves not only in looks but effectiveness. The solution is in luxe plant-based glass bottles and formulas to make wiping down surfaces in your home easy. Cleaning just got chicer! 
Tempest Weather System
The Tempest is a solar-powered weather station that can be used all year long. It's built to withstand rain, snow, and heat. The all-in-one design contains zero moving parts, making it stable, sturdy, and reliable. It can also integrate with IFTTT for cutting-edge smart home features, such as pausing sprinklers in rain or freezing temperatures or closing shades when it's hot outside.
Purple Hybrid Premieru00ae 3 Mattress
You deserve a restful night of sleep that makes getting out of bed easier, and getting into bed is the experience you look forward to once you get home. We reviewed this bed and can't stop raving about it!
Loftie Smart Alarm Clock
If you're used to your kids running around the house to wake you up or loud traffic to shake you out of bed, this sleek, two-phase alarm encourages you to get out of bed with gentleness. You can customize the alarm to by day, alarm sound, and music. It also includes wellness features like breathwork, sound baths, and guided meditation. 
Signature Embroidered Cottonfield Sheet Set
Boll & Branch is committed to fair-trade labor and organic cotton, meaning you can sleep easy on their sheets. Nestle into bed with this elegant sheet set that gets even better with time.
Brooklinen Weighted Throw Blanket
Take a moment to relax using this weighted blanket. It's breathable while feeling like a cozy hug when you need it, providing instant comfort from the couch to the bedroom. 
Muse S (Gen 2)
This multi-sensor meditation device provides real-time feedback on your brain activity, heart rate, breathing, and body movements to strengthen your focus and meditation practice. The headband can also have more than one user so everyone in your home will understand their sleeping patterns.
Café – Affetto Espresso Machine
With 20 bars of pressure, a built-in frother, and Wifi—you're officially everyone's favorite barista. 
Lomi Kitchen Composter
Toss in all of your food scraps, coffee grounds, and other materials to transform them into dirt for your indoor and outdoor plants. 
Ninja Cutlery
It doesn't get any more cutting edge than a knife set that perfectly cuts without rusting. The built-in sharpener will impress any kitchen-savvy cook while making it foolproof for beginners.
Revolution InstaGLO® R270 Toaster
No more crying over burnt toast! You can toast up to 34 bread types (including gluten-free ingredients) with just one tap. Whip up a panini for brunch or warm dessert for dinner without worrying about what's happening in the kitchen.
The Reboard
This cutting board was upcycled using kitchen plastic scraps and renewable sugarcane. It is BPA-free, making dinner prep safe and eco-friendly. 
Spärkel Beverage System
If you love a strong fizz and sparkle to your drink, this gadget allows you to enhance your drinks and infuse the flavor of fresh ingredients without using a CO2 tank.
The DB Method
After sitting at your desk all day, your glutes can feel like they're losing definition. This machine shifts the weight to your hips while allowing your glutes to get the attention. It creates a simple mind to muscle flow, so your muscles are activated and you don't have fret over having the best form to get moving.
the ness trampoline
Who says you can't have fun while working out? This lovely trampoline adds an extra pep to your step. Use the dynamic bounce-classes for a hype you'll never get over.
The MYX II Plus
Create your own gym with this bike set that includes mats, 6 piece weight set, resistance bands, foam roller and more. What makes this bike a must-have are the motivating coaches and classes available daily. Plus, we love the sleek silhouette and neutral white frame. 
CRUXGG 6-in-1 9qt Air Fryer
This is the ultimate air fryer! The Trizone Technology can cook up to two different foods or one large meal when you're in a rush for dinner. It can air fry, boil, roast, reheat, bake, and dehydrate within minutes! Say goodbye to asking for a hand in the kitchen.
Stem Zero Trio Red Wine Glass
The advanced craftsmanship of this wine glass makes for a feather-light feel. While it feels fragile, it's resilient and reliable for dinner parties of one or more.
Smart Mirror
Whether you like checking the weather or watching a makeup tutorial while you get ready in the morning, this smart mirror delivers the ultimate digital experience to the walls of any room in your home. Customers can cast their phones directly to the mirror and use the Thin Touch, touchscreen technology, for access to their apps and content on the mirror.
Charge Up Wellness Light Bulb
These energy-boosting light bulbs are a ray of sunshine to working from home. They naturally increase energy, focus, and alertness. Brilli also has a Wind Down bulb and Bright Clean 24" LED Vanity Bar that kills 98% of SARS-CoV-2.

Outdoor Entertainment 9
Take your movie night outside with this impressive 4K LED outdoor TV. The TV can weather the storm in any climate and is durable against water and dust. Sit back and relax, rain or shine.
Wemo WiFi Smart Outdoor Plug
Smart control your holiday lights, lamps, or any outdoor appliance using Belkin's weather-resistant outdoor plugs. Use the app or your voice to control the devices from anywhere. 
AirDresser with Steam Refresh & Sanitize Cycle
Say goodbye to the dry cleaner: This marvel combines powerful steam and air to remove wrinkles and 99% of common bacteria, dust mites, and odors from your clothing. And it looks super sleek, too! 
Moxie showerhead and wireless speaker
Singing in the shower gets a million times more fun with this luxurious shower spray and speaker system. The high-quality sound will make listening to your favorite podcast a breeze.
The Allay Lamp
If your eyes are sensitive to light, this lamp is the soothing solution to calming a migraine or assist in reading or working in your home office. 
The Perfect Gift
 There are some gifts you give to yourself that you don't need to explain why you love them. This wine glass holder and chiller is a witty gift for wine lovers. 
drift
Available in black or cream, this wellness sandscape table aids users in their journey for relaxation and mental wellness. Set this on your coffee table or desk to improve your mood, inspire creativity and enhance focus. Your mind deserves a break and this innovative beauty can create hundreds of patterns and colors to help you drift away from stress. 
Aeron Chair
Initially introduced in 1994, Herman Miller's top-selling ergonomic Aeron Chair, which has graced countless offices (and now home offices!) is now offered in a version made from recycled ocean waste! 
Better Battery Pack
The first of its kind, Better Battery is a subscription battery service delivered directly to your door.  The carbon-neutral batteries power your devices, and after the life of your battery is over, you can simply place it back in the subscription box and send it back to be recycled.
LOL Spoken Flames Candle
The gift of laughter is yours with the help of this augmented reality candle that will engage your senses. The tropical blend will whisk you away to vacation, while the crackling will keep you grounded. Each candle experience is brought to life through spoken word artists.
Calyer Planter
Greenery Unlimited allows green thumbs and—er aspiring—green thumbs alike to bring the outdoors in with ease: Their planters are self-watering, apply LED technology, and use an automated gravity-fed irrigation system. Plus, the lightweight fiberglass pots include a removable drainage plug to use when watering your precious plant.  
Bold & Bright Florist
With its bold new rebrand, FTD proves that its the instant refresh you'll use over and over again for any occasion. Each bouquet is arranged by local florists, too, for a more sustainable supply chain. 
Arber Holistic Kit
This organic, non-toxic plant wellness company is safe for the planet and your family. Your plants will get the much-needed love and care they deserve when you use this safe alternative that prevents disease, wards off pests, and promotes growth. 
Bug Shield Blankets
Made entirely of recycled materials, this odorless, lightweight hero saves the day from function to style. Instead of dosing your family in bug spray, Outer's blanket uses permethrin technology (based on a natural insect repellent found in plants like chrysanthemums) to create a barrier that fights bugs. 
Medgina Saint-Elien Associate Market Editor Medgina Saint-Elien is House Beautiful's Associate Market Editor, where she covers everything your home is missing.
This content is created and maintained by a third party, and imported onto this page to help users provide their email addresses. You may be able to find more information about this and similar content at piano.io