Fitness industry struggles to adjust as COVID-19 pandemic endures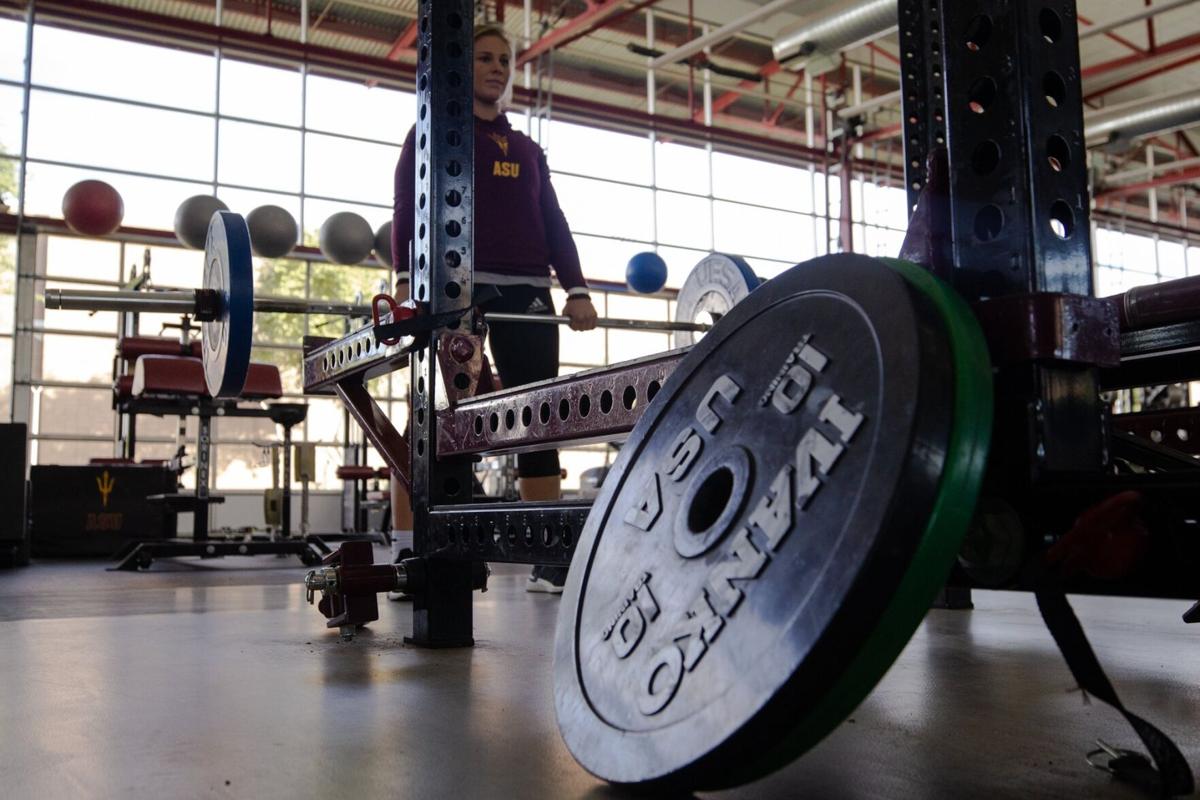 Michael Garaffa Cronkite News
PHOENIX — It was a brisk morning in Tempe. Nahmir Collier-Hack, 26, stepped out of his white Acura and walked through the doors of the private gym where most people know him as Naz. A personal trainer, Naz has been working at the gym for a little over a month.
His client, a man in his 60s, leaped out of a chair as soon as Naz came in, ready to get his session going.
Naz is fortunate to be working. Like most businesses, the fitness industry took a hit during the pandemic. About one in five health clubs have shut down permanently since March 2020 in the U.S., with over $29 billion in revenue lost, according to findings reported in August by the National Health & Fitness Alliance. Most other gyms and fitness centers closed their doors temporarily, which forced people to find new ways to get the training they needed.
The pandemic led to a rise in sales of advanced in-home fitness equipment, virtual physical therapy and online training sessions, an industry that, before the pandemic, was valued at $6.04 million. It is now estimated to be worth $59 million by 2027, with changing habits caused by the pandemic driving its growth.
Naz also trains people virtually — and that has its own set of difficulties. It isn't as easy to see someone's form through a screen.
At the gym, Naz intently observed how heavily his client was breathing during each exercise so he could gauge how long the client needed to rest. When the client performed dumbbell presses, Naz squatted within 2 feet of his forehead, watching every slight movement he made and adjusting his form.
The man, Naz said, "has had forearm issues in the past, and I noticed that he grabbed at it after that first set." Naz added that he probably wouldn't have noticed his client's distress if the session had been conducted over FaceTime.
"I always ask clients how they feel after an exercise, but some try to tough it out and not tell me, which can lead to further injury," Naz said.
Online, Naz said, he needs to use his words more, demonstrate more and pay more attention to what he observes on the screen. He keeps an eye on the way his clients' chests move, looking for signs of exhaustion before they stop and maybe bend over, hands on their knees, unable to continue.
"It's tough to see those little factors that make such a big difference," Naz said.
Naz and Bryce Redaja, a personal trainer based in Tempe, have conducted business virtually since the pandemic hit, and they've grown to like it over time. Working online gives them more freedom, more time with clients and more money, they said.
Redaja, 26, launched his online training business three months before the pandemic while still training clients in person. At the gym, he said, he would make less than $35 a month from a single client because the gym kept most of the money the client paid for the session. Because he's his own boss online, he makes anywhere between $40 and $80 per client each week, he said.
One of Redaja's clients, Padmaja An, 31, began training with him in early 2021. She chose to train online because gyms were shut down and she wasn't happy with how she looked. She had some equipment at home and "wanted to give it a shot," she said.
She was determined to take her living room and transform it into a makeshift gym.
"I wanted to stop thinking about my living room as a place of leisure and comfort," she said.
While she had limited experience training in a gym before going online, she feels that training online is much easier. All she needs is an internet connection and a reminder on her smartphone.
Naz moved to Phoenix in 2018 and started his own personal training business. Things were going well until the onset of the pandemic. Gyms closed, clients canceled sessions and Naz was forced to adapt.
He moved most of his business online, dusting off his skills from the lessons he had learned from teaching a client virtually for 10 days in 2019. At the time, his client went on vacation and didn't want to interrupt his training for a marathon.
At first, Naz hated it.
"I am just sitting here watching them run and I can't really see (their) form," he said. "You can't tell how hard the person is working. You can't see the sweat."
He started exercising with some clients virtually to get a better idea of when they needed a break or could push harder. For example, he might use the same weight the client is using while keeping his own fitness level in mind. If he gets fatigued, he knows the client is likely tired, too.
Out of necessity, Naz became proficient at finding ways to work out at home without any professional exercise equipment. Something as simple as a lamp can be used as a shoulder press.
"I can look at anything in a room, and be able to make an exercise out of it," he said.
Within a year, Naz was training dozens of online clients each week. Virtual training sessions allowed him to expand his reach to customers in Chicago, Philadelphia and even as far as India.
When you walk into a room and shake his hand, it is easy to tell that Naz is a people person. Virtually, though, he needs to get his personality across while "not seeming fake," he said. He has to combine the "let's get this workout going" persona, he said, with the "goofy guy that still has time to joke in-between each set."
He is ending the year with 11 online clients.
Get the latest local business news delivered FREE to your inbox weekly.