1 min ago
"My mind hasn't recovered": Japanese speed skater reflects on heartbreaking fall
From CNN's Matias Grez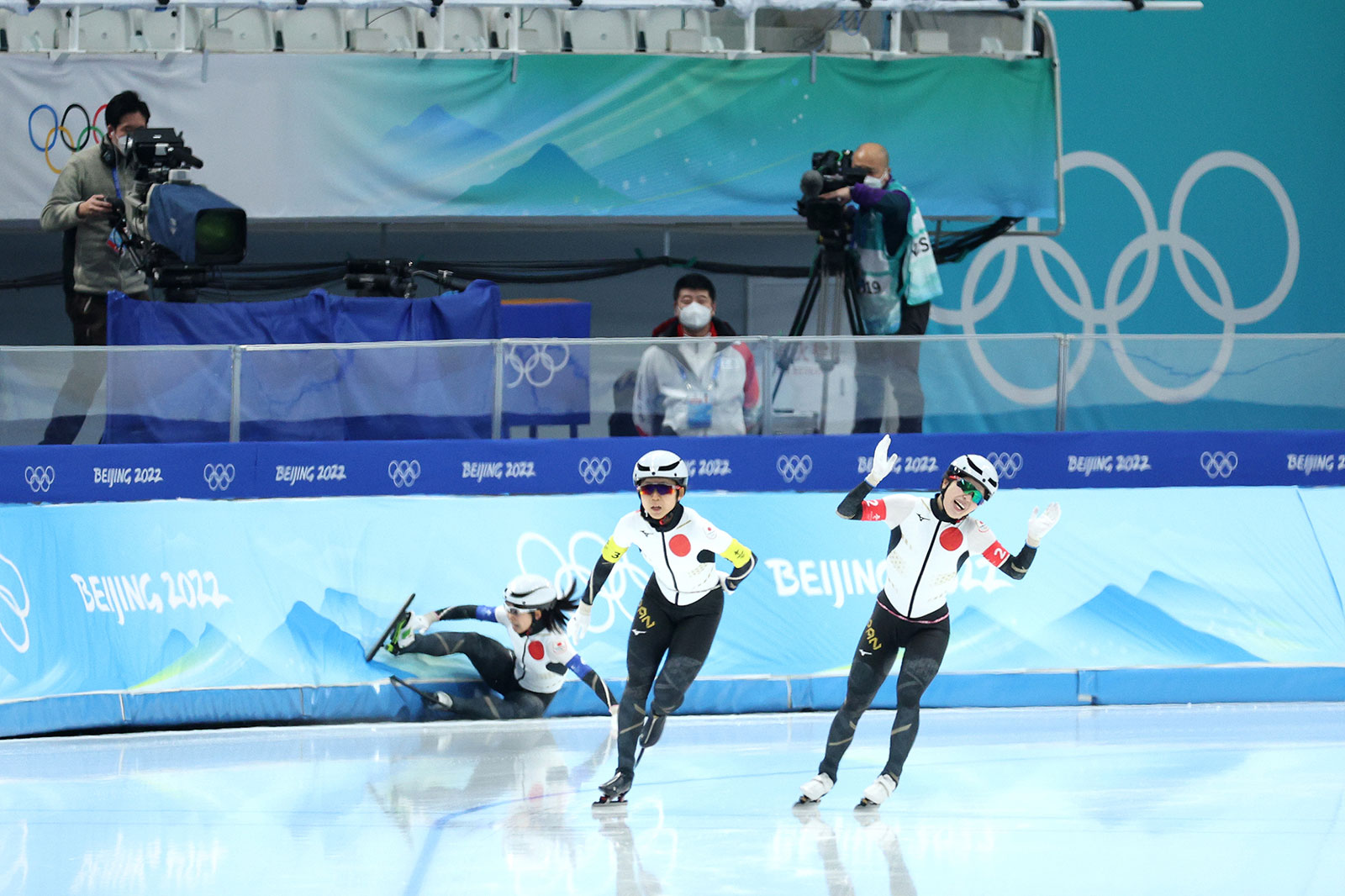 Athletes train their entire careers for a shot at winning Olympic gold.
But for every moment of glory for one athlete, there is often a moment of misfortune for another.
On Tuesday, Japan's speed skaters were unfortunately on the receiving end of heartbreak.
With Japan leading Canada in the team pursuit final and seemingly on course to be crowned Olympic champions, Nana Takagi got one of her blades caught in the ice on the final corner, causing her to fall and crash into the barriers.
"To be honest, I was in an excellent mood (before the race)," Takagi said. "I thought I'm going to complete my best skate in the past one and a half weeks, together with my sister (Miho).
"My mind hasn't recovered from the fall. It's hard for me to think or talk about it right now."
But despite that heartbreak, the Japanese skaters still embodied the Olympic spirit.
After the race, as a crestfallen Nana cried at the side of the track, her teammate and sister Miho immediately went over to console her.
"I couldn't find any words to tell her at that moment," Miho said. "I just wanted to be close to her and give her a hug.
"In this event, to fall, we understand the pressure will be on. We cannot turn it around, we cannot change it. That is frustrating.
"You may feel they should not be held responsible, but that skater who falls will feel guilty. So I knew I had these mixed feelings and that is why I hugged my sister," Miho said.
We regret so much not taking gold.
"We did what we can. We made plans together on how to skate faster (and) we were confident in skating our best.
"Ending the race with a fall just made it hard to judge our performance, but still I think we raced our best."
The third skater on the team, Ayano Sato, said she had "mixed feelings of regret and joy."
"If we focus only on the result, as we were aiming for a gold medal, it's just disappointing. 
"[But] the time we spend together thinking about how to deliver our best performance, how to skate even faster, this time itself is priceless to me."
28 min ago
Eileen Gu reveals mom helped her turn slopestyle final around and win second medal of Beijing 2022
From CNN's Ben Morse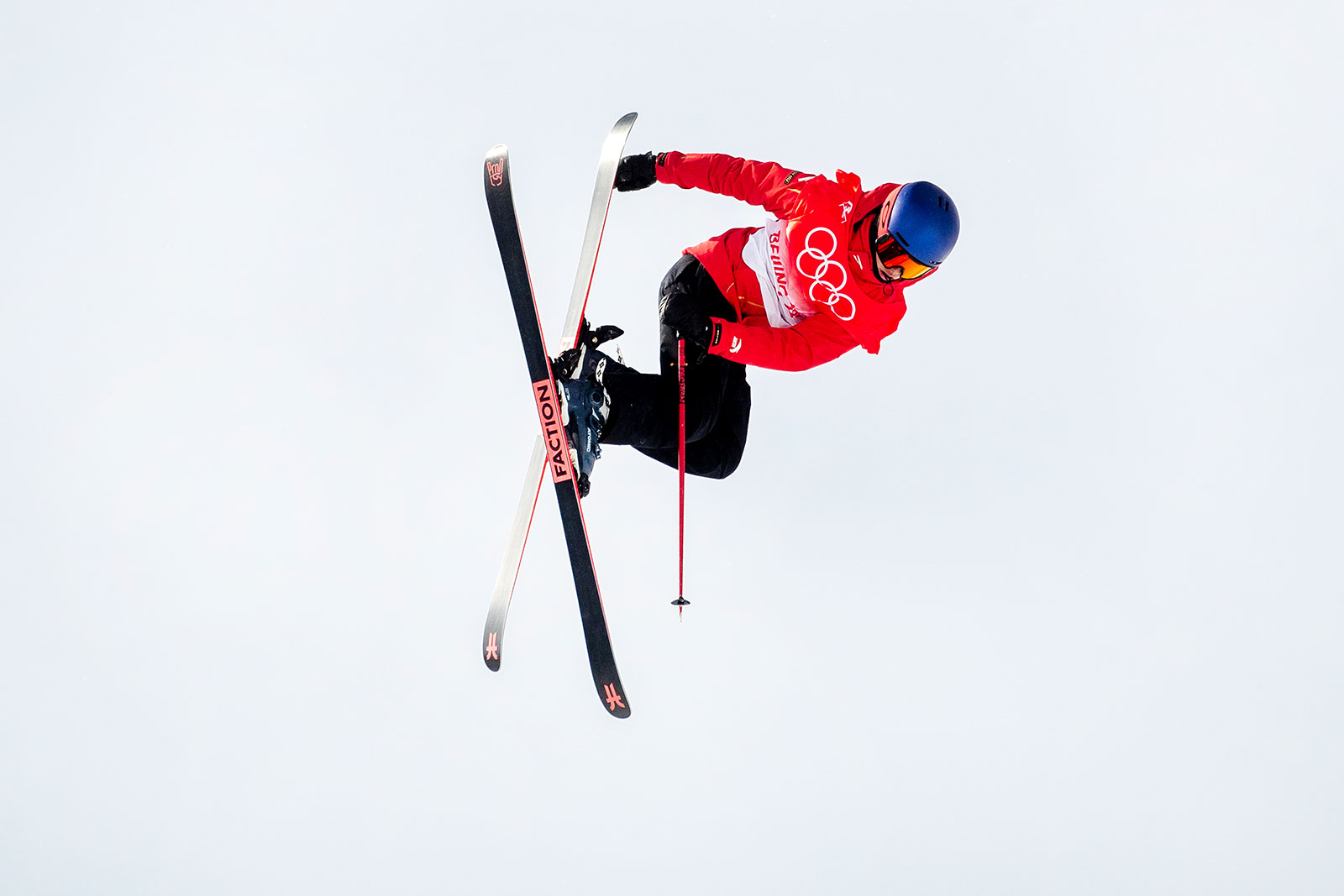 Eileen Gu's medal hopes did not look promising after two runs of the women's freeski slopestyle event at Genting Snow Park.
During her second run, Gu had fallen backwards off the rail, a mistake which had plunged her to eighth position and with a distant chance at a second medal of Beijing 2022 after winning gold in the big air event.
As the poster child for a new type of Chinese athlete and one with sky-high aspirations — Gu has been candid that she hoped to win medals in all three of the events she was competing in — the pressure was mounting on the 18-year-old's shoulders.
So Gu did what many teenagers do in times of need: she talked to her mom.
"My mom knows me very well and she knows the way my brain works with pressure. I've done a lot of work, read a lot of psychology books, did a lot of research on my own brain to see how I deal with pressure. And now, we know that I perform well under it.
"So in the first round, in the second round, I wasn't fully in the zone, if that makes sense. I wasn't in that headspace.
"And my mom could see that, so I talked to her after the first run. She was like: 'Pretend your second run is your third run, pretend you have no more chances.' I was like: 'I'm trying,' but I guess my imagination is not that good."
And as the saying goes, mother knows best — Gu produced a stunning final run to surge back into the medal hunt, eventually finishing with a silver just 0.3 points behind gold medalist Mathilde Gremaud.
Read more about how Gu's mother helped her win her second medal of the Games here.
6 min ago
Jørgen Graabak takes gold in action-packed men's Nordic combined
From CNN's Matias Grez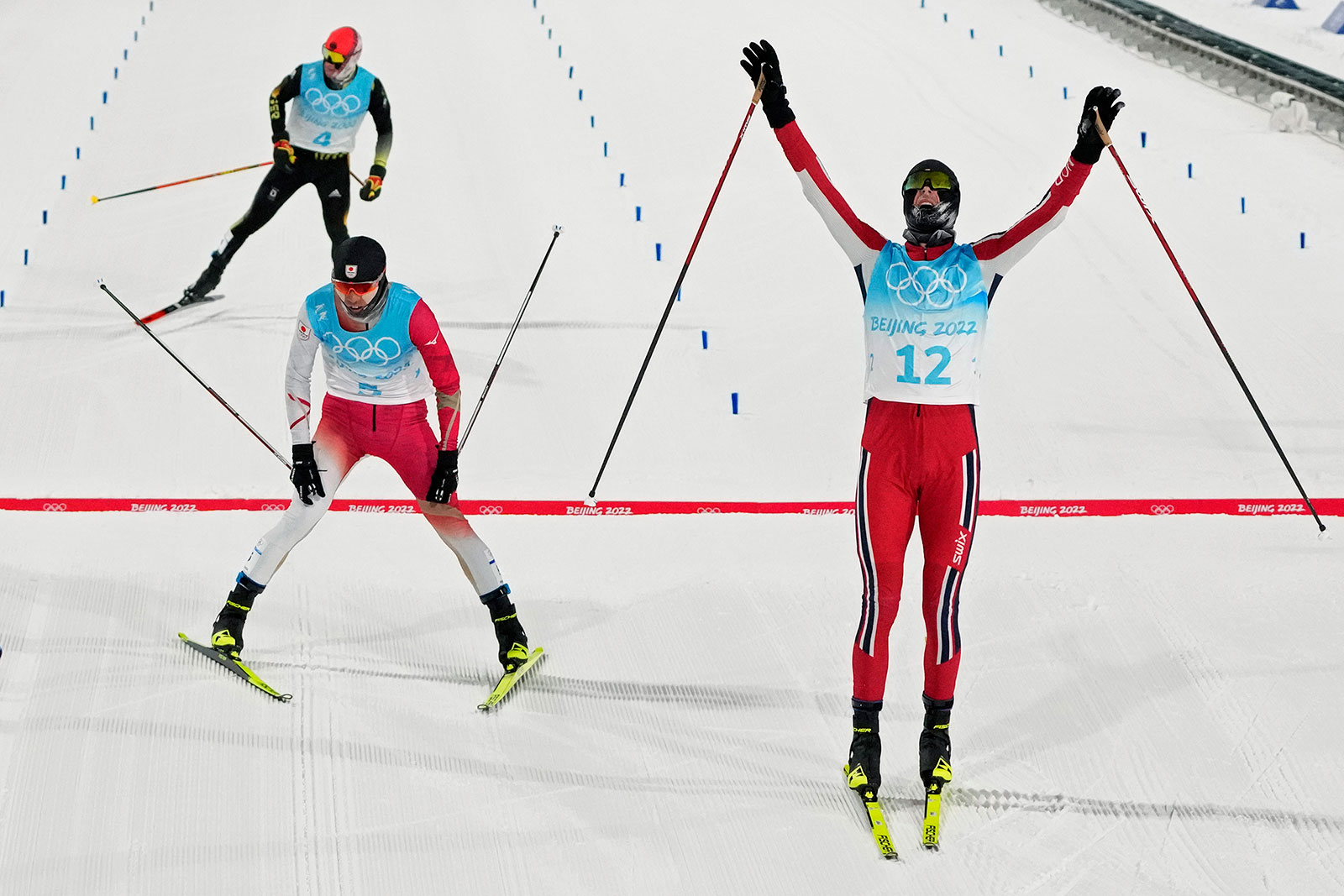 Jørgen Graabak chased down the leading pack to take home a brilliant gold medal for Norway in the men's individual large hill/10km Nordic combined in a time of 27:13.3.
There was a tense race between four skiers down the finishing straight, with Graabak just pipping teammate Jens Lurås Oftebro on the line by 0.4 seconds.
Oftebro's silver made it a Norwegian one-two, with Japan's Akito Watabe taking home bronze.
"It's what dreams are made of. It's unreal to be honest, I can't quite believe it," said Graabak. "I have to see the replay first. It's hard to believe, but of course, I'm really happy."
"It demanded everything I've got, so I'm really, really tired at the moment. It was a really tough race, starting over two minutes behind. I didn't think it was possible. It's unreal, I don't know what to say."
German Manuel Faisst was the unfortunate skier to come in fourth after a grueling battle.
Earlier in the race, Norway's Jarl Magnus Riiber had perhaps one of the Winter Olympics' biggest nightmares.
Leading by more than 40 seconds after his performance in the ski jump portion of the event, Riiber took a wrong turn and headed down the home straight prematurely — instead, he should have taken the other turn to begin his second lap.
Riiber had to turn around and ski the wrong way up the finishing straight to go back and begin his second lap, which cost him the entire lead he'd built up. He eventually finished eighth.
Riiber was only allowed out of isolation yesterday after a positive Covid test and perhaps hadn't had the time to scope out the course.
1 hr 4 min ago
It's snow joke how cold it is at Beijing 2022
From CNN Sport staff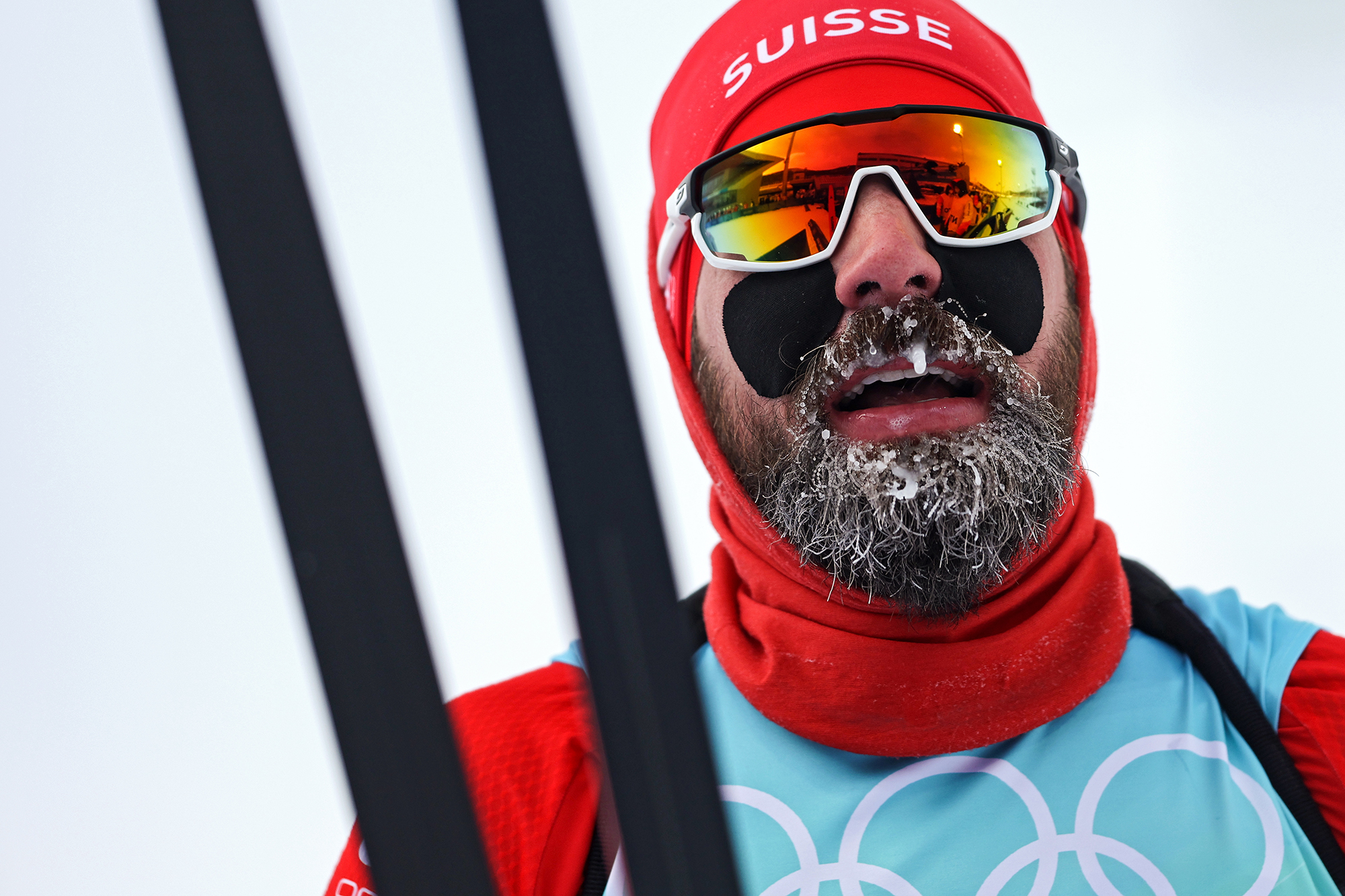 "'Grow out your beard for the Winter Olympics,' they said. 'It'll keep you warm,' they said."
As temperatures in Zhangjiakou dropped below -13 degrees Fahrenheit (-25 degrees Celsius), spare a thought for Swiss biathlete Benjamin Weger.
Competing in the men's 4×7.5km relay on Tuesday, Weger's beard picked up a few icicles along the way.
His Swiss team braved the elements to finish 12th, with Norway taking the gold.
1 hr 38 min ago
The ROC's Kamila Valieva carries weight of doping scandal onto ice
From CNN's Simone McCarthy and Jack Bantock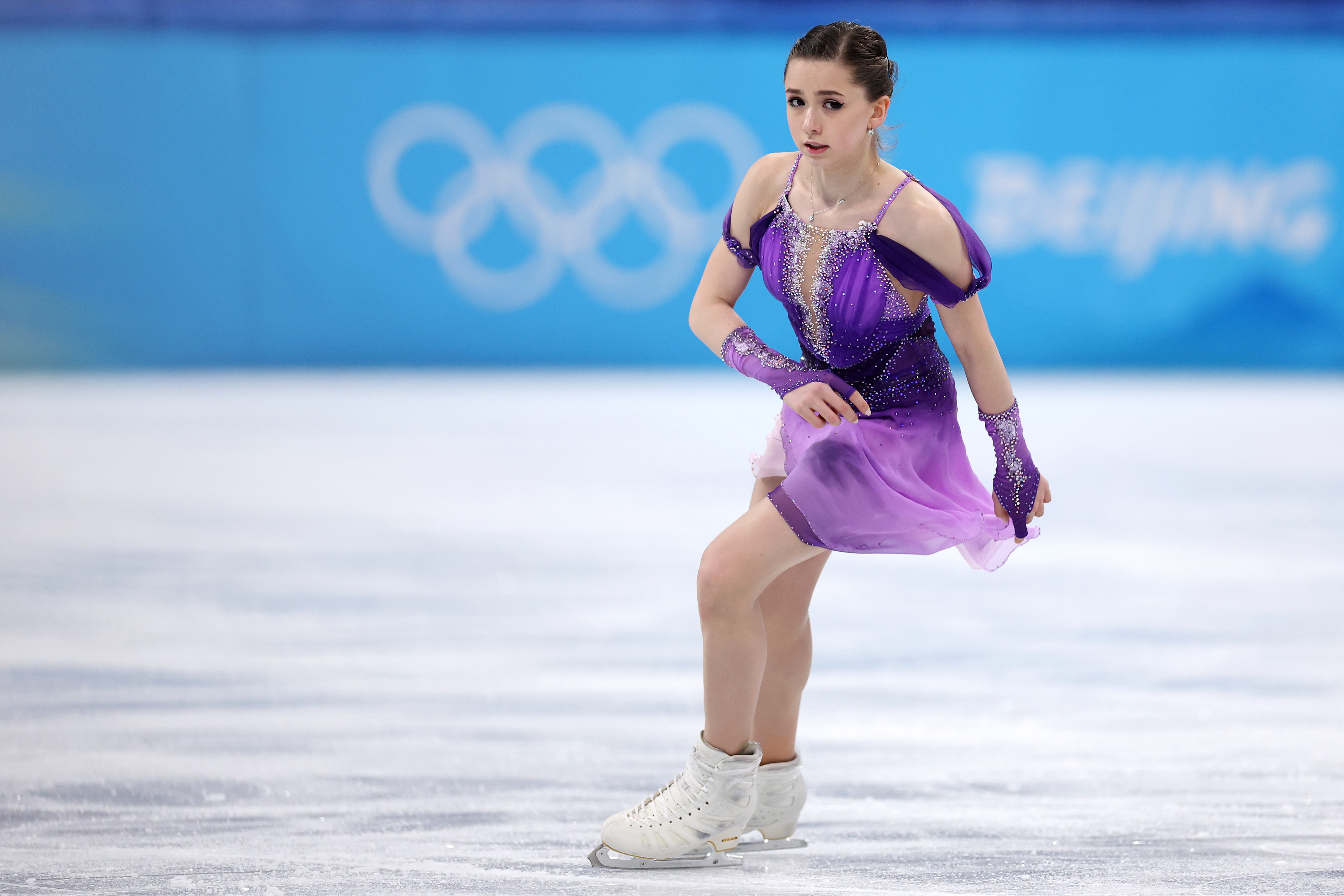 The women's singles skating short program is underway at Beijing's Capital Indoor Stadium, and all eyes will be on the Russian Olympic Committee's (ROC) Kamila Valieva.
Aged just 15, the Russian figure skating star finds herself at the center of a doping scandal that has inflamed mistrust of the Russian athletic establishment, pressed sporting organizations and athletes around the world to call for reform, and seen the International Olympic Committee (IOC) postpone medal ceremonies for any event that could place Valieva on the podium.
Officials are still investigating whether Valieva or her entourage broke anti-doping rules, after a test she took in December was found to be positive for a banned substance.
On Tuesday, an IOC official said Valieva is blaming the doping violation — in which she tested positive for a heart medication that experts say can improve stamina — on contamination from her grandfather's medication. Her coach, Eteri Tutberidze, told Russian state news agency Tass they are "absolutely sure" she is innocent.
On Monday, the Court of Arbitration for Sport cleared Valieva for participation in the women's singles competition — the question will now be if the 15-year-old can tune out the noise.
Ordered 26th on the scheduling, Valieva is expected to be out on the ice around 8:52 a.m. ET or 9:52 p.m. local time and will perform to "In Memoriam" by Russian composer Kirill Richter.
Read the full story here.
2 hr 9 min ago
Curling still going strong, almost 500 years on
From CNN's Ben Morse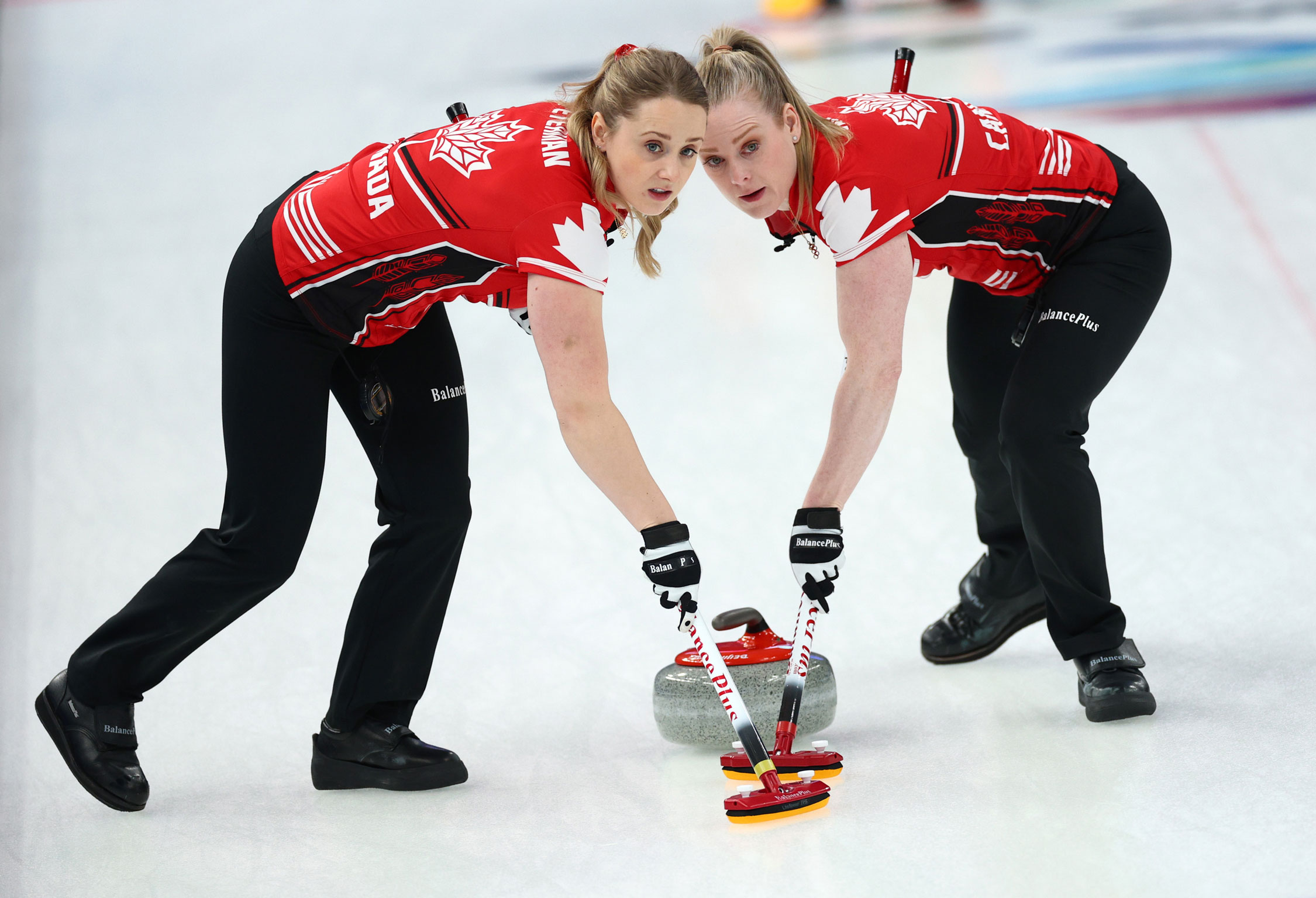 Although its exact origins can't be accurately traced, curling is a sport believed to have originated in the 16th century.
Paintings from Flemish artist Pieter Bruegel appear to portray an activity similar to curling being played on frozen ponds.
In 1540, John McQuhin — a notary in Paisley, Scotland — appeared to produce the first written evidence of curling.
Written in Latin, McQuhin recorded in his book a challenge between John Sclater, a monk in Paisley Abbey, and Gavin Hamilton, a representative of the Abbot. It said that Sclater threw a stone along the ice three times and asserted that he was ready for the agreed contest.
While an exact date can't be pinpointed, according to the World Curling Federation, the sport was played during its early stages on frozen lochs and ponds in northern Europe.
It became popular across the world as emigrating Scots introduced curling to countries with similar climates.
The first official rules of curling were drawn up in Scotland and adopted by the Grand Caledonian Curling Club — which became the sport's governing body — in 1838.
The Club was renamed to the Royal Caledonian Curling Club in 1843 after Queen Victoria took a liking to curling after a demonstration on the ballroom floor of Scone Palace.
Although international curling matches have been recorded since the 19th century, the first official international matches took place at the first Winter Olympics in 1924 in Chamonix, France. Great Britain defeated Sweden and France in what was retroactively accepted as curling's Olympic debut.
Curling was also a demonstration sport at the 1932 Winter Games, and later on in 1988 and 1992. This designation meant the sport wasn't played for medal competition.
It wasn't until 1998 that the International Olympic Committee granted medal status to men's and women's curling. It was introduced to the Winter Olympics in Nagano, Japan and has gone on to be a popular inclusion to the Games.
Read the full story here.
1 hr 57 min ago
Norway dominates the ROC to win gold in the men's team pursuit
From CNN's Matias Grez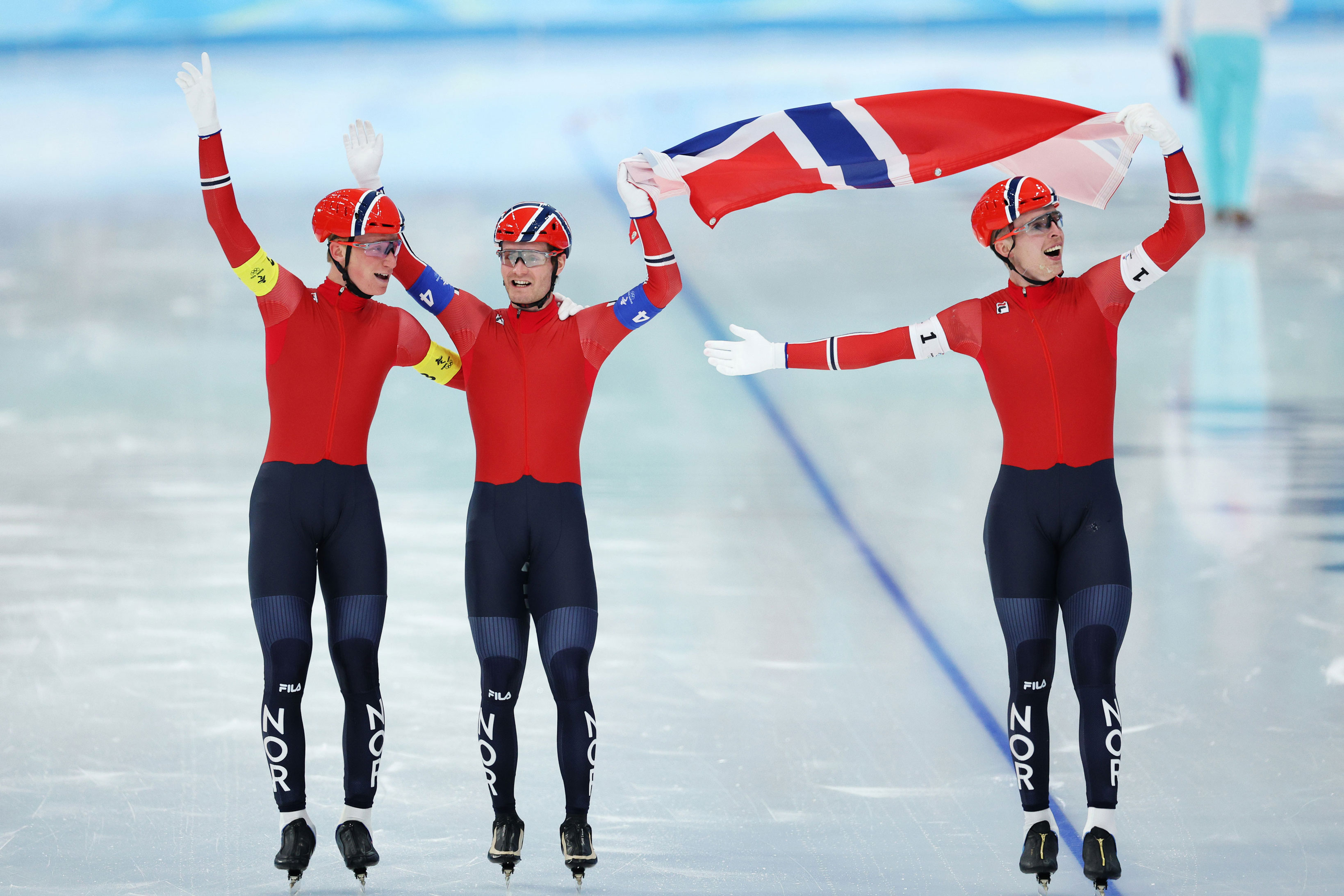 Norway completely dominated the men's speed skating team pursuit final, leading the Russian Olympic Committee from start to finish to win gold.
The Norwegians opened up a 0.26 second gap over their opponents in the opening lap and it was a lead they never looked like relinquishing, eventually finishing a whopping 2.27 seconds clear.
Afterwards, the team expressed their elation and relief for their achievement.
"It is a lot to take in, it's incredible. It is what we have worked for together with this team," said Peder Kongshaug.
Hallgeir Engebråten added, "It's everything. It is something special to take a gold medal with the team. We have had our ups and downs. To be able to stand here as a trio, as Olympic champions, that's just amazing."
"It means everything. I had a hard summer with almost no training (from a bike crash in May 2021)," said Sverre Lunde Pedersen. "To be here with a gold medal, it's hard to describe. Russia beat us pretty well in the semifinal. Our plan was to go for it and it worked. We skated faster in the final. It was perfect."
It's Norway's 11th gold medal of Beijing 2022, cementing the country's place at the top of the medal table.
In the B Final, the US beat the Netherlands to take the bronze.
3 hr 3 min ago
Su Yiming: No hard feelings over "Hand of God" judge error that cost him slopestyle gold
From CNN's Jack Bantock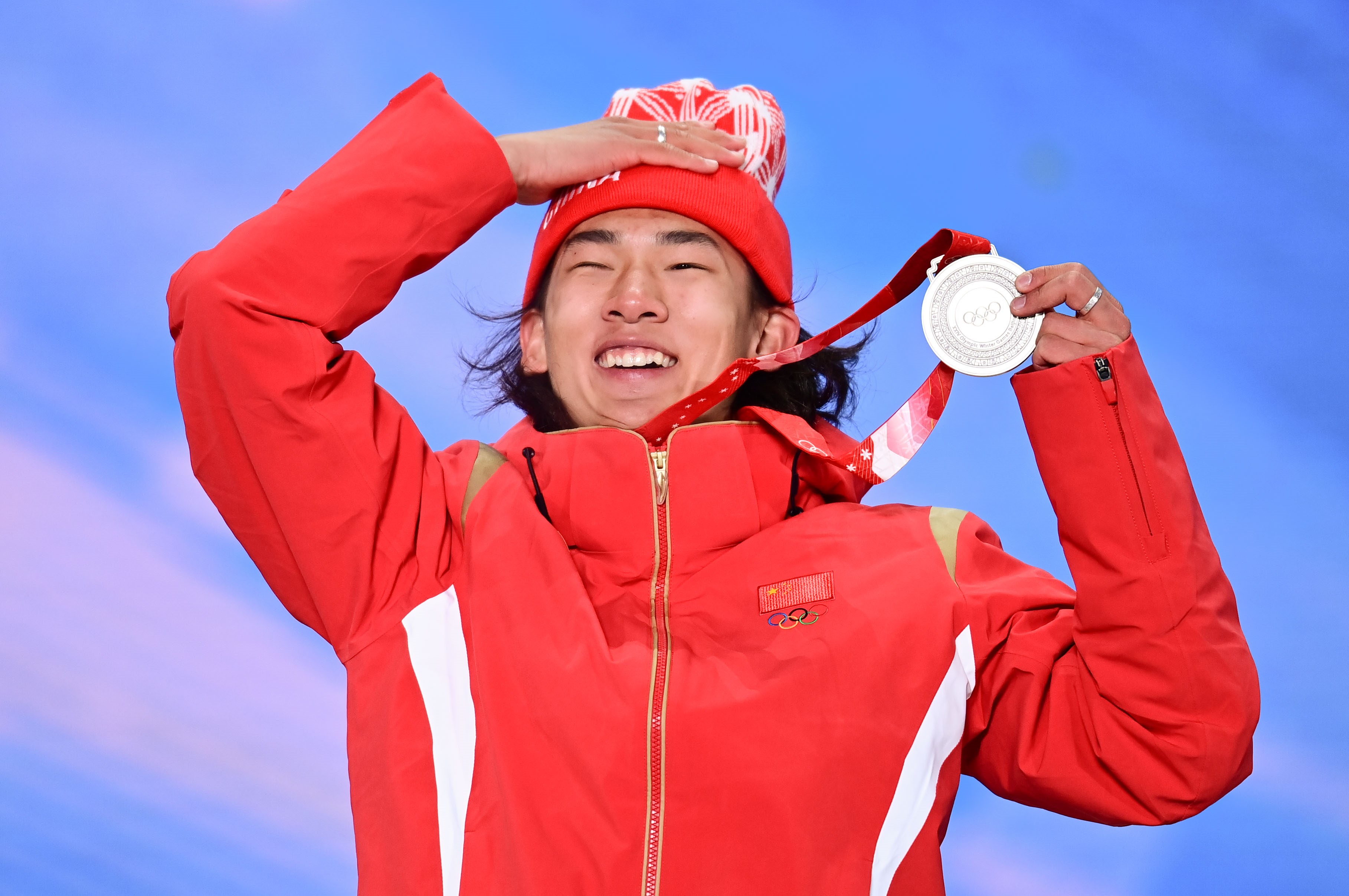 Chinese snowboarder Su Yiming said there's no controversy after the head judge for Olympic snowboarding admitted to missing an error made by eventual slopestyle gold medalist Max Parrot.
The 17-year-old Su won silver in the event last Monday but could have left with gold had judges not missed Canada's Parrot grabbing his knee — rather than his board — during a jump on his pivotal second run.
In an interview with snowboarding website Whitelines the following day, head judge Iztok Sumatic explained that the judges did not see a camera angle that clearly showed the mistake and — "pushed for time" — put the scores up.
Having only seen the angle TV viewers saw after the score had been processed, Sumatic likened the situation to the infamous Diego Maradona 'Hand of God' goal against England at the 1986 FIFA World Cup.
Sumatic admitted that the scores would have been "different" had the error been seen, but maintained that Parrot still showcased an "insane run" regardless of the controversial jump.
Speaking after his big air gold medal triumph on Tuesday, Su said there "has been no controversy" following the slopestyle incident.
"We [Parrot and I] came to the Olympic Games out of our same passion for snowboarding. I know he is also quite hardworking, and I respect him a lot.
"I would like to congratulate him on his gold medal in the men's snowboard slopestyle and today's great result (bronze). I'm happy for both of us."
Su's big air win saw him become his country's youngest Winter Olympic champion and secured China's sixth gold of Beijing 2022 — already topping their previous record of five at Vancouver 12 years ago.
"I had many dreams when I was a child," Su said. "To be an Olympic champion was one of them, and today, I already realized my dream.
"There will be more and more challenges in the future. I will be more concentrated on my goals. All I need to do is to deliver all my efforts to achieve my goals."
2 hr 30 min ago
Canada wins dramatic speed skating gold after Japanese crash
From CNN's Matias Grez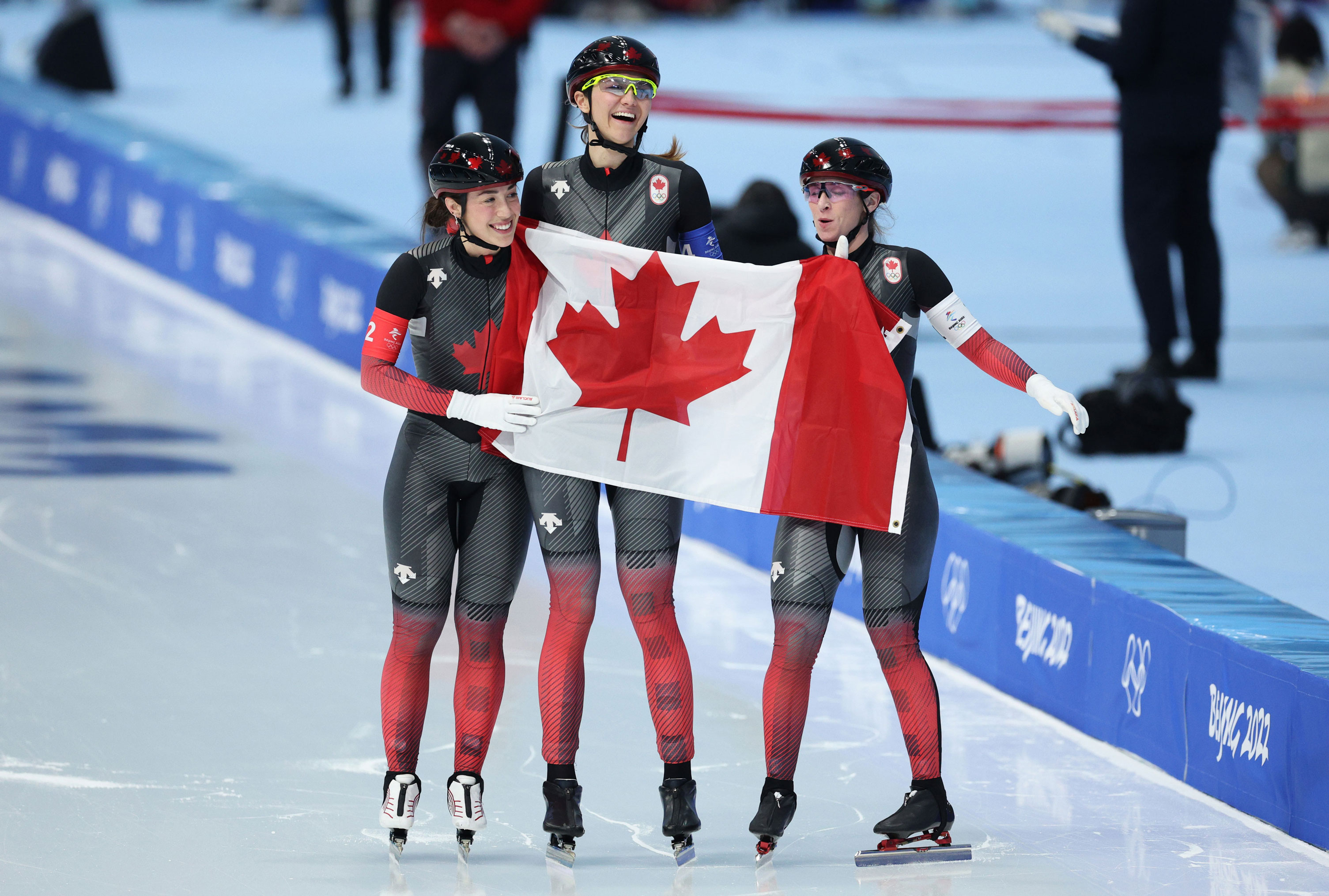 Canada won the women's speed skating team pursuit in dramatic fashion, as a Japanese skater slipped and crashed on the final corner with her team leading.
Japan were ahead by 0.32 seconds going into the final half-lap and seemingly on course to be crowned Olympic champions, but Nana Takagi got one of her blades caught in the ice, causing her to fall and slide into the barriers.
With the clock only stopping when the third of the three skaters crosses the line, that meant Canada snatched the gold medal at the very last moment and broke the Olympic record in the process.
"It feels really surreal right now. There is such high emotion. Going into the race we wanted to make ourselves proud," Valerie Maltais said. "We didn't want to put pressure on ourselves, it is a privilege to be in this final. Coming across the line, I just couldn't believe it."
Isabelle Weidemann added: "We are still thinking, is this real? We knew we had a strong team, we knew we could put pressure on Japan and all the other strong teams today. I don't know if we'd thought about this possible outcome."
As the shocked Canadian skaters celebrated their victory, the three Japanese skaters — Takagi in particular — were inconsolable on the other side of the track.
In the B Final, the Netherlands — who would have been expecting to reach the A Final and compete for gold — beat the Russian Olympic Committee to win bronze.