European Union (EU) members don't agree on many aspects of crypto policy — and today's crypto news proves no different. A governing body over a significant portion of Europe, the EU's laws have a lot of sway across the continent. So, as lawmakers look to implement crypto rules for its transfer of funds regulations, it could have broad implications for European crypto holders.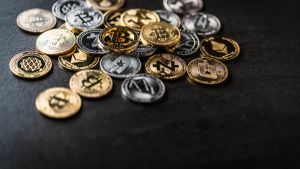 Source: WHYFRAME/ShutterStock.com
Earlier this month, crypto holders worldwide breathlessly tuned into the EU's crypto proposal news. The Markets in Crypto Assets (MiCA) proposal will be one of the first pieces of crypto infrastructure in Europe, which is fast-becoming one of the largest demographics for crypto and DeFi products.
The MiCA proposal itself is not causing much drama. However, one amendment has been very problematic among crypto bulls. The amendment would see proof-of-work cryptos like Ethereum (ETH-USD) and Bitcoin (BTC-USD) essentially banned from trading among Europe-based traders.
While largely controversial, the amendment saw widespread support from members of European Parliament. While MiCA did pass through its initial vote, however, the amendment itself was voted down by a slim majority.
This news is not a cause for celebration for crypto investors, though. Now, those in support of the amendment are seeking to pass other proposals which could greatly disrupt crypto infrastructure. This week, additions to the EU's transfer of funds policy could target investors who use non-custodial wallets like MetaMask.
Crypto News: New EU Policy Seeks to Ban MetaMask and Other Popular Wallets
Today's crypto news sees the EU implementing crypto-centric changes to its transfer of funds policy. Passed in 2015, these regulations are meant to target money launderers and other criminals in the financial sector. Soon, the policy could be getting a crypto makeover, however — and not for the better.
Specifically, a new amendment to the policy could see a blanket ban on all non-custodial crypto wallets in the EU. These "unhosted wallets" are not controlled by a third party. They include some of the most-used wallets in the world. Under the amendment, EU nations will be unable to use products like MetaMask, Ledger and Trezor.
This amendment presents a great heel to the industry. These products are some of the most popular for storing one's assets. Banning them could cause a lot of headaches for European holders who will have to use less convenient and less reputable services for crypto storage.
The vote on this addition is coming Thursday, March 31. This leaves investors with little time to raise concern over the implementation of the amendment. Until then, crypto fans are sitting tight and hoping for the best.
On the date of publication, Brenden Rearick did not hold (either directly or indirectly) any positions in the securities mentioned in this article. The opinions expressed in this article are those of the writer, subject to the InvestorPlace.com Publishing Guidelines.